I'm a huge Dean Koontz fan.  I love his brand of "stealth evangelization", the way he proposes a moral concept in the context of a sci-fi novel.  I especially love his character Odd Thomas
, the squeaky-clean 19-year-old fry cook who sees dead people and bodachs.  Evidence of my addiction:  In my hallway is a bookcase (a narrow bookcase, granted, but still…) with three full shelves of Koontz novels.
So when Koontz' newest thriller Innocence
hit bookstores last month, I was at the top of the list of fans waiting to read it—especially since Koontz himself had predicted that it would have considerable appeal to believers and to Catholics in particular.
And I've gotta tell you, I wasn't disappointed. Once again Dean Koontz, master storyteller, uses mystery and intrigue and suspense to reveal great truths about the meaning of life.  But what I CAN'T tell you is the surprising and grace-filled ending.
Innocence
tells the story of Addison, a young man who—like Odd Thomas before him—has a sweet soul, an innocent heart.  The reader knows that people recoil from him, that the sight of his face prompts revulsion and incites men to violence; but the reason for their abhorrence is only gradually realized.
Young Addison was born in a remote house on the top of a mountain; but when he was only eight, his mother turned him out, sending him to live alone in the woods.  She could no longer, she said, bear to look at him.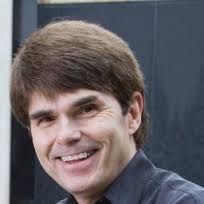 The now-homeless lad found his way to the big city where he encountered another like him, a man so unlike the rest of society that people could not bear to look upon his countenance.  The man took him in, and together they lived in isolation, finding refuge in dark tunnels beneath the city.  Only in the dark of night did Addison and the man he called "Father" dare to emerge from the shadows to find food and supplies.
Living, as he does, in the shadows, it seems unlikely that Addison would ever find a friend; yet he is drawn by destiny to Gwyneth, a young woman who—like Addison—is an outcast who lives in seclusion.  These two noble characters live with an awareness that the world has profound meaning and purpose beyond what you see around you.  Does God indeed have a plan for their lives?  How these special souls transform the world is a fable which will resonate in your heart long after you've closed the book.
*     *     *     *     *
My fellow Patheos blogger, Tony Rossi, published an excellent review of Innocence
.  You can read Tony's review here.