I was thirteen once. It was a year of deep emotional turmoil: I was awash in hormones, and I felt gangly and unattractive.
I was an honor student, competent at rote memorization; but I struggled to understand the deeper meaning of the accumulated facts which competed for my attention.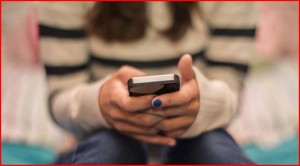 I was uncertain whether the faith which I'd inherited from my parents, and which had governed my life to that point, would be a life-long habit, or whether I'd go to college and drift off into something else.
The fact that Vatican II had only recently ended meant that change was de rigueur: It seemed every week brought new liturgical settings to commit to memory. If these seemingly timeless things could change, couldn't other tenets of faith also fall by the wayside? I didn't know.
Add to that the influx of rock and roll and my peers' new distrust for "the Establishment", and some fairly mediocre catechetical texts, and it was a tough year for me.
* * * * *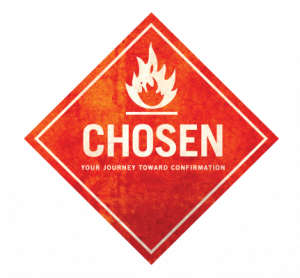 All of this is to say, It's hard to be a teenager! And the need to present the Catholic Faith to young teens preparing for the sacrament of Confirmation is a challenge to parents, teachers and sponsors alike. Teenagers are leaving the Church and many are abandoning their faith altogether.
For most Catholic teens, Confirmation is effectively "Graduation," something they just "have to do." With nearly 75 percent of young Catholics abandoning their faith in their twenties, the Church simply must do a better job at youth catechesis.
* * * * *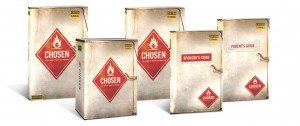 It has been my great privilege to review a new, exhaustive faith-formation resource from Ascension Press which offer young people all the information they need to choose Christ with confidence. Chosen: Your Journey Toward Confirmation is a hefty text which doesn't speak down to the young men and women who will use it. At the same time, it's engaging—with its catchy graphics, stunning photography, weighty questions and confident answers to the questions teens ask.
The text carries an imprimatur from Most Reverend Charles J. Chaput, O.F.M. Cap., Archbishop of Philadelphia. Archbishop Chaput says of the text,
"Teens who experience Chosen will find themselves drawn deeply into the beauty of Catholicism and the love of Jesus Christ. In a world searching for meaning, Chosen speaks to the hearts and minds of our youth through comprehensive materials and engaging videos taught by an impressive array of presenters. This is a new level of catechesis that uses modern methods to transmit eternal truths."
Chosen explores salvation history, revelation, and the four last things. It teaches about the sacraments, the beatitudes, prayer, virtue, and Mary the Mother of God. It answers tough questions about love and sexuality, and it challenges the reader to say 'yes' to Christ, and to build His Church.
But instead of sounding preachy, Chosen approaches each of these topic areas by raising the questions which teens must ask. Tough questions, like:
How do I know God is real?
Why be Catholic?
Why tell my sins to a priest?
Why do I have to go to Mass?
Do I have what it takes? And
Where do I go from here?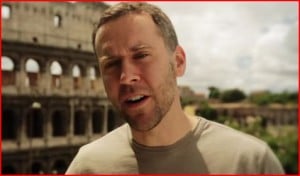 There are features on every page: a Hero of the Week, a memory verse, a wrap-up, a pop quiz, accompanied by vibrant photography and great graphics.
The authors of the text and the presenters in the accompanying video series (which is filmed on location across the U.S., in Rome and internationally) are a veritable Who's Who of young Catholic voices and faces:
co-authors Chris Stefanick, founder of Real Life Catholic, and
Ron Bolster, director of the Office of Catechetics at Franciscan University.
Jackie Francois Angel, Catholic recording artist
Deacon Harold Burke-Sivers, founder and director of Servant Enterprises, Inc.
Brian Butler, co-author of Theology of the Body for Teens
The Dominican Sisters of St. Cecilia (including Sr. Jane Dominic Laurel, who has been in the news recently for her talk in North Carolina)
Jason Evert, popular chastity speaker
Chris Padgett, professor of theology at Franciscan and author of three books
Fr. Michael Schmitz, director of youth and young adult ministry in Duluth and director of the Newman Catholic Campus Ministry
Sarah Swafford, director of special projects for Catholic Identity at Benedictine College
Fr. Mark Toups, director of seminarians in the Diocese of Houma-Thibodeau
Mary Ann Weisinger, from the Department of Evangelization and Catechesis in the Diocese of Oakland.
But wait, there's more! There are also contributions from Leah Darrow, international speaker who was a professional model and star of a reality show. Fr. Crispan Rinaldi and Fr. Richard Roemer from the Franciscan Friars of the Renewal are also featured.
But that's not all! The Chosen curriculum is reinforced by an eight-DVD set including 24 lessons which parallel the chapters of the text.
Oh, and did I mention that there is a thorough (260-page) Leader's Guide for the classroom, as well as smaller but helpful guides for Sponsors as well as Parents?
The creators of Chosen have produced a gift for young people and for the whole Church.
To see the Chosen trailer and to learn how this comprehensive learning experience integrates video and workbook lessons, as well as how materials for leaders, parents, and sponsors are seamlessly incorporated into this dynamic program, visit ConfirmationStudy.com.
* * * * *
A GIVE-AWAY!
Great news! One reader of this blog will receive a free Chosen DVD set, direct from Ascension Press! To qualify for the drawing, include your comment below or send me an email at kathy@seasonsofgrace.net.
The 8-DVD Set provides twenty-four lessons (approximately 15-20 each) with some of the most powerful and compelling speakers in the Church. To preview some of their lessons, visit http://confirmationstudy.com/preview.
Please use this link to purchase: http://confirmationstudy.com.
Want to know more? Check out the trailer below!