Finally, Facebook has reversed its policy and barred the aggressively anti-Christian group "Virgin Mary Should've Aborted."
After a determined effort by Carey Bogue, CEO of the pro-life organization Project Wildfire, Facebook finally removed the offensive page on Friday evening.
Bogue pointed out,
"This is not a First Amendment issue but rather an issue of FB's own standards regarding Hate Speech. According to Facebook standards, 'we do not permit individuals or groups to attack others based on their race, ethnicity, national origin, religion, sex, gender, sexual orientation, disability or medical condition."
Bogue had opposed the VMSA page last July, collecting 20,000 signatures and organizing a Twitter campaign.  At that time, the page was temporarily removed–only to have upper management at Facebook reinstate it.
*     *     *     *     *
Last August, I and many of my friends filed a complaint with Facebook against "Virgin Mary Should've Aborted"–which, with its 12,000 followers, was reportedly the largest anti-Christian page on Facebook.  Each of us received the following standardized response:
"Thank you for taking the time to report something that you feel may violate our Community Standards. Reports like yours are an important part of making Facebook a safe and welcoming environment. We reviewed the page you reported for containing hate speech or symbols and found it doesn't violate our community standard on hate speech."
One could argue that a page which mocks the deepest convictions of a majority of Americans—those who believe in Jesus Christ—by depicting a woman (Mary?) masturbating with a crumpled page from the scriptures, and which shows the unborn Christ in utero muttering the "f" word and Mary enjoying a marijuana cigar, is, in fact, a blatant form of hate speech.
But Facebook's automated response generator didn't think so.  
And after a brief review, the group's administrators received an affirmation from Facebook, explaining that their page had been reinstated.  They published the response with a belligerent "Haha!"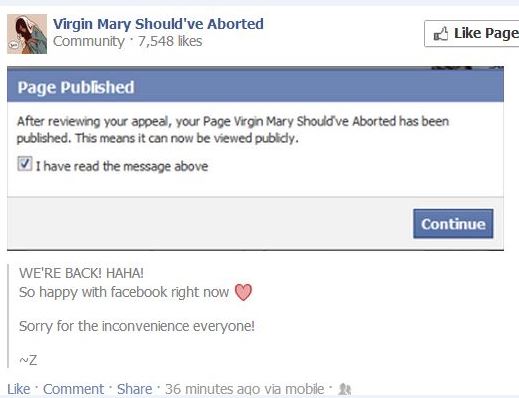 So I'd say the jury's still out.  Let's give Facebook a day or two longer to stick with their decision to remove the hate-speech page, before we break open the champagne.
*     *     *     *     *
While we're waiting, let's turn our attention to another one, the title of which I won't even post.  It's called "F*** Jesus Christ and F*** Christianity".  Its posts are tired atheist rants about evolution and science.  Its heading explains (with poor spelling and punctuation and misguided theology),
"The crucifix that you wear around your neck is an ancient torture device used to make the death of a criminal slow and painful.  When you put on or worship the crucifix you are in fact worshiping murder whether you admit it or not."
Is this offensive?  Or is it just stupid?
Nope, same message comes back from Facebook.  There's nothing wrong with this, they assure us.
*     *     *     *     *
MY ADVICE TO CATHOLICS AND OTHER CHRISTIANS:  DON'T GIVE UP.
Please continue to notify Facebook when you see instances of unfair discrimination, threats, and derogatory posts concerning your faith on Facebook.