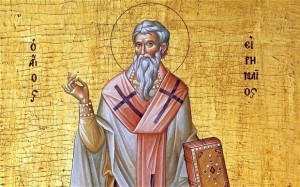 "The glory of God is man fully alive."
It was St. Irenaeus of Lyons, early Church Father and apologist, who said those words, back in the second century.  This year, Irenaeus' words have inspired the Pontifical Council for the Family, as they plan for the  World Meeting of Families, which will take place in Philadelphia on September 22-27, 2015.   
The triennial meeting has as its theme "Love Is Our Mission:  The Family Fully Alive."  And Archbishop Charles Chaput, archbishop of Philadelphia, cited Irenaeus as the inspiration when he announced the theme on May 14.  "These words," he said,
"…were inspired by the words of the early Church Father Saint Irenaeus of Lyons who said, 'The glory of God is man fully alive.'  In like manner, the glory of men and women is their capacity to love as God loves, and no better means exist to teach the meaning of love than the family…. Irenaeus reminds each of us that love should be our life's mission and that it's the engine of life."
*     *     *     *     *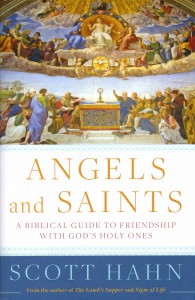 When I was invited to participate in the blog tour for Dr. Scott Hahn's newest book, Angels and Saints:  A Biblical Guide to Friendship With God's Holy Ones–and more specifically, when I was asked to write about Chapter 11 dealing with St. Irenaeus of Lyons, Blessed Peacemaker–I felt truly privileged.
Scott Hahn's books are always a great read:  Dr. Hahn is a knowledgeable Scripture scholar and his work is insightful, offering challenges for the academic, yet easily accessible for the layman.  And I admit to being especially pleased to encounter the saint after whom the upcoming conference is named!
Saint Irenaeus was, indeed, a peacemaker in the early Church.  Dr. Hahn describes several controversies which were resolved due to his gentle leadership, for example:
Irenaeus affirmed what he could in the new religious movements which were creeping up; and he tried to keep them Catholic.  He successfully persuaded one pope not to excommunicate the Montanists, an emerging movement that emphasized prophecy and moral rigor;

He helped Pope Victor to understand the apostolic roots of the eastern churches' tradition for celebrating Easter.
It was Irenaeus' propensity for avoiding schism
that led the third-century historian Eusebius to call him
"by temperament…a peacemaker."
 He protected Catholic doctrine against the Gnostic heresy which grew up at the time, insisting that the Christian faith–as established by the Apostles and passed along to their successors– was available to all.  There could not be a "secret" knowledge reserved for only a few "knowers."
Irenaeus insisted on the harmony of the Old and New Testaments, and of spirit and matter.
Of special interest in these days of division:  In the early days of the Church, centuries before Martin Luther advanced his theory of "Sola Scriptura", Irenaeus knew that Scripture alone was insufficient as a guarantee of authentic Christian faith.  No, Irenaeus–like Polycarp before him–taught that Scripture is not a self-interpreting text, and that the Christian faith was preserved and protected under the watchful guidance of the Catholic Church.  The apostolic faith, as a later Church Father would explain, is what has been taught always and everywhere and by everyone:  all the saints.
 *     *     *     *     *
 But there's so much more!  I wrote here of just one chapter, and there are 18 compelling chapters:  stories about great saints who inspire us, and angels who guide us; stories of faith in the face of crisis, from the Hahn family's own story.  There's a helpful bibliography, if you'd like to read more.
*     *     *     *     *
 Angels and Saints is published by Image Books, an imprint of the Crown Publishing Group, a division of Random House.  It's available through Amazon, or at your local Catholic bookstore.
The Angels and Saints Blog Tour continues tomorrow over at Stuart's Study, where Stuart will be talking about St. Jerome.  Or check out the full list of twelve stops on the tour here.