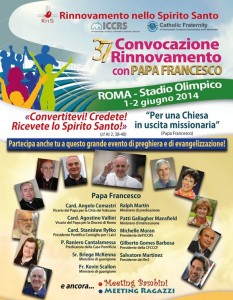 Two Americans, Dr. Ralph Martin, founder of Renewal Ministries, and Patti Mansfield, popular Catholic author and speaker, will join the Holy Father and 52,000 Charismatic Catholics from more than 50 countries on Sunday afternoon, June 1, at the Olympic Stadium of Rome.
On that day, Pope Francis—the first pontiff to ever visit a sports stadium in Rome–will participate in the 37th National Assembly of the Catholic Charismatic Renewal Movement. The June 1-2 conference has the theme of "Convert! Believe! Receive the Holy Spirit!"  
Pope Francis is scheduled to arrive at the stadium at 5:00 p.m. and to address the crowd.  Then, according to the Vatican Information Service, he will enjoy the event, including prayer, music and dance, from a box in the VIP area.
*     *     *     *     *
Dr. Ralph Martin, in a letter to his supporters, reported that Pope Francis would like to bring together the realities of the New Pentecost with the realities of the New Evangelization.
Dr. Martin's address on the gift of the Spirit is scheduled for Monday morning. Other speakers include Cardinal Angelo Comastri, the archpriest of St. Peter's Basilica, who will speak on repentance; Fr. Raniero Cantalamessa, preacher to the Papal Household, on the topic of faith; Cardinal Agostino Vallini, head of the Diocese of Rome; and Salvatore Martinez, the leader of the Italian Renewal, who will speak on evangelization.
Two speakers who may be familiar to American audiences are Irish Sister Briege McKenna, who was miraculously healed in Mass at age 24 and is known now for her charisma intercession for healing, and Fr. Kevin Scallon.
The presidents of the Catholic Fraternity of Charismatic Covenant Communities and the International Catholic Charismatic Renewal Service also are expected to attend.
Cardinal Stanislaw Rylko, president of the Pontifical Council for the Laity, will celebrate Mass.
*     *     *     *     *
Rome Reports has published a video, introducing the conference.