I'm not sure why I've never before read anything by Alice McDermott. She's a Catholic writer with seven books and numerous articles to her credit, a university professor with an illustrious academic career. She received the American Book Award and the U.S. National Book Award for Fiction for her 1998 novel Charming Billy
.
Anyway, I hadn't read McDermott's books until this summer, when I've been enjoying her latest work, Someone
.
In Someone
, McDermott tells the story of an ordinary life in extraordinary detail. Marie, the protagonist, recounts her own story of growing up in an Irish neighborhood in Brooklyn, of a romantic heartbreak and a solid if quiet marriage, of a fragile brother who was ordained to the priesthood but who abandoned his vocation and slipped into mental illness, and finally, of her own old age. There is meaning in the details: clothes hanging on the line, their arms waving; Irish soda bread, forgotten and burned.
As an adult, Marie takes a job as a funeral director's assistant, offering comfort to the bereaved who face life without their loved ones. It's a role that permits her to encounter people from her past, people who need her gentle greeting as they face their incredible loss.
Marie's childhood friend Pegeen died in a fall down her basement stairs; but the character returns in memory in her old age. McDermott writes:
On the day before she died, Pegeen leaned down to me, her eyes sparkling with her plan. She said, If I see him, I'll get real close. I'll pretend to fall, see, and he'll catch me and say, Is it you again? Someone nice.

She told me, poor sparrow, poor fool, We'll see what happens then.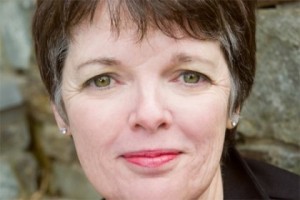 Who was that "someone nice"? In Pegeen's speech, she's hoping for a Prince Charming, someone to sweep her off her feet. As Marie recalls the conversation in later life, though, he seems to have morphed into something more.
McDermott doesn't explain; but after a long life, perhaps Marie, too, is about to fall, only to be caught, taken into the arms of someone nice. Is it God?
We'll see what happens then.