What words can you offer when a family has lost someone they love, when death claims a child or a young mother?  Even more difficult, what can you say when someone without faith crosses that final threshold, and those he left behind are bereft, deeply worried about his eternal home?
I have often thought that of the many responsibilities which priests and pastors face in their ministry, delivering a sermon at a funeral must be one of the most fearsome tasks.
*     *     *     *     *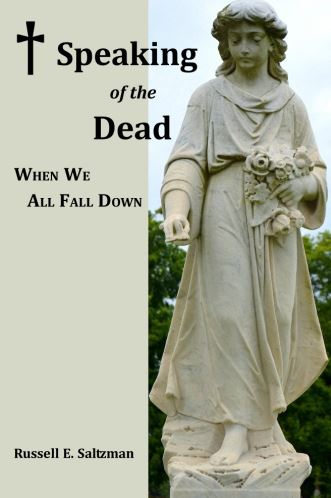 That's why I appreciated Speaking of the Dead: When We All Fall Down by my friend Russell E. Saltzman.  Russ, a Lutheran pastor and a former journalist,  is a master of prose; he's shared stories of his time as a columnist at First Things and, especially, his friendship with the late Richard John Neuhaus.  In Speaking of the Dead, Russ permits us a glimpse of his faithful ministry to families in their most tragic and painful moments.
A few times as I read the book, Russ's words came up head-to-head against my Catholic perspective.  There was an embrace of universalism in Russ's words of comfort to a family whose loved one had never attended church, had claimed no faith in God.   But then, what a blessing for that family to have Russ come alongside them and share stories that made a senseless loss seem less fearsome, less wasteful.
According to Russ' understanding,
the requirement that one "believe on the Lord Jesus Christ" in order to be saved meant that the followers of Gandhi would spend an eternity in hell.  He would, I think, find comfort and logic in the Catholic understanding of salvation which explains that all truth, regardless of where it is found, is God's truth–and that God looks with love on the person who, having never been graced with a fuller understanding of the Christian message, nonetheless desires to live his life in goodness as he knows it.
There is poetry and pathos in the story Russ tells of his own upbringing–the struggles, the difficult relationships, the events that propelled him into Christian ministry.  It is an honor to have been permitted this glimpse into a life fraught with challenges, yet graced with a great love.
Speaking of the Dead is available through ALPB Books.