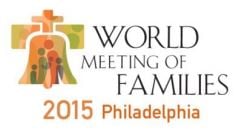 The Pope is coming to America!
We knew there was a good chance that Pope Francis would attend the World Meeting of Families in Philadelphia, which had been established by his predecessor; but we had no assurance until now.
On Monday, November 17, Pope Francis made the announcement at the Colloquium on Complementarity of Man and Woman. He said:
"I wish to confirm according to the wishes of the Lord, that in September 2015, I will go to Philadelphia for the World Meeting of Families. Thank you for your prayers with which you accompany my service to the Church. Bless you from my heart."
The World Meeting of Families will be held September 22-27, 2015. You can register here.
You can see the agenda and the list of speakers confirmed to date here.
And here is the official Prayer for the World Meeting of Families.