Just in time for Christmas giving (or holiday devotions), the Dominican Sisters of Mary, Mother of the Eucharist have released a new CD. The Rosary- Mysteries, Meditations & Music
was released by De Montfort Music on November 11, 2014.
I've told you before about the Dominican Sisters of Mary: The Ann Arbor-based Dominican Sisters gained a national audience when they made several appearances on The Oprah Winfrey Show. Then, in March 2013, they appeared on The Game Show Network–placing in the finals of The American Bible Challenge with Jeff Foxworthy.
You may have heard other Rosary CDs, but I think you may especially like this one. In the background, you can hear the Sisters singing hymns from their debut album, Mater Eucharistiae
. Mostly, though, the Sisters simply pray the familiar prayers; and it's easy for you to join with them praying the beads, offering your intentions along with theirs.
* * * * *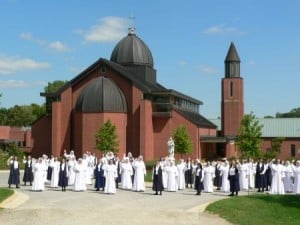 I got to know the four founding sisters during the years that I worked at Domino's Farms, in the offices of Legatus and Ave Maria Radio. There, I heard a wonderful story about how the Sisters of Mary found their way to their new home in Ann Arbor.
The group had been canonically established by Cardinal John O'Connor in 1997. The first four founding sisters–Mother Assumpta Long, O.P., Sister Joseph Andrew Bogdanowicz, O.P., Sister Mary Samuel Handwerker, O.P. and Sister John Dominic Rasmussen, O.P.–were traveling by car, planning to establish their order in New York, when they spotted the long, dramatic Frank Lloyd Wright-inspired office complex at Domino's Farms. They stopped for a visit, encountered Tom Monaghan in the hallway, Tom invited them to establish their center on his campus–and the rest is history.
The order of white-habited nuns has attracted young, enthusiastic Catholic women to their ranks, and consistently places near the top in terms of the number of new vocations. Their community has grown from just four sisters in 1997, to 110 sisters today. Today the Dominican Sisters of Mary teach in schools in Michigan, California, Florida, Texas, Arizona, Ohio and Illinois; and the average age of the Sisters is just 30, so they will be an influence in Catholic education for many years to come. You can support the Sisters' ongoing work by purchasing The Rosary- Mysteries, Meditations & Music
, or their debut CD, Mater Eucharistiae
.
Oh, and for fun: Here's a video of the Sisters making their first CD: