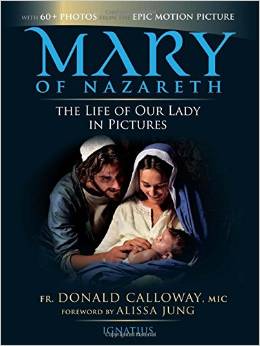 Have you seen "Mary of Nazareth", the latest feature film from Ignatius Press?
Last week, Zenit carried my review of the film, which has just been released on DVD, and my interview with Alissa Jung, the German star who played the role of Mary, the Mother of God.  Now, though, I want to tell you about the book.
Mary of Nazareth: The Life of Our Lady in Pictures
 by Father Donald Calloway is based on the movie–but it includes much more.  It's a beautiful coffee table book, with its rich color pallette and the interplay of light and shadows.  It's a meditation on the Scriptures.  It's a collection of poignant reflections by Venerable Fulton J. Sheen, St. Albert the Great, St. John Paul II, Blessed Teresa of Calcutta, Pope Pius XI and many others.
It includes insights from Alissa Jung, who played Mary, and from Giacomo Campiotti, the film's director.  And there are the pictures–more than 60 photos, retelling the familiar story of the Holy Family.
I'll bet you can think of several people–priests, parish staff, family members, devout friends–who would appreciate finding Mary of Nazareth
under their Christmas tree.  But once you see this handsome book, you'll probably wish you could keep it for yourself!
*     *     *     *     *
Mary of Nazareth (the book) can be ordered here.
And Mary of Nazareth (the DVD) is available here.