Let no evil talk come out of your mouths, but only what is useful for building up,

 as there is need, so that your words may give grace to those who hear.
Fr. Timothy Scott, C.S.B. should have read that verse over once or twice, before posting a tweet February 7 about His Eminence Raymond Cardinal Burke, 

patron of the Sovereign Military Order of Malta.  Unhappy with Cardinal Burke's outspoken remarks about a feminized Church and his apparent criticism of Pope Francis, Father Scott tweeted an obscene acronym, urging Cardinal Burke to quiet down. 
In what could only be seen as blatant disrespect toward an American Cardinal of the Church, he said: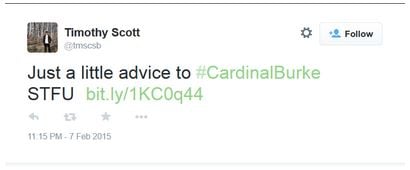 The strong language from a Catholic priest is unattractive, to be sure.  It's also ironic, following closely on the heels of a threatened lawsuit by another Basilian priest, Fr. Thomas Rosica, who threatened to sue Canadian blogger David Domet, who blogs at the Vox Cantoris website, for certain blog posts which, according to Father Rosica, demean his character.  Breitbart reports that
"…though Rosica publicly defends the right to 

freedom of speech

 and press, he is attempting to silence the blogger who has criticized him."
The outcry from Catholics–particularly conservatives–was strong, with numerous bloggers demanding that he be disciplined; and today we learned the consequences of Fr. Scott's irreverent reproof of the cardinal.  According to the Radical Conservative blog, Father Scott has been removed from his position as spokesman for the Basilian Fathers.  
The blog quotes a letter from Fr. David Katulski which says
"Thank you for your concern about the misconduct of Fr. Scott.  I assure you that he is no longer spokesperson for the Basilian Fathers."
Father Scott holds another position of responsibility, as well.  In November 2014, he was appointed Executive Director of the Canadian Religious Conference (CRC), for an initial three-year term beginning on January 1, 2015.   
He is a member of the CRC Theological Commission and also a delegate of the Canadian Conference of Catholic Bishops on the Catholic-Lutheran Church-Canada dialogue.  
There is no word yet whether he will also be removed from those positions of influence.