Hell, Michigan is a small town about an hour west of Detroit, near the Pinckney Recreation Area. There's not much there: a ghoulish gift shop where visitors can purchase Halloween decorations and ghastly souvenirs, and a post office where can get your letter postmarked "Hell."
Two weeks ago–on Friday the 13th– owner John Colone put the city of Hell up for sale. For about a million dollars ($999,666, to be exact), you can own about five acres of land as well as the rustic novelties shop for which the town is known. There's also a food/convenience store with a postal window, a mini-golf course, a wedding chapel where more than 400 couples have tied the knot, and Screams Ice Cream and Diner. Oh, and Hell wouldn't be complete without its gates, where tourists can snap photos to show they were there. And because everyone wants to know when Hell freezes over, there's a weather station.
Included in the sale will be all marketing rights to Hell-related merchandise.
* * * * *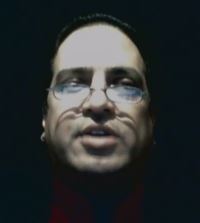 Now WXYZ-TV reports that the Damned group, a group of artists headed by a guy who calls himself Anthony DVS, wants to buy the town and has launched a Kickstarter fund to raise the necessary funds. If the arts group is able to raise the funds, they hope to build a performance arts center in the town, where they can hold their annual Damned art festival.
Anthony DVS told the Livingston Daily News,
"Our idea is to utilize the back land area to build an enclosed, temperature-controlled structure that will allow for more elaborate event productions in Hell. This would allow us to expand our productions to include an annual festival with performance, music and art. It will also allow for other productions to consider Hell for their events, such as small concerts, theater productions, wedding receptions, corporate parties and the like."
The Damned group holds an annual Damned Exhibition, as well as other creepy themed events. This year they're producing the Purgatory Film Exhibition, which will be held at Detroit's Tangent Gallery during Lent.
As of February 25, the Kickstarter campaign had raised nearly $50,000 of the $1 million needed to purchase Hell. They have until March 22 to meet their goal. If they're not successful in raising funds to purchase the hamlet of Hell, Anthony DVS reports that the Damned group will continue to search for an abandoned church or other venue in which to house their events.