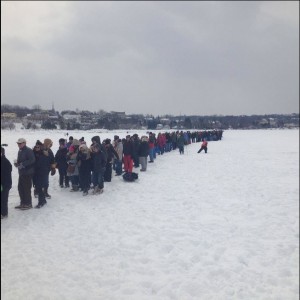 For the last 29 years, the faithful and the curious have braved the harsh Michigan winter on one Saturday in February or March to step onto the frozen surface of Little Traverse Bay, near Bayfront Park in Petoskey.
There was a record crowd this year: According to the Emmet County Sheriff's Department, 2,021 viewers made the hike on the frozen lake March 7. Sgt. Dennis Jessick of the Emmet County Sheriff's Office Dive Team, who organizes the event each year, reported that many of the locals and international visitors stood in line for two and a half hours. They trudged single-file, 800 feet across the crystalline surface, headed toward two tents–one red and one black. Inside one tent a hole had been sawed through more than four feet of ice, allowing them to peer down into the frigid waters. There in the shade of the tent, it's possible to see down to the sandy bottom of Lake Michigan.
And there, in silence 22 feet below the surface, they could see an 11-foot, 1,850-pound crucifix made of Italian marble, featuring a five-foot, five-inch corpus of the Crucified Christ.
* * * * *
Where did Little Traverse Bay's underwater crucifix come from? Carved in Italy by local artisans, the crucifix was commissioned by a wealthy family to be placed on the gravesite of their son, a young man killed in a farm accident in the unincorporated town of Rapson, in Michigan's Thumb area. However, the crucifix was badly damaged while being transported via ship across the ocean; and when it arrived, the parents–seeing its arms broken off and other damage sustained while at sea–refused to accept it.
To return it to Italy, where it had been created, was cost-prohibitive; so it was set out for a single season at St. Joseph Catholic church in Rapson. The following year, it was put up for an insurance sale. The damaged crucifix was purchased for $50 by the Wyandotte Superior Dive Club, from the Detroit downriver suburb of Wyandotte. The club repaired the crucifix at a cost of approximately $900; and on August 12, 1962, it was dropped into the waters 1,200 feet off the Petoskey Lighthouse.
But the crucifix hadn't yet reached its final resting place. In 1984 it was moved to its current location, when divers found that the depth near the Petoskey light (55 feet) made for a difficult dive. It was carried to its current site, only 800 feet from shore and 22 feet deep.
The crucifix commemorates divers who have died in accidents in Michigan's waters.
Here, a dive team from Saginaw cleans the crucifix–a project which must be repeated each year.