In anticipation of Pope Francis' historic visit to the United States later this month, a new website invites Catholics and non-Catholics alike to submit a joke about the Pope or the Catholic Church.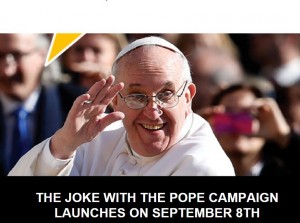 Between September 8 and October 2, funny guys are invited to submit their best Catholic joke–either in writing or via video–to the website jokewiththepope.org, which is sponsored by the Pontifical Mission Societies in the United States. The self-identified comedians can then choose one of three charitable causes that their joke will support: either helping children in need in Argentina, housing the homeless in Ethiopia, or feeding the hungry in Kenya.
The contest will also draw attention to the new Missio app, which will be available on September 10 in both the App Store and Google Play. An earlier version of the app, mostly a news aggregator sharing how the Church is engaged around the world, was launched in 2013; the updated, expanded app will link to hundreds of projects, enabling users to become part of "a compassionate commons."
Catholic comedian and actor Bill Murray played the title role in the 2014 comedy-drama St. Vincent. Murray will serve as "Honorary Advisor for Pontifical Comedy" for the "Joke With the Hope" event, and will help to decide what is (and isn't) funny.
Father Andrew Small, national director of the Pontifical Mission Societies, talked with the Catholic Register about their motivation for creating the website and app:
"Everyone's very excited fundamentally about the message and meaning of the Holy Father and the fact that he's coming to the United States, and we want to prepare well and do something meaningful to take advantage of this moment to reach out and make significant change in the world."
The winner of the contest, writer of the funniest joke, will be announced October 5. The Pontifical Mission Societies will bestow upon the winner the title of "Honorary Comedic Advisor to the Pope" and will donate $10,000 to the cause chosen by the winner.
Father Small hopes that "Joke With the Pope" will help spread the joyful spirit of Pope Francis as he visits New York City, Washington D.C. and Philadelphia on September 22-27. "In that joy," said Fr. Small,
"…we're able to then lift our own hearts up and reach out to one another," Small said. "Even if that's all we can share with one another — a smile, a laugh or, you know, like the Pope, sort of the touch of compassion — I think that helps us to change the world one laugh at a time."