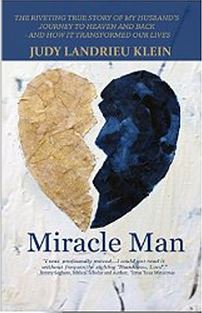 On December 23, 2008, Bernie Klein suffered a massive heart attack at his Louisiana home.  In a riveting roller coaster convalescence, Bernie slipped into a six-week coma and experienced multiple organ failure–then woke to share the story with his loving wife.
Bernie died three months after the coronary, but his outlook, his marriage, his life were all changed by his experience.  His wife Judy called him "Miracle Man."
*     *     *    *    *
When I read the first chapters in Judy Landrieu Klein's book Miracle Man, I felt a little embarrassed–as though I had stumbled upon intimate moments in her marriage and family life that should have remained behind closed doors.  Her frustration with her impatient husband was evident, as she described him:  arrogant, stubborn and impulsive…with a sarcastic sense of humor and aggressive, bigger-than-life personality….  Clearly, there were some tensions there.  Judy wrote:
"Although I am Bernie's biggest fan, I can also be his worst critic, as his strong will, impulsivity and stubbornness in decision-making leave me complaining that he "rides herd over me" all of the time.  Furthermore, his hot, Latin temper has provoked many a hurt feeling among family and friends, and he thinks nothing of yelling at people at the drop of a hat, including his clients–then forgetting about it completely five minutes later and asking the offended party if they want to go to lunch!"
But as I continued reading, I understood why it was necessary
to reveal the personality conflicts that kept Judy on edge.  Later, after Bernie had awakened from his coma, he displayed a consistent generosity and love which grew from his encounter with Christ.
Miracle Man celebrates the change in one man's worldview after a near-death encounter with Jesus.  In the weeks after his awakening from his coma, Bernie had the blessed opportunity to tell his wife, his children, his sister of his love–and to demonstrate that love again and again, through his kind words and caring disposition.
Although he suffered from congestive heart failure (and fully 75% of his heart never resumed pumping), Bernie faced his prognosis with peace, secure in the love of God.  He eventually succumbed to the disease, but not before a joyous renewal of faith in his own life, and in the lives of many around him.
The book is a testament to the efficacy of prayer and the power of enduring love.  Following Bernie's funeral, Judy sent a particularly poignant message to her friends.  It said, in part:
"As I write these words, my heart is full of gratitude for Bernie's love and life.  I am grateful for his illness and for three months spent in a hospital room filled with tender moments of love and grace.  I am grateful for the outpouring of support, love and prayer that came forth in the midst of such a profound personal tragedy.  And I am grateful to God for his faithfulness, and for the reality tht he continually seeks after us, wooing us with opportunities to know and embrace his Fatherly love.  In the end, that was what this journey was all about–for Bernie and for me.

Thank you for your love and for carrying Bernie on the wings of prayer into the arms of Our Lord.  I am eternally grateful, and I know he is too."