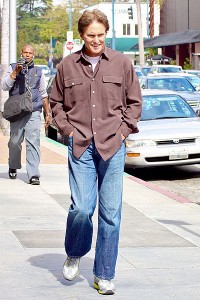 THE FOLLOWING ARTICLE was originally published February 6, 2015, as America began to understand the course which former Olympic champion Bruce Jenner was taking, heading toward a new self-identity as a transgender "woman."
In an interview which aired on April 24, Jenner spoke with ABC's Diane Sawyer about his gender identity. "My brain is more female than it is male," claimed the troubled athlete.
My wish for him: Not gender modification, but responsible psychological counseling to help him to accept the body which God has given him.
* * * * *
It's crazy: The mainstream media have forgotten their mandate to speak the truth. Political correctness has triumphed over logic, and words can mean whatever you want them to mean.
So since no one else is saying it, I want to point this out:
Bruce Jenner is a man. He will always be a man. He may be a man who's been surgically altered (ouch! just thinking about it!), but he'll still be a man. He may grow long hair, have his Adam's apple surgically removed, take hormones to enhance breast growth, and paint his fingernails; but he'll still be a man.
Every single cell in his body contains XY chromosomes, and no amount of chemical or surgical or psychological manipulation will change that. His skin is male; his fingernails are male; his chest hair is male, as are his feet, his nose, his eyeballs.
Bruce Jenner is not a woman. He may be a sad, physically mutilated and psychologically troubled man–but a man he is.
A couple of news reports recently have quoted the famous athlete, who explains that his children have accepted his gender transformation but his ex-wife Kris Jenner is "in complete denial." The website Radar Online said:
"Kris is in complete denial about what is going on with Bruce. She doesn't talk about it at all and refuses to knowledge it," a source told the magazine.

Tragically, Kris' bull-headed attitude has caused her formerly cordial relationship with Bruce to deteriorate.
To which I say: No. I'm not a Kris Jenner fan, but she seems to be the only one in the room who is willing to stand up and say that the Emperor has no clothes.
Next time, we'll talk about Rosie O'Donnell's "wife."