This week, the legal team who represented two Hazel Park nurses in their successful challenge of Michigan's ban on same-sex marriage will receive the final payment toward $1.9 million in legal costs and fees–a cost which will be borne by the state's taxpayers.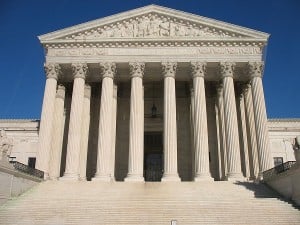 In June 2015, the U.S. Supreme Court in Obergefell v. Hodges overturned state-level bans on same-sex marriage, including Michigan's 2004 voter-approved gay marriage ban. Michigan Attorney General Bill Schuette had vigorously defended the ban. The high court ruling paved the way for lesbian nurses Jayne Rowse and April DeBoer to marry in a highly publicized ceremony in Southfield, Michigan on August 22, 2015. The women are raising four children together and had originally sued in 2012 for the right to adopt one another's children.
In addition to the fees paid to Rowse and DeBoer's attorneys, the State of Michigan incurred costs of $96,000 for attorney John Bursch, who defended Michigan's law at the district court level and at the Supreme Court, as well as $148,000 in payments to conservative economists and social scientists hired by the state for the 2014 trial.