READ TO THE END, BECAUSE THIS IS YOUR OPPORTUNITY
TO SIGN THE PETITION TO PROTECT DR. LOPEZ.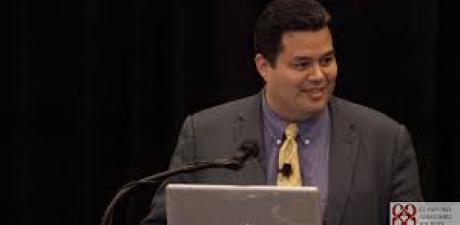 Robert Oscar Lopez grew up with two moms. Lopez, who is now a professor of English and Classics at California State Northridge, was raised by his lesbian mother and her partner. He was loved, but it was hard–he always felt like a misfit in society, and he didn't learn the relationship skills that would have enabled him to fit in.
Lopez wrote a personal reminiscence about the problems he faced in a two-mother household, in an August 2012 essay in Public Discourse. His report dealt with his own feelings, and did not make the case against gay marriage or gay rights; nonetheless, he was immediately attacked by GLAAD and other gay and lesbian rights organizations.
In October 2014, he chronicled the gay rights movement's effort to target him in an essay in First Things magazine. His personal narrative was, Lopez explained, re-categorized by LGBT activists as "hate speech." Invitations to speak at college campuses were withdrawn; the Human Rights Campaign classified him as an "exporter of hate"; he's received angry, obscene emails and voicemails.
Explaining his difficult childhood in First Things, Lopez wrote:
Quite simply, growing up with gay parents was very difficult, and not because of prejudice from neighbors. People in our community didn't really know what was going on in the house. To most outside observers, I was a well-raised, high-achieving child, finishing high school with straight A's.

Inside, however, I was confused.
Now Professor Lopez is apparently on the verge of being suspended without pay, ostensibly due to a conference, "Bonds that Matter," that he organized a year ago. A petition organized by Dr. Jennifer Roback Morse and the Ruth Institute explains:
This man of Puerto Rican and Philippine heritage, who knows 6 modern languages as well as Latin and Greek, is being hounded out of his job, purely for ideological reasons.

 The "Bonds that Matter" conference organized by Dr. Lopez in October 2014 was a good faith effort to discuss important issues of great public concern, including:
Whether children have rights to a relationship with both of their parents, in the absence of some unavoidable tragedy.

Whether children have a right to know their identity, so that all adults without exception can know their cultural heritage and genetic identity.

Whether these entitlements of children impose legitimate obligations and limitations on adult behavior.
The conference was an optional event; and students who preferred could instead complete a non-conference option for credit. Of the 100 students who attended, only one filed a formal complaint.
These and other details are delineated in the petition, asking Dr. Timothy P. White, chancellor of CSU, to drop all charges against Lopez.
"He is being hounded out of his job for ideological reasons," says Dr. Roback Morse. "Please, help this brave man. He is standing up for YOUR values."
Regardless of your political persuasion, you will want to defend the right of a highly trained academic to speak freely on a college campus.