It looks like the jig may be up for self-proclaimed "Catholic serial entrepreneur" Anthony Raphael Perlas. It's recently come to light that Perlas, president of the Latin Mass Society and professional photographer based in southeastern Michigan, takes two kinds of photos: photos of demure young Catholic women wearing mantillas and chapel veils; and risque, even nude portraits and provocative videos.
.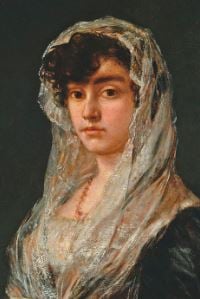 On October 30, the Archdiocese of Detroit issued an internal advisory to its clergy, then followed up with a public notice on the archdiocesan website expressing concerns regarding Perlas' "approach to young Catholic women." Perlas has conducted photo shoots at several Detroit-area parishes, including the historic National Basilica of the Shrine of the Little Flower in Royal Oak, and has sought to enlist young women and even pre-teen children as models.
Perlas' Catholic Credentials
Perlas' resume includes work with a number of well-known Catholic organizations. According to his LinkedIn profile, he has been a photographer for Catholic News Service and for the Catholic Herald in Charlotte, North Carolina. He worked at Belmont Abbey College, where he created their "Become a Crusader" ad which, according to Perlas, received over 1,200 hits per day. In 2011 he worked as web developer for World Youth Day in Spain.
.
Perlas is apparently the originator of "Wear the Veil Day" which has, for the past several years, encouraged young women to embrace the custom of wearing a chapel veil to church as a sign of reverence. He also hosts a Google Hangout series, "The Latin Rosary Online."
.
In June 2013, Perlas was awarded First Place by the Catholic Press Association for Best General News Photo. His Latin Mass Society has been featured in the Cardinal Newman Society press.
The Confused Melding of Wisdom and Beauty in the LMS and "Seroptia"
Here's where Perlas' confusion becomes evident: On the blog of the Latin Mass Society, he describes his relationship with the LMS as spousal. "I refer to my apostolate as my wife," he writes in reference to the Latin Mass Society of the United States and Canada. "When we first got together in 2012, my Apostolate and I had two completely different Societal values, and we fought all the time. She wanted to promote Wisdom and I wanted to promote Beauty." Now three years later, Perlas claims, "Her values of the Wisdom of Catholicism and my values of the Beauty of modeling learned to co-exist and complement each other in one perfect blend."
.
Perlas apparently believes that the LMS has been assigned a great guardian spirit, an angel named "Seroptia" from the Choir of Seraphims, the highest of all angels. Seroptia has not two wings, not four wings, but six.
.
And Perlas lists what he calls the "XX Commandments" (the 20 Commandments) of Seroptia, the Latin Mass Society. Some are desirable traits: detachment from worldly objects, humility, repentance, reverence, modesty, a love for family life. Two of the Seroptian Commandments highlight the unique perspective of the Latin Mass Society:
Thou Shalt Love the Latin Mass above all things in Heaven above and Earth below.

Thou Shalt Love the Veil In Honor of the Blessed Mary Ever A Virgin the Queen of Heaven and Earth.
And two are evocative of the occult:
Thou Shalt Receive the Spirit of the Watcher.
Thou Shalt Obey and Honor All Superiors Even If the Head is Lucifer.
Perlas has created several versions of what he calls the "Seal of Seroptia", a six-winged spirit which symbolizes the Latin Mass Society as well as Perlas' alternate identity, Anthony Tridentine. Some versions of the Seal actually contain small swastikas; and some of Perlas' recent writings quote Adolph Hitler, whom Perlas calls "a great man."
.
On September 6, on the Facebook page for the Latin Mass Society, Perlas posted a rambling oath:
The Latin Mass Society never runs from their enemies. It is here that we shall make our stand until our last dying breathe. All the nations of the earth shall see the power and glory of the Seroptia. There is no creation more powerful than the highest of all angels whom we possess. Modeling and Catholicism shall be infused into one flawless medium. I hereby place my hand unto the Great Seal of Seroptia and authorize and establish hedge protection on Jenelle and all our models and render her works as good in Jesus's name. All negativity shall be returned to where they came from and you are bounded by the Great Seal of Seroptia with the intercession of the Blessed Mary Ever A Virgin. The saints command you to obey. Father commands you to obey. Our lady commands you to obey. Our models are now wrapped in her mantle and as her property. The Holy Ghost shall bring warmth with its tender loving presence and thou shall be discorded and unhappy you envious enemy. Kneel and be crushed by the heel of the Immaculate Virgin foul creature and haters who blaspheme Gods precious Angels who are meant to know, love and serve Him and who seek Him yet you cause division to turn our models away from God. You're stripped off all your interferences and you are powerless.
Archdiocesan Response
Following discovery of Perlas' more controversial publications, the Archdiocese of Detroit issued a statement on its website which said:
The Department of Communications has recently been made aware of concerns involving an Oakland County-based photographer, Anthony Raphael Perlas, who also presents himself as Anthony Tridentine and as the leader of the Latin Mass Society. That society—not to be confused with the Latin Mass Society of England and Wales—is not affiliated or approved by the Archdiocese of Detroit. Mr. Perlas' Latin Mass Society also serves as a modeling agency. One of its photographic enterprises focuses primarily on taking pictures of Catholic women—young adults, teenagers and pre-teens—clothed and wearing chapel veils and posting in various settings and positions, some suggestive. Mr. Perlas calls these models "Crown Maidens." He describes his work as a "…blend of Catholic evangelization and aesthetic modeling" or "Church modeling." In social media postings, Mr. Perlas explains there is also a secular component to his work, including online photographs showing full nudity. Mr. Perlas deems these images "appropriate" by citing St. John Paul II's Theology of the Body, stating that we should not see women as "objects…we should see them as beautiful daughters of God like Eve… the Lord's artwork." Mr. Perlas concludes "…if the Eucharist can be exposed (during Mass in a public event), so too can women be exposed."
Belmont Abbey's Response
Rolando Rivas, director of marketing and communications at Belmont Abbey College, told me that they have been made aware of his work and the direction he's been going, and they disavow any association with the work he is doing now. In the past they published two articles: one on the Latin Mass Society at Belmont Abbey, and a second article about the Society's campaign to wear chapel veils on the Feast of the Immaculate Conception.
.
Belmont Abbey College has sent Perlas a letter, asking him to remove any reference to the college on his websites or on any of his Facebook pages. He has done this on some websites, but others have not yet been changed. Asked whether he'd been a student at Belmont Abbey College, Rivas confirmed that Perlas was enrolled but left the school in 2012, without having completed his studies.
Cardinal Newman Society Response
Adam Wilson, director of communications for the Cardinal Newman Society, told me that they have never been affiliated with Perlas in any way, nor with the Latin Mass Association that he represents. They did feature two articles on the Latin Mass Society, which at the time was a student association at Belmont Abbey College; but after recent controversy regarding Perlas' other activities, they've taken those articles down from their website.
The Priestly Fraternity of St. Peter (FSSP)
On October 23, Fr. James Fryar FSSP, chaplain of the organization's Los Angeles apostolate, released a statement detailing his experience with Anthony Perlas. Perlas spent time in California early in 2015, learning the role of altar server at the Fraternity's Tridentine Masses. Father Fryar wrote, in part:
"What began as a fetish for chapel veils has deteriorated to ever-reaching new lows, including full nudity, blasphemies against Our Blessed Mother, heretical content, sacrilegious posts, as well as posts from Hitler…. I disassociate myself in any way from his corrupt websites. The Priestly Fraternity of St. Peter has nothing to do with him, and he is not a member in any manner. Furthermore, the young ladies whose images appear on his sites should not be considered accomplices, because it is unclear who has requested that such content be removed, or what has been photoshopped."
I reached out to Bryan Kemper, director of Stand True Ministries, but no response has been received as yet.
 Image:  Francisco Goya [Public domain], via Wikimedia Commons
UPDATE:  Thank you so much to Lily Beck Wilson of Veils by Lily for clarifying the origin of "Wear the Veil Day."  Lily has informed me that although Anthony Perlas was involved in the marketing of "Wear the Veil" Day, it actually originated with the Our Lady of the Veil apostolate in Charlotte. You can read more about that here.
Veils by Lily issued a statement regarding Anthony Perlas on October 19, 2015. I'm including the full statement here; or you can read it on the company's website.
FOR IMMEDIATE RELEASE

Veils by Lily (www.veilsbylily.com) is appalled but not surprised at the recent photos and comments posted by the Latin Mass Society Facebook page run by Anthony "Tridentine" Perlas.

Earlier this year, we completely severed ties with both the Latin Mass Society and Mr. Perlas after seeing the tone that some of Mr. Perlas's posts, photos, and videos had begun to take. We are no longer affiliated in any way. 

Wear the Veil Day

Up until yesterday, Veils by Lily was under the impression that Lily Beck Wilson, founder and president of Veils by Lily, was the only listed organizer for the "Wear the Veil 2015" Facebook event page. A screen shot from another Facebook user revealed that Mr. Perlas had, in fact, blocked Mrs. Wilson and unbeknownst to her, was still listed as an organizer. That event has been deleted. 

We encourage all faithful Catholics to promote our new event, "Wear a Veil to Mass Day 2015." For more information, please visit www.veilsbylily.com/dec8. This event is not affiliated in any way with the Latin Mass Society or Mr. Perlas. 
Lastly, Lily has asked that I let my readers know that Veils by Lily now has a new event, Wear a Veil to Mass Day on December 8, that is completely disassociated from Anthony Perlas and the LMS.