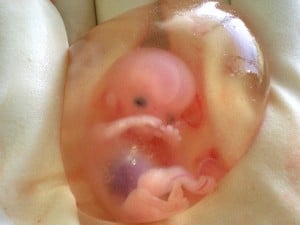 Planned Parenthood of Michigan has admitted that they harvested fetal tissue in the past, although Lori Carpentier, President and CEO of Planned Parenthood of Mid and South Michigan, says it's not going on any longer.
The disclosure came during a discussion on WKAR, the PBS affiliate at Michigan State University.  The station's news show "Current State" welcomed Carpentier and Genevieve Marnon, public affairs associate at Right to Life of Michigan, to discuss the current controversy involving Planned Parenthood's alleged sale of fetal body parts.
Asked by the interviewer whether she shares the concern of other pro-life organizations about Planned Parenthood's practices, RTL's Marnon said yes, this is a concern to Right to Life here in the state of Michigan, as well. The Center for Medical Progress has released film footage of Planned Parenthood officials "haggling over fetal tissue, brokering baby body parts, as it were," and Marnon found the disclosures very disturbing.
But here's where it gets interesting: While insisting that the videos are highly edited and therefore not a concern, Planned Parenthood CEO Carpentier essentially admitted that her organization has, in the past, engaged in the practice of harvesting fetal tissue. It's not happening now, she insists; but yes, it is a part of their history. "I can only speak to what's happening at Planned Parenthood," she says, "and nothing inappropriate is."
One can certainly contest her claim that killing the unborn–whether by dismemberment, lethal injection or scalding with saline solution–is "not inappropriate"; but one can also marvel at her callous admission that fetal tissue procurement has happened in the past.
Following is an excerpt from Ms. Carpentier's testimony on the WKAR transcript:
"We also sat down with Senator MacGregor* and have full cooperation with them. We intend to show them whatever they want to know.

Whatever people believe they have seen on the videos, what I can tell you is there is no program for fetal tissue donation in Michigan right now, and has not been. So as we go forward with this investigation, I'm going to be asked to prove a negative. It's not happening here. 

 

And when it did happen, more than 20 years ago, there was no fee involved.

So people can light their hair on fire if they like, but there is no 'there' there, and I'm fully prepared to show that."
So there you have it: Planned Parenthood harvested baby body parts, but they didn't charge for it, so all is well???
You can listen to the full interview here.
*Michigan State Senator Peter MacGregor, Chair of the Senate Oversight Committee