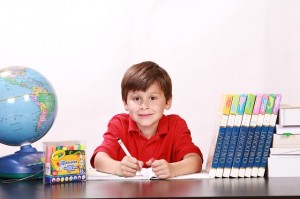 For years now, Catholic schools have felt pressured to conform to the Common Core because of the perceived need to keep pace with changes to the SAT, to stay competitive in college admissions.
But the Newman Society interviewed David Coleman—the president of The College Board which runs the SAT, and the chief architect of the Common Core.  They report two big takeaways:
Despite fears to the contrary, Coleman told us that traditional and faithful Catholic schools have nothing to fear about Common Core-driven changes to the SAT.
Coleman argued that the Common Core is no reason for Catholic educators to abandon what is unique about traditional Catholic education.
Coleman told the Newman Society that parents shouldn't abandon traditional Catholic education. Students, he said, "will do superbly" on the new SAT exam.
Following is the Newman Society's exclusive report:
David Coleman, president of the company responsible for the Scholastic Aptitude Test (SAT) and Advanced Placement (AP) exams and a chief architect of the controversial Common Core Standards, told The Cardinal Newman Society in an exclusive interview that students educated in traditional Catholic schools have nothing to fear about the Common Core-driven changes to the SAT and AP exams.

Moreover, Coleman praised religious liberal arts schools, "the beauties and distinctive values of a religious education" and even the new trend toward classical Catholic schools and homeschooling, insisting that the Common Core Standards should not be a reason for Catholic educators to abandon what is unique about a traditional Catholic education.

"As president of The College Board it is my conviction that a child excellently trained in traditional liberal arts will do superbly on relevant sections of the SAT and other aspects of Advanced Placement work," Coleman said. "Rest assured."

Coleman's assurances respond to deep concerns in the Catholic community about the ability of Catholic school students to compete for college admission unless Catholic schools change their time-honored curricula to conform to the Common Core. Already many Catholic dioceses have embraced the Common Core standards, arguing that it is necessary to keep pace with the reforms in public schools and with changes to college entrance exams like the SAT and ACT.

But The Cardinal Newman Society, working with parents and education experts, has expressed concerns about the Common Core's utilitarian emphasis on career preparation and college skills potentially diminishing the distinctive Catholic identity and liberal arts emphasis of traditional Catholic schooling. The Newman Society launched its Catholic Is Our Coreprogram to identify and respond to the many problems Common Core poses to faithful Catholic education.

The concerns focus especially on the Common Core's English Language Arts (ELA) standards.

"Our goal in teaching literature to kids is not just to prepare them for possible graduate school in English; our goal, especially in Catholic schools, is to form them and expose them to great, engaging, formative and normative literature and in the process instill in them a love and passion for reading great literature," wrote Dr. Dan Guernsey and Dr. Denise Donohue, director and deputy director of the Newman Society's K-12 education programs, in their May 2015 report "Disconnect between Common Core's Literary Approach and Catholic Education's Pursuit of Truth."

"In Catholic schools, we know we are not just producing workers and scholars, we are producing living, breathing, complex, contradictory, eternally destined, unrepeatable and immensely valuable human beings," Guernsey and Donohue wrote.

Uncertainty about how to respond to Common Core and its effects on Catholic education has produced something of a "backlash" against the standards in Catholic schools, as the Associated Press reported on December 7: "The backlash against standardized testing is rippling through some Roman Catholic schools as they balance the college-driven Common Core learning standards with spiritual goals."

The Newman Society's Guernsey told the Associated Press, "Right now, Catholic schools are still trying to figure out how they respond to the Common Core and how deeply they embrace it." But he said that Catholic educators need to focus on the development of students' "mind, body and spirit."

"We don't open Catholic schools to get kids into college. We open Catholic schools to get them into heaven," he said.

Nevertheless, college is still an important goal for many graduates of Catholic high schools, and many of them rely on The College Board's SAT, PSAT and AP tests for acceptance and college credit.

The Newman Society asked Coleman about the new, Common Core-aligned SAT to be launched in March 2016 and whether the changes are going to negatively impact Catholic school students who continue to receive a classical liberal arts education. Coleman said that the SAT is not being geared exclusively toward career skills, but that changes made, at least specifically in terms of the reading texts chosen, have "a much deeper resonate value."

"For example, in the revision of the SAT, we have required that one of the five documents that is read will be one of the founding documents in the great conversation of human dignity and liberty that it inspires," he said, such as the speeches of Abraham Lincoln and Martin Luther King Jr.

"The conversation of human dignity and liberty in that context that goes back, in a sense, to the Declaration, the Constitution and the documents that unfold from it like the Federalist Papers, etc. … I think that is a beautiful decision," he said. "I think that is a decision that readies students for their college work, because those texts — I think besides the Bible — those texts are the only things you could hold up that are so universally referred to, that are such a widespread reference point, that to have a deep knowledge of them and the conversation they inspire opens up so many domains of learning that might be closed to you.

"I think that could be true in a career environment, less clear, but you could imagine that in career, discussions of rights and responsibilities emerge," he continued. "But the great place, the sole edifying place, is about life and citizenship — is that as a citizen it's critical that you know the foundations of responsibilities and rights and the foundations of liberty. It's in fact, I think, a deep conviction of this country that a citizenry that knows those things is much more likely to protect them."

According to Coleman, such revisions to The College Board tests will reward "the traditional trainings of a religious education."

As for the Common Core itself, Coleman continues to support the public school standards that he helped develop while a leader of Student Achievement Partners from 2007 to 2012, but he also does not seem to agree with using the Common Core as justification for changing Catholic education.

"The vulgar implementation of anything can have a reductive and destructive effect," said Coleman. "My desire to celebrate, and name and specify some of the beauties and distinctive values of a religious education are precisely to avoid a leveling quality where you forget that there are special gifts that can be lost without attention."

In the interview, he expressed agreement with the Newman Society's argument that Catholic schools need to embrace standards that reinforce the unique mission of Catholic schools, instead of becoming more like public schools.

"[I]n terms of leveling versus enhancing, I hope that I've been trying to — and hold me accountable to this — hold up what you're describing as the special, distinctive values. … I just want to tell you how emphatically I'm trying to agree with your premise, which is a stultifying sameness is not the intention here," he told the Newman Society.

Coleman even suggested that educators in the classical, Catholic liberal arts tradition should "have more moxie" and "be proud" of their approach to education.

"Don't be in a defensive crouch. I say that to every group I talk to of religious educators," he added. "I say, share what you do that is beautiful and distinctive. Don't just defend your right to exist. Be proud of what you have to offer, which is different."

Coleman's embrace of the liberal arts is not new. After studying at Yale University, Coleman taught reading to high school students from low-income families. He later received a Rhodes Scholarship to study English literature at Oxford University and classical educational philosophy at Cambridge University.

Prior to the interview, the Newman Society came across a July 2014 commentary in National Review, in which Coleman publicly defended the religious freedom and liberal arts education at Wheaton College, an Evangelical Christian school in Wheaton, Ill. "I write not merely to defend Wheaton's right to exist, but to express my gratitude that it does exist," Coleman wrote.

Asked about the article, Coleman told the Newman Society that in his current work he is "trying to get people involved in secular education to take a much more serious look at the depth and beauty offered by religious education."

"When I wrote the Wheaton piece, I was saying American higher education benefits from this diversity because there are strengths in religious schools not shared [in other schools]," he said.

Some of the qualities Coleman praised about Wheaton, such as its "commitment to things like careful reading" and to "productive solitude," were the focus of his address to Catholic educators at the National Catholic Educational Association (NCEA) 2015 Catholic Leadership Summit in October.

The NCEA has again invited Coleman to speak to Catholic educators, this time to give the keynote address at its annual convention next March in San Diego, where the NCEA is offering several workshops on Common Core. That news prompted the Newman Society to request an interview with Coleman. The NCEA has helped Catholic schools implement the Common Core and accepted a large grant in 2013 from the Bill and Melinda Gates Foundation to support Common Core training and materials.

Coleman told the Newman Society, however, that he will not be discussing Common Core at the NCEA convention. Instead, he plans to pick up on his previous NCEA talk and discuss the elements of "productive solitude, restful excellence, reverent reading and a safe haven for body and spirit"— valuable qualities that Coleman said he sees in Catholic education. "I think I'm trying to hold up to the light things that I think are praiseworthy and worthy of sharing," he said.

"I consider these remarks I'm making about the distinctive and potentially widely valuable benefits of religious training and religious education are less a challenge, frankly, towards religious schools than a challenge to all other schools — that they have much to learn from things that I think the best of religious schools do very well today," Coleman said.

 

Image:  Pixabay