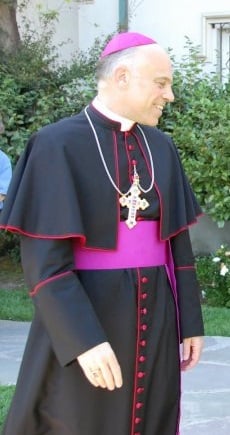 A group of more than 100 dissident Catholics in San Francisco have published an "open letter to Pope Francis" in today's San Francisco Chronicle.
In a shocking display of bad etiquette, improper protocol, and ignorance of Catholic teaching, the full-page letter calls on Pope Francis to replace their archbishop, who dares to insist that Catholic schools consistently teach the Catholic faith.
The signers object to San Francisco Archbishop Salvatore Cordileone's insistence upon a morality clause in teacher contracts. The clause calls for teachers to abide by the Catholic Church's stance against things like sex outside of marriage and same-sex marriage.
The Archdiocese of San Francisco responded quickly to the ad.  According to CBS News, the statement reads:
"The advertisement is a misrepresentation of Catholic teaching, a misrepresentation of the nature of the teacher contract, and a misrepresentation of the spirit of the Archbishop. The greatest misrepresentation of all is that the signers presume to speak for 'the Catholic Community of San Francisco.' They do not."
The Chronicle reports that among the signers' objections to Archbishop Cordileone's leadership, they complain that he:
Picked a pastor for Star of the Sea parish in the Richmond District "who marginalizes women's participation in the church by 

banning girls from altar service" 

and who provided elementary-school children with a pamphlet about sexuality that asked 

whether they had masturbated, engaged in sodomy or undergone an abortion.*

Disregards the advice of his own priests and retired priests in favor of "a tiny group of advisers recruited from outside (the) diocese and estranged from their own religious orders."

Threatens the long-term health of the archdiocese by adopting a "single-issue agenda" against same-sex marriage.
Archbishop Cordileone is chairman of the U.S. Conference of Catholic Bishops' Ad Hoc Committee for the Defense of Marriage. He is also a member of the USCCB Committee on Canonical Affairs and Church Governance. In addition to his extensive background in the area of the canonical understanding of marriage, he also brings experience in the work of preserving the definition of marriage as the union of one man and one woman in California.
He serves on the episcopal advisory board of the Institute for Religious Life, as well as the St. Gianna Physicians' Guild. From 2006 through 2009, he served on the USCCB's Committee on Catholic Education.
*Lest anyone believe that Archbishop Cordileone approves of teaching second-grade students about masturbation, let me remind you of SFGate's February 18 report, explaining that the pastor at the parish where the pamphlet was distributed has since apologized.  The pamphlet was a routine Examination of Conscience, and it had escaped his attention that some of the sins mentioned might be beyond the comprehension level of a second-grade student.
Image:  Archbishop Salvatore J. Cordileone, By Ffeeddee (Own work) [CC BY-SA 4.0 (http://creativecommons.org/licenses/by-sa/4.0)], via Wikimedia Commons