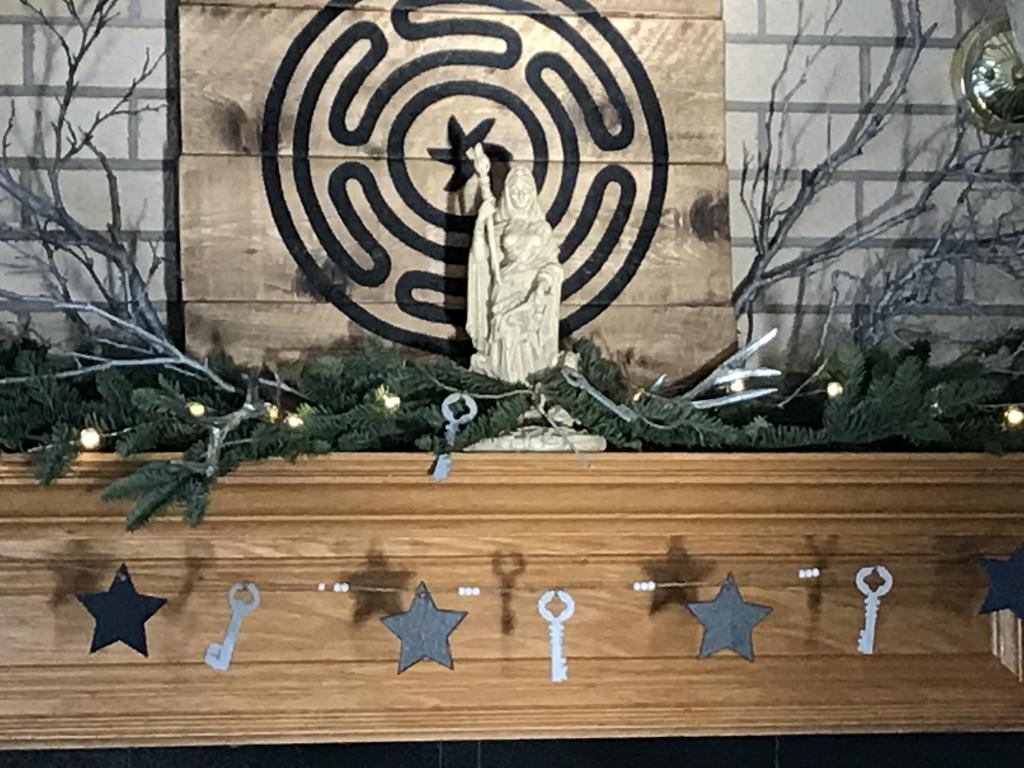 As the wheel of the year nears the winter solstice, my thoughts turn to the return of the light in my own life and how Hekate is connected with this time of the year. Hekate as Soteira, Our Savior, begins her return to energetic dominance as the wheel of the year moves towards the light. This is Hekate of the Upper World, clad in a flowing white gown with a veil of clouds and a crown of stars. With Hekate Soteira as our guide we can walk towards the light of authenticity in every part of our lives, from the mudane to the magickal.
Getting a Bit Gloomy Here
I've got to admit that my series of blogs on the personal underworld that I wrote as part of my tribute to Hekate during Her Holy Darkness has me feeling a bit gloomy. I finished up the series with my thoughts about the past two years of my life wandering in circles in the liminal zone between my own underworld journey and where I am now. I've written about Hekate of the Underworld Night, taming your shadow self, and healing from trauma. Enough already! It's time to move on to "lighter" things. Life is about balance, after all.
Hekate and December
December is the time to be preparing for the journey out of the underworld. The energy is shifting away from the darkness. It's not all sunshine and roses yet, but it's coming. I'm going to be talking about what's necessary to turn towards the light in a post called "Deliver us from Darkness: Hekate and the Upcoming Winter Solstice."
As part of my own journey from the personal underworld, I'm going to be doing a bit of exposure therapy by returning for the first time to a location that is deeply connected to my own personal trauma when I attend a solstice sunrise ritual. At the end of that day, I'm hosting a sunset event at my new home.
Speaking of which, it's been a peculiar thing moving into my dream house while revisiting my time in the personal underworld. While I was doing all the renovations with my two sons, I was focused on the dark times prior to getting the keys to our new life. Now that I'm done with reminiscing, my attention has turned towards what I need in order to fully embrace this new key.
Doesn't it seem fitting that I ended my time in the underworld during November, the month most sacred in Modern Hekatean Witchcraft? For sure.
Hekate Soteira
As the calendar counts down the days to the winter solstice, Hekate's energy begins to shift as well. She has completed Her role as guardian out of the darkness and is transforming into Her most brilliant form – Hekate Soteira (Our Savior). So, while some people out there are purporting to be glorifying another savior, I'm focusing on my Lady and Savior, Hekate.
Soteira was an epithet associated with many ancient gods besides Our Lady. In The Chaldean Oracles, Hekate is referred to as Our Savior. It is also from this ancient text that the image of Her wearing a crown of stars is found. The ancient meaning for savior with the context of The Chaldean Oracles is very different from our current definition that's largely based on that other religion. The contemporary view of savior is that of a deity swooping down from on high to save us from ourselves. Basically, we are passive recipients of the salvation.
The ancient view of Hekate Soteira was much more active. Another key difference is that in our contemporary view there is separation between the savior and the saved, while the ancient perspective saw salvation as a unification of both. I'm no scholar of ancient Greek texts, so I'll apologize right now if I've got this wrong. If you're keen to learn more about Hekate Soteira from an academic perspective, try this excellent book.
Saving Ourselves
Within Modern Hekatean Witchcraft, the understanding of Hekate Soteira reflects the ancient interpretation from The Chaldean Oracles as humans being active participants in our salvation. In order to be saved, and thus gain enlightenment, there's a lot of stuff for us to do. Sitting on our hands waiting from Hekate to come down from on high in all of Her brilliant glory and solve our problems simply isn't going to happen.
As the wheel moves us towards the solstice, it's time to think about what salvation would look like to us. I think that's an important enough topic for a separate blog, so I'm going to do just that in the upcoming "Are You Ready? Preparing to Leave the Personal Underworld." I'll talk about what I'm learning as I follow Hekate's torches out of the darkness. A big part of this has been accepting that life is a balancing act of chaos and control.
The Starry Road of Enlightenment
Hekate Soteira is the embodiment of all of Our Lady's upper world energies. In this aspect, She is The Cosmic World Soul that guides us along the starry road of enlightenment. It is through connecting with this energy that we can access Hekate Soteira, our upper world guides, and our higher selves. This communication is required to live an authentic life that we love. Getting to a place of authenticity also enables us to fully harness our witchcraft. Don't we all want that kind of salvation? I know I do.
Hail Hekate Soteira,
Clad in a million stars,
Veiled Queen of the upper world,
Descend on me.
Guide me towards the light.