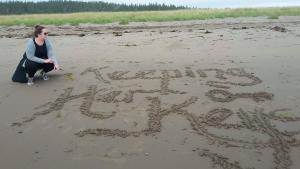 A persistent problem I've noticed over my years being active in many online Pagan groups and in real life ones is that there exists a minority of condescending self-righteous blowhards who are eager to 'splain to me why my perspective is inferior and wrong. Sometimes, I've engaged them, but mostly I just ignore their nonsense. I've reached the tipping point though, I'm done with the holier-than-thou crowd. I'm finished with taking the so-called high road of ignoring them. From now on, I'm calling them on their foolishness. My beliefs are just as valid as yours. Don't tell me what to think.
I'm fully aware that my version of Modern Hekatean Witchcraft is far removed from mainstream Paganism, and even from Hellenismos. I'm cool with that. What's not acceptable are the hurtful comments and hateful language being used by a small minority of people in the various groups in which I'm involved.
Central to my very personal practice is to live a virtuous life. Keeping Her Keys is all about my exploration of what this means to me. Now, I'm taking on how I've handled hurtful speech in the past.
I'm a Goddess Loving Warrior
Way back when I was trying out online dating, I had this brief interaction with a guy that pretty much captures my approach to dealing with these types. I remember the chat verbatim:
Him: "I'm a God fearing soldier."
Me: "I'm more of a Goddess loving warrior."
Then he starts to explain to me the foolishness of my opinion. I ended the conversation.
That pretty much sums up how I've dealt with people who have that mindset over the years. When I encounter that "let me explain the right things to believe" attitude, I usually walk away. I don't engage. I tell myself that I am taking the high road. That there's no way to change a proselytizing blowhard's opinion, so there's no point in wasting my time. This doesn't sound like something a goddess loving warrior would do.
On occasion, I say something that one of these types feels merits correcting. Having this blog seems to have increased the likelihood of this happening. When this happens, I usually try to write an earnest response that isn't overly critical of their views and certainly doesn't insult them. Now that sounds more goddess loving warrior like.
Enough of That Nonsense
It's early.  I haven't had my coffee. And I'm done with the holier-than-thou trolls.
I have something that these people don't have – a legitimate online platform. Almost invariably, these people emerge to preach their gospel, insult others, be generally disrespectful, etc. and then crawl back under their rock. They get away with it. I've seen lots of people hurt by it. Enough.
You're probably curious as to what exactly has me so riled up on a wintry morning. I'm not going to get too much into specific details, but I'm going to talk about a few common themes that show up frequently in the many online Hekatean groups in which I take part. I'm guessing these themes are not limited to my little corner of the pagan universe.
My Beliefs and Ideas are Just as Valid Than Yours
First, there's this idea that "my interpretation of Hekate is the only correct one." It's not.
Like I wrote in my recent article about the common themes of Modern Hekatean Witchcraft, there are many ways to honor Hekate and practice witchcraft. A lot of this focuses on the available historical documents concerning Hekate. Let me tell you this, those documents are someone's opinion, too. Yes. It's true. Those ancient texts are the expression of the writer's beliefs and thoughts. You're acting like a commentator on Fox News. I'm embarrassed for you.
I'm going to tell you something else that may be shocking – those historical texts are being interpreted by you. You are adding your own beliefs and thoughts to them as you spew them. And if you read others' interpretations of those texts, then you're mixing their perspective with yours. We can't help it – it's what humans do. We can be aware of it, though.
Now, I'm not trying to discredit people who are erstwhile scholars of the ancient texts. Quite the contrary. In my experience, these individuals engage in thoughtful and respectful discussions. I'm talking about the ones who possess a little knowledge and a lot of hubris.
I Won't Apologize for My Beliefs
Meanwhile, very knowledgeable, sincere and respectful individuals take an apologetic stance on their opinions. They frame their discussions carefully. And they even use the expression "unverified personal gnosis." I'm guilty of being one of these types. I've stopped doing it. Listen to me – it's ALL "unverified personal gnosis." There are no randomized controlled trials to evaluate the veracity of any theosophy or religious philosophy.  Your beliefs are just as valid as anyone's. Scholars who study the ancient writings may have more knowledge about these works, but this doesn't mean they have more wisdom.
Biases are Part of Being Human
An explanation for their behavior beyond their lack of basic interpersonal skills and pitiable narcissism is the ingroup-outgroup bias. It's a natural thing for us to want to prove our own group is right and that the others are wrong. Moreover, people have the need to prove they are right. It validates them. I'm not immune to this. You could even say that I'm trying to assert my own superiority by calling out the blowhards. However, being aware that this is a risk is an important part of being able to engage in polite discussion. And just because I can understand where this comes from doesn't mean I should put up with it.
The Patriarchy is Alive and Well
I'm taking a deep breath and going there for the third theme I've noticed. In my experience, the majority of these blowhards are men. Usually raining down on women, but not always. Women tend to be more of a helpful sort of condescending. Patriarchal behavior is alive and well within the Hekatean discussion world. How ironic is this that discussions about a goddess that transcends gender roles can take on the tone of "smart man, stupid woman?"
There's also the pattern of the aggressive male and the female who backs down. I've done this myself many times by deciding to not engage these types. I'm wrong to do so. I should – respectfully – explain my own perspective. But, there's limits. When someone starts insulting me or claiming that my perspective is wrong, there's not a lot I can do through direct discussion. However, I can use my blog to make my own positions clear. I can use polite discussion to set an example.
Can't We All Just Be Nice?
If there's any place that should be able to foster respectful discussion, it's within paganism. After all, many of us have rejected autocratic religions. You would think that we would learn from these experiences. I think most of us have. The vast majority of us – at least within the Hekatean corner of paganism – are conscientious when expressing ourselves. However, the self-righteous minority causes a lot of upset. For those of us who are self-aware, perhaps we can try a bit harder to be respectful and to be supportive of those who get hurt by the trolls. Maybe this is me being Canadian, but can't we all just be a bit nicer to each other?
My Personal Approach
Like I wrote above, I try to write in a respectful way and be aware of my own biases. I write about my own experiences and my own take on Modern Hekatean Witchcraft, using words like "devotion", "worship", and "faith".  Don't tell me I'm wrong to use them. Over the past week, I've had at least three different examples of this happening. For example, I was told I was in the wrong to use the word "faith" because it was a Christian term. No. It's not. None of the terms I use are Christian. They are words that describe my approach to Hekate, witchcraft, and life.
I was raised in a fundamentalist evangelical family so I know these words. I have reclaimed them for my own personal approach.No one is going to tell me what words I can use. Then there are the critics who deride my approach itself because I am heavy on the personal development and light on the ancient teachings. That's who I am. I'm not insulting those people because they appear to lack the ability to self-reflect, but I reject their attempts to ridicule my perspective. I am happy to engage in respectful discussion and to hear the opinions of those who's own interpretations and experiences are different than mine.
Don't Tell Me What to Think
I feel like this blog is just a big old rant. I'm tempted to not post it because I like to avoid controversy, I don't like to attack people, and I generally just want everyone to get along. One of my intentions for Keeping Her Keys is to use the platform to support others, not tear them down. I decided to publish it because it is vital that I hold myself accountable for putting up with the trolls rather than engaging them. I am shining a torch light on my own behavior. I'm making a commitment to myself that from now on, I will not be silent when someone attacks me or another. When someone tries to tell me – or someone else – what to think – I'll stand up and call them out. I'll let them know that they can't tell me what to think.