Artemis the solitary hunter, stalking her prey and yielding to no man has always been a symbol of sovereignty. She is, above all, the Mistress of Arrows, whether in her epithets linking her with Hekate as "far shooting" or when she took down Orion. Never cruel, Artemis always aimed for the heart lest her enemies suffer (well, most of the time but this is a blog and not a book) regardless of animal or man as her prey. Her arrows were always true, providing us with many lessons on how we should always aim for the heart.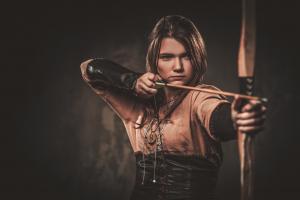 NOTE: Artemis had a pack of nymphs that hunted with/for her, so she wasn't always completely alone.
She was revered as compassionate to those in crisis and revealed herself to those needing her help. From the stories of Atalanta and Iphigenia, we learn that Artemis was a goddess who set things right. In all these ways, she aimed for the heart through merciful arrows or letting others speak their truth and live on.
As a guardian of childbirth and children, Artemis again aims for the heart of those most vulnerable in the kindest manner. However, she took things "to heart" especially when she perceived dishonor to herself or others. All in all, Artemis was a goddess that shot for the heart in many diverse ways.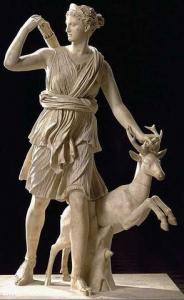 We can learn a lot from all the ways she aimed for the heart. A good place to start is at the beginning.
Shot through the heart
And you're to blame
You give love a bad name…*
Artemis' Birth Story: Completely Heartless Circumstances
Artemis' birth story reads like an eighties rock anthem. Hera, pissed that Zeus had impregnated a mistress (again) banished the pregnant Leto from any dry land. She finally found a safe spot on the Island of Delos, Mount Kynthos (Cynthia in Latin) to be precise. However, the angry wife prevented anyone from assisting in the birth, except Eileithyia in some versions. After Artemis was born, she helped birth her twin, Apollo. Thus, began Artemis' life. Can you imagine anything more stressful than not being able to find a place to give birth? Talk about an arrow to the heart.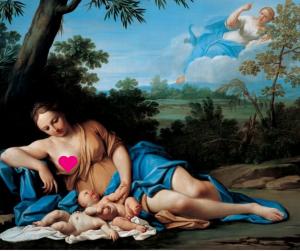 Hera's "Arrow" to Her Mother's Heart Shaped Artemis' Life Course
Artemis took this arrow to her mother's heart to her own, vowing to never get herself into the same situation. In addition to her vow of chastity, Artemis became a guardian of childbirth and children. As with most Greek deities, there are many versions of her core story and then there are completely disparate ones.
She became the solitary hunter, wandering in the wilderness. However, her image is not of savagery or barbarism, but of synchronicity with the natural order of the world. Unlike men in the ancient Greek view who were often glorious heroes, she stood alone with her beloved wild animals.
"I prefer the company of wild animals to men. They are far more reliable and stink less."
(Something Artemis might have said.)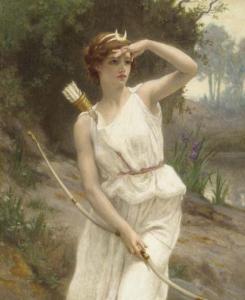 Living Our Truth Requires an Open Heart
In this way, too, she shot for the heart. In this case her own. Perhaps her sovereign existence was due to her early childhood trauma or maybe she was hard-wired for the solitary life. We'll never know. But, we can take her story as a reminder that living our truth, even when it is borne from original pain, is always best. Shoot – or speak – from the heart and you can guarantee that at least one person will be happy. Live a false life and no one will be.
There's More Than One Way to Shoot an Arrow
Artemis also shot for the heart when she appealed to her father, Zeus, for her signature bow and arrow. Crawling upon his knee, she beguiled him into granting her heartfelt wish. There's a lesson in this part of heart-targeting: don't back away from tugging on someone else's heart strings to get your own heart's desire.
Being a Straight Shooter
Unlike most of the other Olympians, Artemis was a straight-shooter, even in this example with Zeus, she falls far short of the deception and manipulation commonly employed by others in her pantheon. She showed that her heart was as powerful as her arrows in many tales, including the time she spared Heracles' (Hercules') life after catching him stealing her beloved deer (he had a good reason).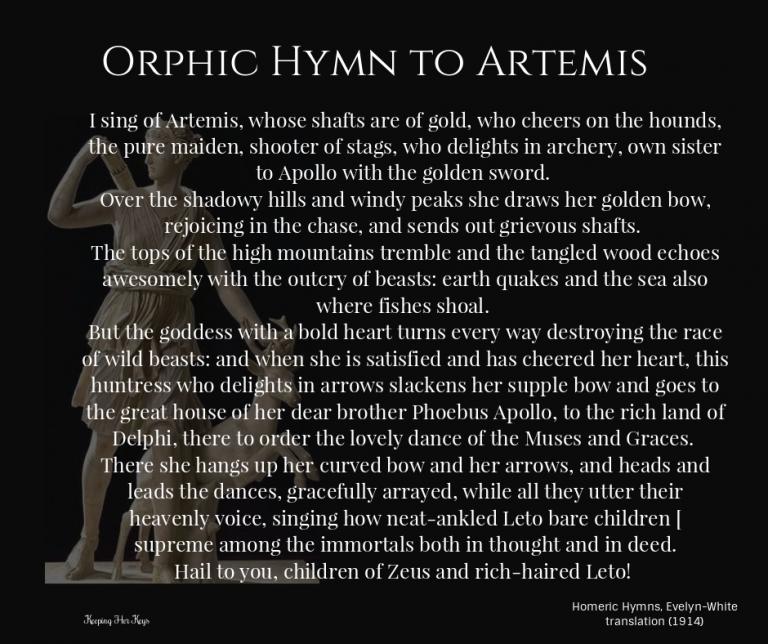 Artemis as the "Far Shooter"
Artemis' name further reinforces her role as a straight-shooter, although interpreting the meaning of it is anything but linear. She was often referred to with Hekate in many capacities, as companions and being called Hekate as an epithet. One theory posits that Hekate's name means "far shooting" ("far darting") in a reference to her connection to the moon. It could also mean "hounds" or have something to do with the number 100, but that's a topic for another blog.
In addition to his lunar connection, Artemis was directly labeled as a moon goddess in some of the ancient stories. Apollo was viewed as Phoebus the sun and Artemis as Phoebe (Selene) the moon. Extending this idea to a broader context of how the moon was viewed back in those days, it can be seen as a symbolic "heart" whereas the outer reaches of the universe represented the cerebral energies. The moon was very much understood as a mediator between humans and the greater mysteries, such as Hekate being portrayed as a sort of lunar go-between.
Artemis and Witchcraft
For me, the moon is very much at the heart of my witchery, so I associate Artemis directly with my practice. Artemis is directly connected to pharmikeia, what we would today call herbal witchcraft. She was a helper to Chiron the centaur who is associated with ancient medicine. This is the part of witchery I love most of all, so Artemis' arrow has found another place in my heart. When I am with botanicals, I feel my heart is most open and that I am completely free.
Artemis as a Symbol of Female Sovereignty: A Direct Hit at the Patriarchy
In addition to her connection to witchcraft, the moon, childbirth and aid in times of crises (Atalanta and Iphegenia), Artemis has been a symbol of youthful female empowerment since her earliest days. I find it interesting that the English translators of the nineteenth century didn't view this as an overly positive role:
"First comes the epoch of free girlhood, symbolized by Artemis, the Roman Diana. Her very name signifies health and vigor. She represents early youth, and all young things find in her their protector. She goes among the habitations of men only that she may take newborn infants in her arms; and the young of all wild creatures must be spared in her honor, religion taking the place of game-laws. Thus she becomes the goddess of hunters, and learns of her brother Phoebus to be a huntress herself. To her out-door things are consecrated,dogs, deer, fishes, fountains, fir-trees, and the laurel. She is free, vigorous, restless, cold, impetuous, unsympathetic, beautiful." (Wentworth Higginson, 1871)
In contemporary times, Artemis has become a symbol of sovereignty especially for young women. From her pop culture presence in such places as the DC comics universe to her status as a symbol of feminism, Artemis still speaks directly to the hearts of girls and women.
Just the Tip of the Arrow
There is so much I am leaving out about Artemis. I haven't even touched upon her Ephesian version, where she was a Mother Goddess associated with bees. This Artemis (probably descended from the goddess Metra), associated with bees was closely linked to the Hekate of Anatolia as well (the cult at Lagina was nearby). The lore connecting Artemis and Hekate is extensive. I'll write a separate piece about all that. In addition, there is the transformation of Artemis into Diana that I haven't written about at all. I'll say this: it's fascinating that Diana has become such an intrinsic force in modern paganism. It's almost as if Artemis let this happen, so once again she can remain unsullied and independent. I've shared some books for further reading below if you're interested in learning more about Artemis.
Artemis' Arrow in My Heart
"Queen and huntress, chaste and fair,
Now the sun is laid to sleep,
Seated in thy silver chair
State in wonted manner keep:
Hesperus entreats thy light,
Goddess excellently bright.
Earth, let not thy envious shade

Dare itself to interpose;

Cynthia's shining orb was made

Heaven to clear when day did close:

Bless us then with wished sight,

Goddess excellently bright.

Lay thy bow of pearl apart

And thy crystal-shining quiver;

Give unto the flying hart

Space to breathe, how short soever:

Thou that mak'st a day of night,

Goddess excellently bright."
– Ben Jonson (c. 1601)
This poem was my introduction to Artemis.
She is always a presence in my life, supporting me in my outsider ways and as an advocate for the marginalized. You should know my conservative, evangelical Christian mom had no idea what the name meant. Also that Artemis is associated with Gemini and the number six, my birthday. Deer live on my property and I wander in my very own marsh.
Artemis: Epithets and Correspondences
Artemis is so very much part of me that this blog was absolutely the most difficult one I've written. It was as if her arrow was lodged so deeply in my heart that I couldn't pull it out to share with you.
I will share with you a couple of tables with selected correspondences and epithets of Artemis. Sort of a birthday present from me to you. Perhaps Artemis' arrows will find their way to your heart.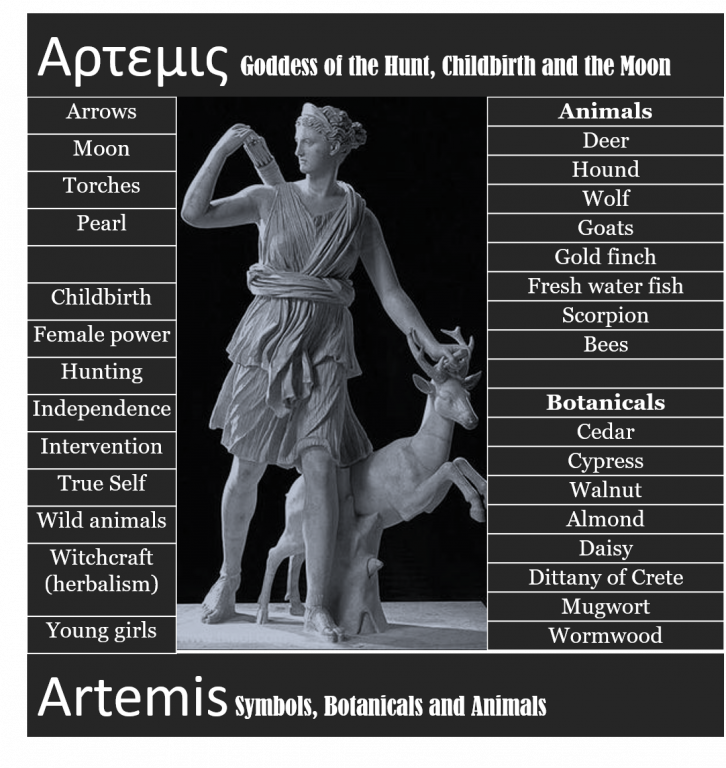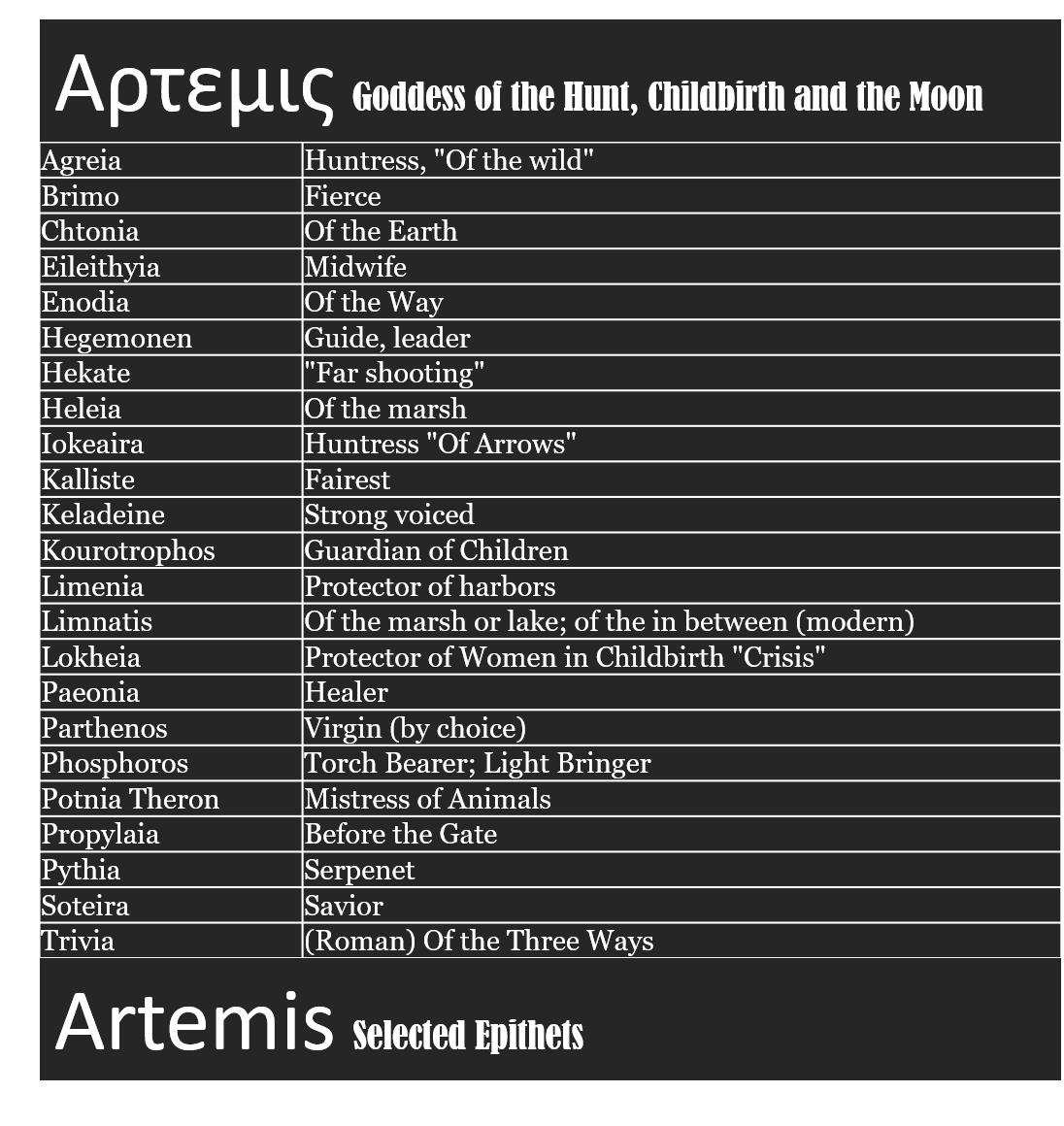 Sources
*Richard Sambora / Desmond Child / Jon Bon Jovi…in case you didn't know
Aeschylus. Suppliant Women. English translation by Herbert Weir Smyth (1926).
Apollodorus. The Library, English translation by Sir James George Frazer (1921).
E. M. Berens. The Myths and Legends of Ancients Greece and Rome (2009).
Hesiod. Homeric Hymns, Epic Cycle, Homerica. Translated by Evelyn-White (1914).
Thomas Wentworth Higginson, Atlantic Essays (1871).
Ben Jonson, Cynthia's Revels: Queen and huntress, chaste and fair (1601). (FYI: There are other Artemis/Cynthia poems and plays.)
M. Manoledakis. Hekate with Apollon and Artemis on a gem from the southern Black Sea region, Mitteilungen des Deutschen Archäologischen Instituts. Abteilung Istanbul (IstMitt)l62 (2012), 289-302.
http://www.theoi.com/Olympios/Artemis.html
Learn More
Many of the above books are public domain, but I am providing the link to the one below because it is a treasury of information.
The Dictionary of Greek and Roman Biography and Mythology (1849) by William Smith is public domain. You can download a searchable version from:
http://www.columbia.edu/cu/lweb/digital/collections/cul/texts/ldpd_10482899_000/ldpd_10482899_000.pdf
Sorita D'Este's book on Artemis is available for Kindle and in print:
https://www.amazon.ca/Artemis-Virgin-Goddess-Moon-Hunt-ebook/dp/B0078IKMAA