For all my cheeky ways, I have an equally strong sentimental streak, especially about some things like the place I call home. It's where I find my magic, including my understanding of Hekate and my approach to witchcraft. Come join me around the fire while I spin you a tale about the place I call home.
Come with me to a place by the sea
That will surely restore your faith in true witchery.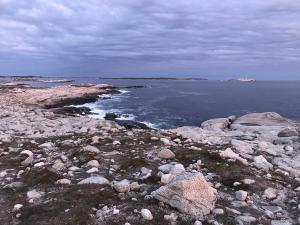 The Magic of Nova Scotia
I offer no apologies for my bad poetry habit. You see, it's as natural as the tides here. A love for the spoken word, whether in verse or song is part of Scotian culture whether you find yourself among the Scotch (the proper way to say Scottish here), Irish, African Nova Scotians or the original inhabitants of this wind-blown peninsula, the Mi'kmaq. We all love to sit round the fire, singing songs and spinning yarns.
Consider this article a break from IT ALL. Come sit my by the fire while I tell you a bit about the magic of Nova Scotia. It's far from perfect, but it is a most magical place, especially this time of year. In case you can't hop on a plane and land on my doorstep, accept this blog as a substitute for your vacation. However, if you can, come. Céad míle fáilte.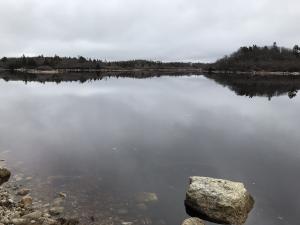 I've been planning to write about my absolute favorite thing (besides my sons, I already wrote about them once this year…that's my quota) on my birthday because its my birthday, so why not. You might be thinking that Hekate would take top spot after my offspring, but no – although her Nova Scotia connection is coming up next because I just can't help myself.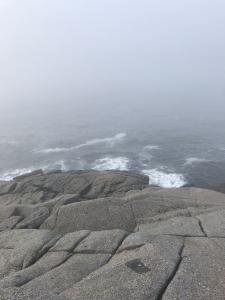 Hekate: She's Called Nova Scotia
Perhaps you can imagine my delight when I discovered that Hekate was referred to as "Skotia" by at least one ancient source: "Skotia: of the Dark, of the Gloom: Diodorus I describes Hekate Scotia as worshiped in Egypt. The title was also associated with Aphrodite in Egypt.  The Day of Yahweh by  William Arthur Heidel, 1929, p. 516."
(Thanks to Sarah Neheti Croft for this. Her database of Hekate's epithets is phenomenal.)
Nova Scotia translates to "New Scotland." Somehow, Scotland was named Scotia (Latin spelling). There are competing theories about the origin of the name for the place where my home is named (how's that for a mouthful), but: "Scotia seems to derive from the Greek "skotia" meaning "darkness". (example: 'Kai phos en to Skotia phanei, Kai skotia ouk Katelaven' And the light shines in the darkness, and the darkness cannot comprehend it. )" Read about this debate here.
The Land of the Liminal
Hekate as Skotia is a dark goddess of the liminal spaces, including shadows (skia in Greek). Sitting here around the fire with me on a sunny June evening, the liminality of Nova Scotia is nowhere to be found. Just wait. The fog will soon paint the night with a very gloomy (and spooky) filter. Geologically, Nova Scotia is also very much an in-between piece of the planet, with bits from what is now Africa and Europe squished alongside more typical east coast rock, like the omni-present granite near my home. This renders a diverse magical landscape rich in minerals from amethyst to gold. Learn more.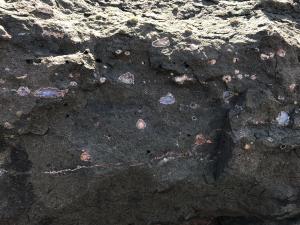 Hekate as Nova Scotia is very much the way I interpret her, as a 21st century goddess. To me, like the geology of this province, she offers a unique diversity not found in other deities. I've started referring to my outdoor rituals as the Temple of Hekate Skotia. I don't need a building or a statue to connect to all that is her mighty power, from Skotia to the World Soul. This is how I experience the divine, as a force of nature from the pure raw emotion of chthonic worms to the most glorious of sunrises. To me, Hekate is called Nova Scotia:
"She grows on you slowly the first time you meet
There's just so much beauty the heart can believe
And you want to stay longer and she's ever so pleased
You're one of the many who don't want to leave

So walk through her green fields, Go down to the sea
The fortune in your eyes is more like a dream
She's called Nova Scotia and she so makes you feel
You discovered a treasure no other has seen"
Those are the words of the incomparable Rita MacNeil. You really should listen to her sing. If her voice doesn't awaken your magic, then nothing will.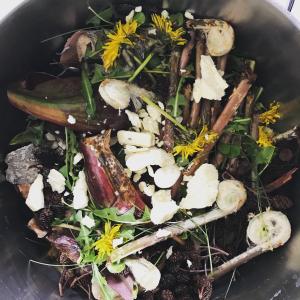 The Magic of the Land
Beyond words and the landscape, the magic of Nova Scotia is found in her flora and fauna. I've been spending as much time as possible roaming my property with Circe as my companion this spring. It's our first one here on the edge of The Village (doesn't that sound more than a little creepy?) with lots of land to explore.
Yes, my house is in the video. I'm not saying which one. 
I've discovered many treasures so far, including my beloved pitcher plants that have proven to be excellent at reducing my chronic shoulder pain. Around here ethnobotany is trending big time. Using what's on hand is part of the Nova Scotia approach to life, so it's not surprising that the existing history of witchcraft here reveals a practical approach to magic that mirrors my own. The eminent folklorist Dr. Helen Creighten documented these stories in the classic Blue Nose Magic. 
New Pictish Witchcraft
I jokingly call my peculiar magic New Pictish Witchcraft as a homage to the early Scots settlers here. Seriously, legend has is that there is a line from Scotland through Nova Scotia by which the Wiccan Rede travelled en route to the United States. There's not much written about that or Nova Scotian Witchcraft beyond Dr. Creighton's book of lore (if you can read French, I highly recommend Les plus belles légendes acadiennes). Like Nova Scotia herself, our magic seems open to all, but holds vast secrets available only to the most intrepid of seekers. So, come sit round the fire while I talk about my home, but perhaps pay more attention to what I don't say than what I do. And watch out for the Bog Lady.
Although I find my personal magic here in Nova Scotia, I've seen it in all sorts of places on my travels. Perhaps my story of Scotian magic will inspire you to find it where you are. The best magic is always found at home.
I'll leave you with a final dose of Scotia musical magic:
Additional Reading:
Witchcraft: Tales, Beliefs and Superstitions from the Maritimes by Clary Croft
Native Witchcraft Beliefs in Acadian, Maritime and Newfoundland Folklore by Ronald Labelle
Scottish Witchcraft and Magick: The Craft of the Picts by Raymond Buckland
The Rede of the Wiccae: Adriana Porter, Gwen Thompson and the Birth of a Tradition of Witchcraft by Robert Mathiesen and Theitic. Read Mat Auryn's review.
Learn more about my course on Applied Modern Witchcraft that will help you heal,  The Sacred Seven. My course on Modern Hekatean Witchcraft will be starting in the fall. Join the Keeping Her Keys Facebook community. Become a member of our group all about Applied Modern Witchcraft to find a supportive community and loads of witchy info, including more healing magic: The Witches' Realm.