The Summer Solstice is the time to acknowledge Hekate as the Keeper of the Keys of all creation and along our personal journey. Three contemporary ways to incorporate Hekate into solstice workings include a gratitude ritual, personal sovereignty work and seeking her assistance for shadow taming.
Using plants, symbols, colors and other correspondences associated with Hekate adds strength to these workings. I offer suggestions including Dittany of Crete and Fiery Flower of Creation symbolism as examples of correspondences and symbols that can greatly enhance our rituals evoking Hekate on the Summer Solstice.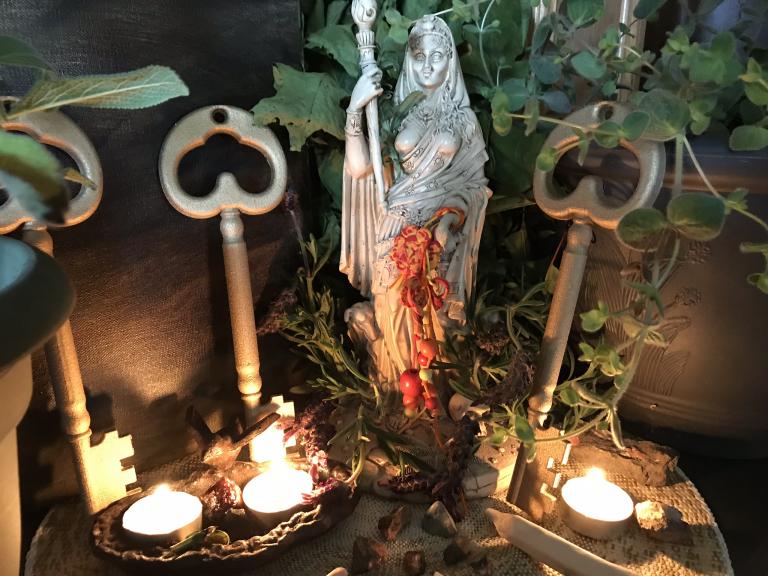 With the approach of summer, I try to lean into the brighter, longer days even though I'll always prefer the delicious darkness of the fall and winter. I do love the green world, so I focus on the abundance of botanicals waiting to be collected for my witchery. Like Hekate's witches of old, I stand in her light that protects and guides. We witches need her shade. We also need the sun. It's in her role as World Soul and her Upper World energy as Hekate Astrodia Kleidoukhos, Hekate the Keeper of the Stars, that she fuels the sun that brings us life.
While there are many aspects of Hekate that can be incorporated into Summer Solstice activities and rituals, I honor her as Keeper of the Keys. This ancient reference from the Orphic Hymn and other sources resonated deeply with me from when she first called to me. I see her as the Gatekeeper of all things, from the key holder for the doors I open throughout my life's journey to the Cosmic World Soul that unlocks the material world.
Something about this metaphor speaks to me in a most profound way, I know that there are others who share my fascination with this role. In my Hekatean Wheel of the Year ongoing project and in Keeping Her Keys: An Introduction to Hekate's Modern Witchcraft, I situated the celebration of Hekate as Universal Key Holder on the Summer Solstice because this is the time of year when all of nature's gates have been unlocked.
From the countless ways that we can include Hekate as Keeper of the Keys in Summer Solstice workings, I've selected three closely related but distinct themes. For me, the solstice is all about the bounty of the land on the longest day of the year. I connect to Hekate's universal current as all the doors of life are flung wide. It's a time to reflect upon all that I have in my life as well as what I seek to activate. After the gratitude ritual which I think is a necessity of better living through witchcraft, I've selected the two most common themes that I've been hearing about lately from members of the Keeping Her Keys community: sovereignty and shadow work.
The Sovereign Goddesses Summer Solstice Ritual is a perfect way to claim your power under the bright sunlight. Read it here.
A Hekatean Summer Solstice Altar and Talisman
My personal focus for the Solstice is all about gratitude. While the bounty of nature is all around me, I turn my attention to the plenty in my own life. I've constructed a Summer Solstice altar with botanical offerings to Hekate, made a charm for her and added things that symbolize what I am most grateful for. Each part of the altar holds great meaning to me. I've added several botanicals from her ancient garden (from the Argonautica and other sources) including Dittany of Crete, oak, lavender and sage. I've added rosemary as a personal token, calling upon its properties of love and protection. Bay laurel is another botanical that is great for gratitude and abundance work, I wrote an entire article about it here. If you are looking to manifest abundance, do the gratitude ritual first and then perhaps a prosperity spell on the following full moon. You can read mine here.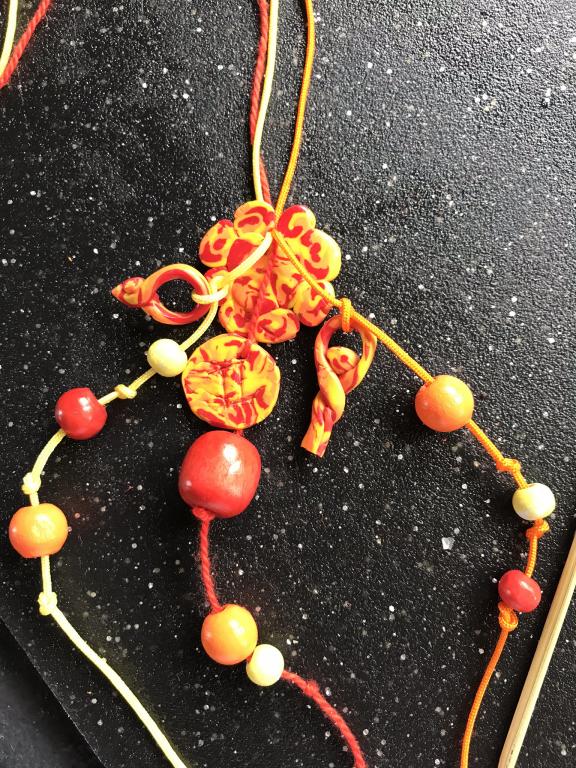 Correspondences
From ancient Hekate's Garden, I included Dittany of Crete which is great for evoking her presence and is sacred to witches (I really think this plant deserves more popular attention), lavender also for getting her attention and for blessings, oak for acknowledging abundance and for luck (tie two branches crosswise with red cord to attract it), and sage for ensuring continued plenty. I added rosemary because it is one of the botanical guardians of my home and property (having a plant by the front door ensures abundance).
In the charm, I used colors representing Hekate as The World Soul, also known as the Fiery Flower of Creation – red, yellow and orange, with orange being the only one not historically associated with her.
I also added a dog (coyote) bone honoring her loyal companion for seeking their continued protection. Epithets used in my ritual include Keeper of the Keys, Gatekeeper, World Soul, Fiery Flower of Creation.
Regular gratitude practice attracts prosperous energy. If you don't have one already, you could use this ritual to mark the beginning.
Honoring Hekate as a Goddess of Sovereignty
Another way to include Hekate in Summer Solstice celebrations is to connect with her powerful energy to activate your own personal sovereignty. Hekate as a Goddess of Sovereignty is one of her most compelling contemporary roles, with many finding their way to stand in their own power through her strength. I offer no explanation for this, but like the phenomena of Hekate's Calling or her role as Guardian of the Marginalized, I've observed so many similar stories that I consider this a legitimate modern aspect.
Theme: Personal Power
The key to witchcraft and a bountiful life is to learn to stand firmly in your sovereignty. Explore your own priorities and boundaries in the bright sunlight. Contemplate Hekate as The World Soul, her current fueling all living things. See yourself in a similar way.
Making a Sovereignty Poppet or Statue
You can create a poppet or statue that represents Hekate's Sovereign Goddess aspect using her three main colors of black, red and white. Use black to represent your emotions and connect with her Under World role as Guardian through dark times, red for actions and her Middle World role as Guide along our way and white for thoughts and her Upper World role as Keeper of the Keys. As you create the poppet or statue contemplate how you can align your feelings, actions and thoughts towards standing in your power. Anoint the poppet or statue with frankincense and olive oil on the solstice, writing your own hymn or prayer to evoke Hekate's presence. You can add oak to summon your own inner power as well, maybe even burn some to really get things going.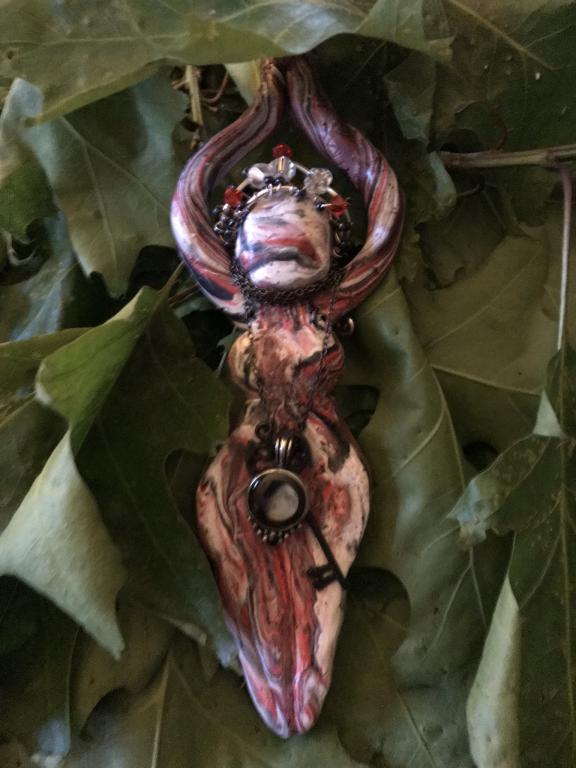 If making a sovereignty poppet isn't your thing, adapting my personal power spell to the Solstice may be what you're looking for.
Read my Guide to Poppet Making here.
Hymn to Hekate on the Summer Solstice
I'm not one for the bright summer sunshine, but I do try to lean into this season. Here is a hymn to Hekate for the Summer Solstice.
Bright Hekate, Kratais!
All Powerful Goddess, Queen of the Sun!
Hail to You, Fairest Bestower!
Your bounty spreads over the land.
Great Pammetor, Mother of All,
I see you in all the splendor.
Mighty Aglaos, Creatrix of the Sun,
Continue to shine upon my life
And all the world.
I stand here in Your Powerful Light,
And claim my own!
Hail Bright Hekate, Kratais!