Since ancient times Hekate's attention has been sought for all matters relating to paid work. This short petition can easily be expanded to a ritual and spell seeking her intervention for your career concerns.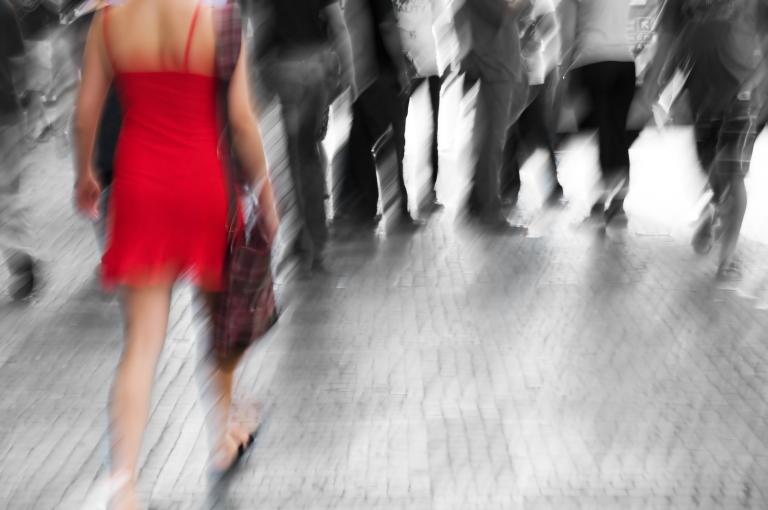 For many of us, paid work is a huge part of our lives. It is the activity we spend the most time doing and often worry about more than anything else (except maybe relationships). No one goes through life without periods of under employment and unemployment. The loss of a job creates financial ruin for most of us. This petition can be incorporated into a ritual and spell. Ways to do so are suggested below.
Hekate and Paid Work
As magical practitioners, witches or energy workers (whatever term works for you), we can petition a deity associated with work to bless our career endeavors. Hekate is particularly suited for this work in her role as Triformis. Her three figured form often guarded homes, towns and cities in Ancient Greece and Rome. She was regarded as a goddess of the common people and the lower classes. She was a protector of the home and her blessing was sought for various forms of employment, from fishing to warfare. Petitioning Hekate as a Three Formed Goddess to bless all forms of work would have been practiced by many ancients. In contemporary terms, as Guardian of the Marginalized, her connection to those who struggle for fair wages and decent working conditions is of relevance. Moreover, Hekate is associated with granting (and removing) prosperity in all forms from ancient times onward.
Petition, Ritual and Spell
This is not specifically for prosperity, but focuses on seeking Hekate's intervention for all things associated with paid employment. There are lines for other Hekateans because the petition is specifically for those who follow our Dark Mother.
This petition can be transformed into a ritual by evoking Hekate and giving her offerings. My Evocation of Hekate Suitable For Any Rite can easily be adapted for paid employment.
Do the ritual as you feel led, including reciting the petition as I've written it or add your own lines. Follow the usual process of preparation and cleansing prior to beginning. After completing the ritual, open your Hekatean Cord to receive messages regarding your paid employment from her.
This ritual calls upon Hekate in her roles as Guardian, Guide and Gatekeeper/Key Holder. To create a spell, incorporate suitable colors, stones and botanicals. Black onyx or obsidian can be used to remove all negative energies when evoking Hekate Chthonia, Torch Bearer and Guardian, specifically for removal of barriers to the protection of your rights as a worker. For Hekate Enodia, Guide of our actions in the Middle World, red represents the energy of the life force. Use red jasper to activate your energy for growing a positive career. For Hekate Kleidoukhos, Gatekeeper and Key Holder, her wisdom is sought for activating the intellectual and mind properties of paid employment. Use a white quartz point to activate these characteristics within you regarding your work. Alternatively, you can use black, red and white cords. Activate the stones or cords after each of the corresponding sections of the petition. Envision the energy pouring into them. Carry the stones with you and/or wear the cords.
Preparation
If you already have a Hekatean altar set up, cleanse it and infuse the statue or image with an oil blend suited for employment magick. A simple one can be made by macerating leaves of appropriate trees such as oak, holly or pine. You can fumigate the area with benzoin and then let it carry your working out into the work. If you don't have
a Hekatean altar
, construct one including an image of Hekate, her symbols and correspondences. Write your specific intentions using suitable inks on a medium such as birch bark or a prepared sheet of paper (smoked or salted, for example).
Offerings
Placing a bouquet of botanicals sacred to Hekate that correspond to job energy while offering words of gratitude is a suitable offering for this ritual.
For even now, whenever any human on the earth seeks propitiation by performing fine sacrifices according to custom, he invokes Hecate; and much honor very easily stays with that man whose prayers the goddess accepts with gladness, and she bestows happiness upon him, for this power she certainly has. – Hesiod's Theogony (8th BCE)
The Workers' Petition to Hekate
Hail Hekate Chthonia, Guardian.
Hail Hekate Enodia, Guide.
Hail Hekate Kleidoukhos, Key Holder and Gatekeeper.
Hail Hekate Chthonia, Guardian,
Protect my rights as a worker,
Bringing me a fair wage and good benefits,
Bestow these on me and all workers.
Hail Hekate Enodia, Guide,
I call upon you for support for my career,
And your blessing over all your followers' paid work.
Hail Hekate Kleidoukhos, Key Holder and Gatekeeper,
Grant me the keys of success for my work,
Extend this to all your follower's who labor for income.
Bestow your wisdom on us along our employment journeys.
Hail Hekate Chthonia, Guardian.
Hail Hekate Enodia, Guide.
Hail Hekate Kleidoukhos, Key Holder and Gatekeeper.
The more energy you pour into this working, the greater the yield. In my experience, Hekate appreciates hard work in all it's forms. Ensure that you release the energy through smoke or at least by opening a window while envisioning Hekate's energy being lent to your intentions. Follow-up with daily practices to boost the strength of the working.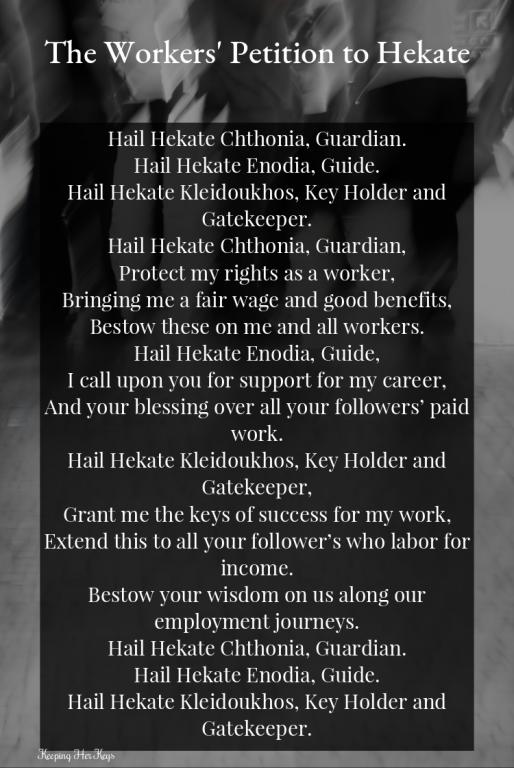 Connect with Keeping Her Keys on Facebook. Apply to join The Witches' Realm, our group all about Applied Modern Witchcraft.