These days there seems to be a growing divide between magickal practitioners who claim the truth of witchery compared to those who embrace a lighter form of the craft. The expression "a witch that can't hex, can't heal" is often offered as a counterpoint to sayings like "harm none," but what does this saying truly mean? 
I recently had one of those WTF moments when I read about "keeping karma clean." The whole debate about practicing a restricted range of witchcraft in order to avoid attracting trouble back to us is a fascinating topic for sure. There's heaps of confusion, ignorance and downright hubris that can all be at play whenever someone claims that they don't practice "baneful" witchcraft. I try not to concern myself too much with the inner workings of others, but it is very important to me to understand my own motivations. For me, hexing, cursing, binding, banishing, and other sorts of witchery have no color. There's no risk of some sort of cosmic law bouncing them back at me as long as the work I do is true: my intention is matched with the required outcome, my correspondences are in order and the spirits petitioned are on board. That being said, a discussion about baneful witchcraft can help clear up some of the common misconceptions.
Removing toxic people from our lives, controlling their actions and other forms of binding, as well as the modern application of hexing are all topics I've written about. Then there's my video class on how to effectively remove a toxic person for good.
The Power of Poppets: Binding Witchery That Works
Spellbound: Ways of Using Binding In Witchcraft
Hex Appeal: The Power of Cursing
What "Hex" Means
Many practitioners understand "hexing" to imply baneful witchery, similar to a curse. The evolution of the meaning of hexing is a fascinating story that goes far beyond the "all witchcraft is evil" mindset, including a murder in Pennsylvania. "Hexe" is the German word for witch, "hexen" thus means to practice witchcraft. Separating witchcraft from hexing makes no sense since they are the same thing. Perhaps seeing hexing as "dark magick" (whatever that is) arises from a lack of understanding about the history of witchcraft. Watch the 1922 Swedish film, Häxan, to gain some insight into how witchcraft was typically viewed throughout the Christian era. To be blunt, the true meaning of the expression is "a witch that can't witch, can't heal." Hard to argue with that.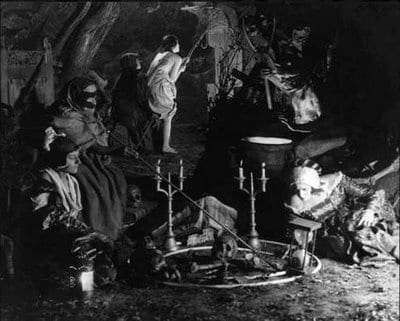 Hexing in The New World
Back to Pennsylvania, the German settlers there used the term "hex" to describe all sorts of folk magic, including beautiful "barn hexes."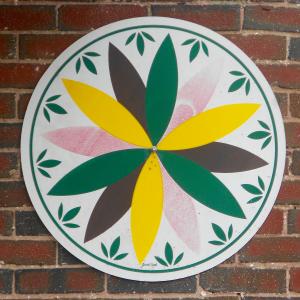 Pennsylvania Dutch folk magick thrived in the less constricted environment of the New World. Hexing referred to many practices, not merely cursing. It also was very practical, such as this example:
"Oh, thief, I bind you by the first nail, which I drive into thy skull and. thy brain, to return the goods thou hast stolen to their former place; thou shalt feel as sick and as anxious to see men, and to see the place you stole from, as felt the disciple Judas after betraying Jesus. I bind thee by the other nail, which I drive into your lungs and liver, to. return the stolen goods to their former place; thou shall feel as sick and as anxious to see men, and to see the place you have stolen from, as did Pilate in the fires of hell. The third nail I shall drive into thy foot, oh thief, in order that thou shalt return the stolen goods to the very same place from which thou hast stolen them. Oh, thief, I bind thee and compel thee, by the three holy nails which were driven through the hands and feet of Jesus Christ, to return the stolen goods to the very same place from which thou hast stolen them. The three nails, however, must be greased with the grease from an executed criminal or other sinful person." – from The Long Lost Friend
The Modern Meaning of Hexing
Hexing today is commonly used to represent all forms of baneful magick which can be defined as any that interferes with the free will of another, be they human, spirit or otherwise. Hexing is sometimes grossly misrepresented as a spell driven by "dark emotions" with ill intent. For a hex, a baneful working designed to cause suffering to another, to work, being calm is an imperative. I wonder if those who claim hexing to be evil are concerned with efficacy. I'm more interested in spells that work than in avoiding my dark emotions (see more on those later in this article). Highly emotional witchery is difficult to control and often fails.
Healing, according to popular ideas, seems to refer to all witchery designed to be beneficial, from attraction spells to prosperity charms. So-called healing can be incredibly toxic when done incorrectly, especially if there's a denial of the truth of the dis-ease. Of course, hexing can be healing. Baneful magick wouldn't be done unless the practitioner believed it to be beneficial. Hexing and healing are completely intertwined. They are also complex processes that require thought, perhaps divination, and the use of appropriate correspondences. Simple spells can be useful, but if the focus is important to you, isn't it worth time and effort?
There's been several popular mass hexings of vilified public figures over the past few years. I'm staying out of the debate about their effectiveness, but I do admire the good intentions underlying them.
The Three Fold Law and Karma
"A witch than can't hex, can't heal" can be seen as a response to the "harm none" approach. Related to this is the "Three Fold Law" which implies that any magickal action will come back at the practitioner three times over. Both of these are extensions of the western interpretation of karma. Karma is a complex construct that has nothing to do with cursing and hexing, but about the general operating principles of the universe. Articles like this one completely misconstrue hexing and get the true meaning of karma wrong. Beautiful creatures, the arc of the universe is long. Karma, if you believe in it, plays out over lifetimes, not minutes. This all sounds like the Christian idea of "do unto others as you would have them do unto you." Absolutely nothing wrong in that as a way to live your life. More often than not the real rule is "he who has all the gold makes the rules." Misunderstood karma, harm none, and the Three Fold Law all are basically ways to limit your power because "he who has all the gold makes the rules" doesn't want you to claim yours. If there's one thing I know for sure it's that I have limited my power in the past because of believing that "others" – whether people or forces – would punish me if I let my strength be revealed. Enough of that.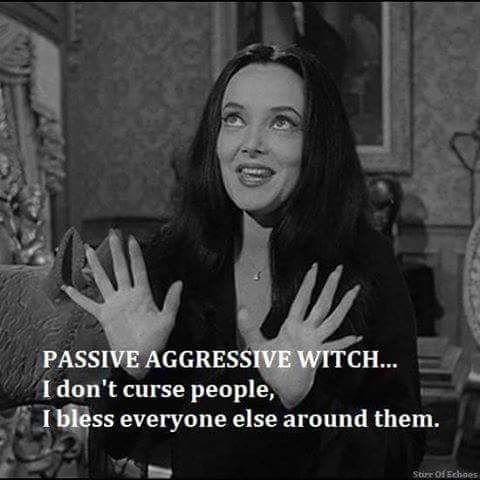 Hexing and Healing Are Color Blind
A simple explanation for this saying is that witchcraft has no color. Not white. Not black. Not grey. Or maybe a million shades of grey. What is baneful and what is a blessing? Is it baneful to remove a toxic person from your life? For them, it can be considered as such since your witchery may interfere with their free will. They may want to stay in your life. We can package this as "protection" magick, when it's actually baneful. The appeal of protection witchery is that it appears to be "white" witchcraft. After all, you're only saving yourself, right? However, we're usually putting up barriers against someone or something, which interferes with their free will. Maybe you don't need to protect yourself if the problem is one person. Why not wrap them in witchery, binding them from interfering with you ever again? Constantly having to protect ourselves is incredibly draining. Use your shield as you must, but deal with the problem in specific ways. Hexing and healing only work well if they are specific.
The Problem With "Highest Good"
Then there's the practice of adding "for their highest good." Who cares if it's for the other person's highest good if they are a complete jerk to you or someone you care about? I've never been completely sold on the "highest good" approach because what is good for me may not be good for another person who is indirectly (or even directly) involved in my witchery. There are times when "highest good" isn't the point of a spell. What's most important is the immediate need that led to casting the spell. It also reeks of a passive energy that's the opposite of sovereign witchcraft, like letting the gods/spirits/universe etc take the ultimate responsibility for our lives. Not my style. If it's yours, then know that I am not criticizing your personal path. You do you. What I am saying is that owning the statement, "a witch that can't hex, can't heal" is completely empowering.
Owning The Power of Hexing and Healing
The same forces we summon for healing work with hexing. Killing poisons also can be restorative. It's all about the application, and our intentions. To deny the forces their full potential is disrespectful of the spirits we work with. All this white, grey and black business is about limiting these forces. They simply exist, we work with them as we feel led and as they make themselves available. "White" witchcraft typically implies that the practitioner only uses the spirits for "good." This label creates so many problematic barriers. For example, it implies that people not using the term perhaps practice "evil" witchcraft.  I've also experienced practitioners who use it as a crown of glory. Of course, the same goes for those using the "black" label. Witchcraft has no color. Hexing and healing are one and the same.
Hekate's ancient witches cast spells that knew no color. Some writers interpreted their actions as cursing while I personally see them as great problem solvers. Viewing hexing as evil is yet another way to limit power, especially the feminine.
Hexing And Healing Are The Same
The truth of the axiom is that in order to be able to understand how to bless, you must be able to understand the opposite, for example baneful work. How can we know the power of creation if we avoid destruction? To heal illness, we need to be the illness. To know the illness. To bring bane to another we need to know exactly the happiness that we are denying them. The more I understand the times I've been a jerk, the better I can understand how others can do horrible things. The same approach applies to witchcraft. If we want to banish something from our lives, we need to take responsibility for the times we've done similar toxic things to others. We have to understand the thing we wish to banish. In some shamanic practices, healers become the illness to cast it out. Severe illness is a sign of initiation for some shamanic paths. We have to be our own illness to heal. Pain brings truth. To know healing, we must know hexing.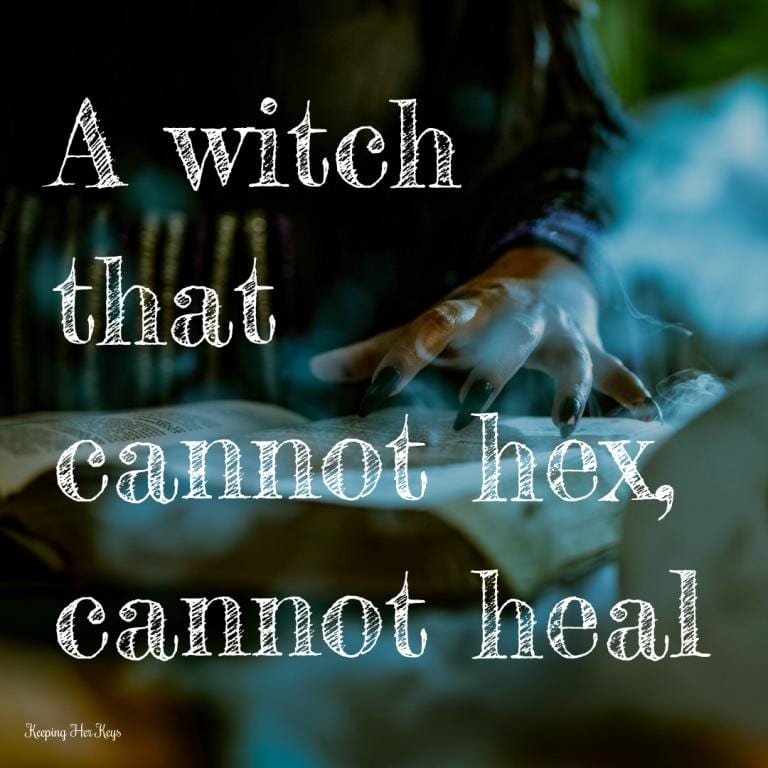 The Dangers of Denying The Darkness of Witchcraft
Denying our ability to cause pain, whether through everyday betrayals or cursing, denies our true power. It's yet another form of gatekeeping by others whose motivation is for us to remain mired in our pain, whether it's to create a dependency on them or because they are in so much pain that they need to spread it around as much as possible. Misery loves company. I'm not saying that we should run around randomly hexing anyone who annoys us. Ethical witchcraft requires consideration of the potential consequences, but not in a simplistic "karma's gonna get you" sort of way.
So much of healing work is baneful, from traditional herbal methods to shamanic rituals. We often banish illness and hex disease, although many of us are more likely to use different terms to describe what we are doing. This feels like toxic positivity. Like avoiding the shadows where witchcraft lives. More denial of the inherent darkness of witchcraft. The true meaning of "a witch that cannot hex, cannot heal" can only be found in those dark corners where disease and despair lurk. Until we face these forces, our shadow self or personal daemons (or any other name that works for you), we'll never understand the meaning of this expression.
Further Reading
Reasons Why Spells Fail And Remedies For Avoiding Magickal Disasters
Hex Appeal: The Power of Cursing
Give Me That Old Time Witchcraft
Banishing Shame From Our Witchcraft And Our Lives
Sovereign Goddess of Magick and Mystery Ritual
The Dangers Of Shielding And Ways To Practice Healthy Self Protection
Are You A Real Witch? The 13 Symptoms of Shadow Syndrome And Ways To Recover From It
The True Costs Of Being A Witch
Tarot Spirits: How To Pick And Work With Your Power Card
The Dangers Of Shielding And Ways To Practice Healthy Self-Protection
Boundaries Are Your Personal Magic Circle: Ways to Know and Strengthen Them
Learn Modern Hekatean Witchcraft Which, Of Course, Includes Baneful Witchery