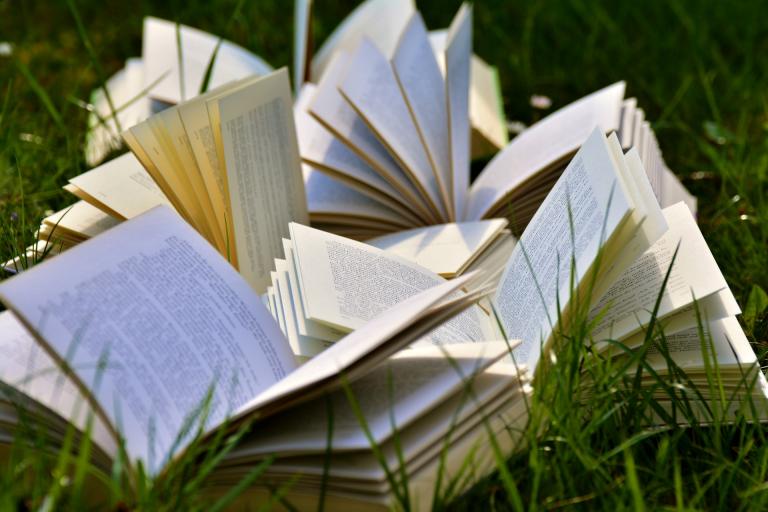 For fun, I joined the Goodreads Reading Challenge, in which members state their goal for how many books they want to read during the year. I knew my list would include 24 fiction from one source and about 15 from my reviewing jobs at Publishers Weekly and Bible Study Magazine. That's a pretty decent head start, so I ambitiously typed in 100 as my reading goal.
My "have read" list shows that I read 80% fiction to 20% non-fiction, with the total currently at 103. It should probably show 120, but I can't remember some of the e-books I've read and deleted. Some aren't worth remembering, anyway. But some are, and I want to share with you a few top selections from my 2018 reading.
Fiction
Here I will list by author, since I tend to binge on anything written by an author I enjoy. I skew toward historical fiction and romance, since I like to escape to a different time and place in my stories. So, sorry, you will not find any NYT best-sellers on this list. I read those, but this year I haven't focused on them much. If you aren't into historicals, mysteries, and romance, skip to my nonfiction list on the next page.
Her most recent release, The Lacemaker, won the 2018 Christy Award in Historical Romance. Here is the Goodreads' plot summary: When colonial Williamsburg explodes like a powder keg on the eve of the American Revolution, Lady Elisabeth "Liberty" Lawson is abandoned by her fiancé and suspected of being a spy for the hated British. No one comes to her aid save the Patriot Noble Rynallt, a man with formidable enemies of his own. Liberty is left with a terrible choice. Will the Virginia belle turned lacemaker side with the radical revolutionaries, or stay true to her English roots? And at what cost?

I loved it. Frantz has a number of books ready for fans to devour. I've also read her 2017 title A Moonbow Night and am anticipating her upcoming release of A Bound Heart.

*The Lacemaker Kindle version is on sale for just $2.39 at the moment.
Historical fiction guru! Her books are so well-researched, with complex and interesting characters. Her current book, A Lady in Disguise, follows a young costume designer investigating her father's murder. It is set in Victorian England, so we meet historical figures along with fictional ones, becoming engrossed in that world as if it were all true. Byrd's excellent research and skillful storytelling combine for a rich, enjoyable read. Her other historical series is "Ladies in Waiting," which follow the lives of women—and wives—in the court of Henry VIII. Byrd also writes contemporary novels, but I haven't read those yet.
Carolyn Miller: Regency Brides: Legacy of Grace series; Regency Brides: A Promise of Hope series
The Dishonorable Miss DeLancey (2018): both series are worthy of your time. Set in England's Regency era (1811—1820), when George III remained king but was unfit to rule so his son ruled as the Prince Regent, regency novels often focus on the "upstairs/downstairs" dramas that feature class-related conflict. Think "Downton Abbey" but a century earlier. In secular circles, these novels sometimes get racy. Miller has done Regency fans a great favor with her clean, wholesome stories that include realistic faith-related situations.
Tracy Grant: The Rannoch/Fraser Mysteries
Set during the Peninsula War in 1812, this series (currently 18+) features skullduggery, spies, foreign intrigue, romance, war, and mystery. British intelligence agent Malcom Rannoch and his wife, Suzanne, a French spy, find themselves walking a precarious line between truth and lies.

Because the entire series follows their story, each book focusing on a new mystery, their relationship within marriage acts as the common thread connecting each book—not a common plot device. Grant writes complex stories without gratuitous scenes—giving readers a remarkably clean experience that still convey convincing romance. The characters become richer and more well-developed with each new title. New readers should start with Vienna Waltz or His Spanish Bride for good background to the characters.
Another clean, well-written historical romance series (several of them). I think I read through all of her books last spring. Again, they are set in the Regency period. The Arrangements series offers 8 tales, the London League only 2 so far, and the Spinster Chronicles also include 2 thus far. Connolly continues to add to her collections, and at $1.99 for a kindle version for most of these, these offer an inexpensive option to add to your personal library. Unless you can find them through your actual library—always a better deal.