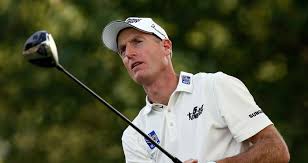 Jim Furyk–the balding, 46-year old pro golfer with seventeen PGA Tour wins, one of them being the 2003 U.S. Open, who owns such a loopdy-loop golf swing that you wouldn't wish on your mother-in-law and prefer it only over that combination dipsy-doodle plus mid-course hesitation swipe-at-the-ball monstrosity that belongs to a fella with a Big Mouth named Chas. Barkley–shot a blistering, PGA Tour record 58 yesterday in the last round of the Travelers Championship held at the TPC River Highlands in Cromwell, Connecticut. [I've been wanting to write a long, convoluted sentence like this for a long time.] Yet Mr. Furyk was so far back in the pack starting this last round that he finished no better than fifth, before the leaders had teed off and Golf Channel's cameras had gotten cranked up. So, hardly anybody saw it.
Actually, Jim could have gone lower. You may be saying, "Yeah, that's what they all say." No, seriously. Furyk got going by holing a 135 yard shot for an eagle on the third hole, then he rattled off seven consecutive birdies and was eleven under par after twelve holes. So, he pars in for a 59. He then missed birdie putts of twelve feet on the 14th hole and eight feet on the 15th hole. He birdied the 16th to go twelve under par and then parred the 17th and 18th holes. That might be a record that will never be broken on the PGA Tour–parring the last two holes for a 58. But, as they always say in sports, "records are made to be broken."
Six pros on the PGA Tour had previously shot 59, including Furyk. It all started with my friend Al Geiberger in the 1977 Danny Thomas Memphis Classic, in which I also competed. A footnote is that some of those guys, including Geiberger, posted their 59 on a par 72 golf course whereas Furyk nailed his 58 yesterday on a par 70 course. Yet no one had ever shot lower than 59 on the PGA Tour until Jim Furyk did yesterday. Along with his seventeen PGA Tour wins, he now adds this slice of golfing history to his collection. So, we can now call Jim Furyk "Mr. 58" and have a little more respect for how his swings the club.
(Incidentally, Scotland's Richard Knox won the tournament, defeating 49-year old hometown favorite Jerry Kelly by one stroke.)