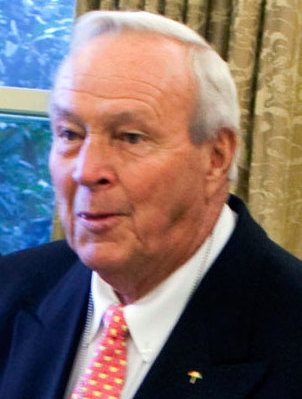 Arnold Palmer died today at age 87 in a Presbyterian hospital in Pittsburgh, Pennsylvania. He had been there since Thursday for heart tests. I had wondered how his health was doing. In the past couple of years, when we saw him live on television, he was looking feeble.
So, today, golf lost its greatest ambassador of the game, ever. No question about it–he was the king. He didn't win the most tournaments, with 62 PGA Tour wins and seven of them majors, but he won the hearts of the people, the galleries. No one ever connected with the golf fans like Arnie, his nickname, did. He signed so many autographs that that practice gave him one of the best signatures I've ever seen. And I saw it countless times when some golf fan thrusted his or her autograph book in my face.
Arnold Palmer was naturally such a strong-looking, broad-shouldered, wasp-waisted, shapely man for a professional golfer of five feet and ten inches in height. And his always tanned face had a rugged handsomeness to it that could quickly light up with a captivating, gregarious smile. But when Arnold Palmer laughed, he was most affectious.
Arnold's hometown was Latrobe, Pennsylvania. His dad was the club professional there almost all of his adult life. Deacon Palmer always told Arnold two things to do when he hit a golf ball, at least with the driver: "Son, keep your head down and hit the ball as hard as you can."
Arnold listened to his dad, who was proud to be a lifetime member of the Professional Golfers Association of America (not to be confused with the PGA Tour, although the latter used to be totally subordinate to the former). And that's just the way Arnold Palmer always played the game. He swung so hard at the ball with a driver that he sometimes looked like he was going to come out of his golf shoes. Then he had this really weird, kind of a punch-drunk finish on his follow-through, if that's what you should call it, that always got everybody's attention, even from his colleagues.
One time I was playing with Tommy Bolt at the Citrus Open in Orlando, Florida. The Boltsy, nicknamed "Thunderbolt" for his sometimes ferocious temper, had as pure a golf swing as the driven snow. We saw Arnold swing his driver on a nearby hole, and Tommy said to me, "Did you see that! That golf swing looks like it belongs to a truck driver." Yes, Arnold's swing wasn't what you'd call "pretty," but it got the job done. And I think underneath Bolt's sarcasm that he sometimes made about Arnold Palmer was a little bit of jealousy of the king.
Arnold Palmer had gone to college at Wake Forest College in North Carolina. When one of his best friends and a good college player, Lew Worsham, died in an automobile accident, Palmer soon quit school and joined the Coast Guard for three years. He had no serious intentions of being a touring pro golfer until he won the National Amateur Championship in 1954. He soon met and married Winnie, turned pro, and won the Canadian Open the next summer, in 1955. Arnold Palmer was now on his way to becoming a star on the PGA Tour.
The first time I saw Arnold Palmer was when he played in the PGA Tour's BC Open in Vancouver, British Columbia. It's because it was less than a 200-mile drive from my home in Seattle, Washington. I think it was 1958, when I was sixteen years old.
At that time, Palmer teed the ball low with his driver and played the ball almost in the middle of his stance. Thus, he hit his drives with a descending blow, which was quite unusual. Sometimes, he even took a bit of a divot on skinny turf. Arnold broke a lot of wooden tees back then. That strike put so much backspin on the ball that it would start low, ascend in flight like an airplane taking off, and fall out of sky like a water balloon. The ball would plop to earth and roll forward very little. Yet Palmer had mustered so much club head speed with his Popeye arms and muscular back that he still hit very long drives without getting much roll.
It wasn't long after that that Arnold Palmer admitted that someone challenged him to tee the ball higher for his drives, play the ball off his left foot in his stance, and try to hit the ball somewhat on the upswing rather than the downswing. Arnold then quit hitting what we golfers called "climbers," got some roll on his drives, and thus hit the ball even farther. Arnold would say later that this little tip made a big difference to his career. For the best part of Arnold Palmer's golf game was his driving. If they would have had stats back then, he would have trounced everyone in driving the golf ball.
Palmer's pro golf career really took off in 1958 when he won his first major championship, the Masters. I think that was where a sportswriter named Arnold Palmer's galleries "Arnie's Armies." I don't recall how he got the nickname "the King."
Then, in 1960, Arnie won eight PGA Tour tournaments. The big one that year was the U.S. Open. That was one of the most memorable golf tournaments ever for me, even though I wasn't there but just watched it on TV. There was Arnold Palmer starting the last round, seven shots back of the leader, and playing with the new, upstart, amateur, Jack Nicklaus. Arnold famously drove the green on the par four first hole to go on and birdie the first four holes and finish with a 65 to beat Jack by two strokes at the end of that 36-hole final day.
But what really made that tournament for me and a lot of die-hard fans of pro golf was that Nicklaus was paired with the aging Ben Hogan, the finest ball-striker to ever lift a club, the last day. He was going for an unprecedented fifth U. S. Open victory. Hogan was in the hunt the last round until the 17th hole. That's where his third shot, a short wedge shot, spun backwards off that tiny green into the watery moat that surrounds much of it at Cherry Hills Country Club in Denver, Colorado. Ben then finished ninth. Palmer would say later that Hogan never spoke to him by name, only calling him "fella."
The first time I played with Arnold Palmer in a PGA Tour event was my first year on the Tour. It was the first two rounds in the first PGA Team Championship, in 1965. Two players would agree on being teammates in that best-ball tournament. Arnold's partner was Jack Nicklaus. They won that week and several years after that.
On a par-three hole the second round of that tournament, Jack had about a ten-foot birdie putt. Arnold had already hit his third shot. Being realistically out-of-the-hole, as we say in best-ball team competition, Arnie told Jack to knock his ball back to him. Jack objected, wanting Arnie to finish the hole. Arnie said something like, "are you crazy?" Jack replied calmly and seriously, "stranger things have happened." That shows a difference between those two, great stars. Arnold was like a swash-buckling pirate who took no prisoners and through chance to the wind, whereas Jack was that methodical, think-of-every-possible event who leaves very little to chance.
Interestingly, those two went head-to-head in competition against each other even when they were teammates in that best-ball event. One time, Arnold told Jack he was going to outdrive him on the 600-yard par-five 17th hole. Arnold swung and blasted a long one, as if it was a NASA rocket. Then Jack stepped up calmly, rared back, and swoosh. I didn't see the club make a forward swing. But I saw the ball in the air. It looked it was painted there in the sky and that it wasn't ever going to come down to earth. We walked out there and discovered that Arnie had outdriven me 20 yards, and Jack had outdriven Arnie 40 yards! I don't think Arnie ever said that to Jack anymore.
Arnold Palmer's swing had that weird follow, punch-shot, windmill follow through finish because he swung what we pros called "closed-to-open." It later came to be called "square-to-square." So, Arnie's finish was a "block action." A lot of swing analysts and teachers would have taught against that type of swing. Moreover, many pros on Tour would have not wanted to swing that way at all. They wanted the club face to open naturally on the backswing and released and close over on the forward swing.
One time, when Arnold I were playing together in a tournament on the PGA Tour and we were walking up the 18th hole, I got up the nerve to ask him, "Arnie, why do you swing closed-to-open." He took no offense at that question at all, but surprised in kind of relishing in answering it. He said, "As a young man I learned that I could drive the ball straighter that way." Very interesting, I thought. Nowadays, Dustin Johnson, #1 player in the world until perhaps Rory McIlroy's win today, swings closed-to-open more than any pro I think I've ever seen. And he hits it super long and quite straight.
When Arnold Palmer got into his late 40s, he got the biggest nightmare in golf besides the shanks, and it's the yips with the putter. He always had a pigeon-toed stance in his prime, with a very wristy stroke in which he sometimes stubbed the ground with a abbreviated follow through. It sure worked for a lot of years. But in our occupation, we pros usually agreed that that type of stroke can be a death knell when you get older and start to lose your nerve.
So, I was paired with Arnie one year at Pinehurst when he had been suffering with the short stick due to the yips. When we walked off the last tee, I said, "Arnie, you've always had such a great shoulder turn in your swing. Have you ever tried to putt like that?" He said, "What do you mean?" I said, "Putt with more of a shoulder stroke rather than a wrist stroke, like Bob Charles." I don't recall exactly how he answered. But what I remember is that he said something to the effect that he had never given that much thought. It seems like it wasn't very long until he did change his putting stroke to more of a shoulder stroke. And he didn't have the yips anymore.
Arnold was always tinkering with his golf equipment. You'd often see him drive his car into the parking lot at a PGA Tour event, park his car, open its trunk, pull out his golf bag, pull out a club, and take the grip off and re-grip the club right there. He even kept the necessary tools in the trunk of the car in order to do that. He was like a walking golf club repair company!
One time I was playing with Arnie at the tournament in Tucson. He drove the ball superbly. I think he had hit every fairway off the tee on the par four and par five holes and every green in regulation as we walked onto the 17th teebox. It is a par three hole, about a five iron shot in those days. The pin was tucked into a inlet in the front left part of the green. Arnie's shot barely missed the green to the left, so that his ball was a little off the green but only fifteen feet from the hole. He obviously appeared upset because it was the first green he had missed in regulation. He held the grip of his five iron in his right hand, grabbed the club head with his left hand, and tried to twist the club head in order to discover if perhaps the club head was lose on the shaft, and that's why he slightly missed the shot. I got a big smile on my face, and it was everything I could do to contain myself without laughing out loud. That either says something about how great Arnold was or, if you didn't know he was Arnold Palmer, you'd have thought the guy was nuts!
One time Arnold invited me to play in a one-day event at his home course–Latrobe Country Club. After the round, he invited some of us pros to his house. We walked in and discovered it was his old house that he didn't live in anymore, but he had turned the entire place into a storage facility for all of his golf clubs, golf bags, and I don't know what else that he had saved all those years and now stored them there. He also had a great golf club workshop in there. I'm now wondering what's going to happen to all of that golf equipment with Arnie gone.
Arnie Palmer, king of the fairways, we'll miss you.