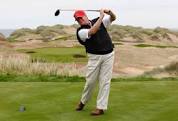 Donald Trump has defended his sexually-vulgar remarks he made in 2005 in a taped audio-video released Friday. In it he brags about making sexual advances on women without their previous consent, even on married women, that includes kissing and groping them. He said on the video he gets away with it often because he is "a star." But yesterday, he dismissed it as "locker room banter."
What locker rooms is he talking about? He's not talking about teenagers or young men in locker rooms after playing basketball. Donald Trump was 59 years old when he made these remarks.
Donald Trump has always been an avid golfer who brags about his skill and confidence at playing golf. He claims he has won multiple golf club championships. He also is in the golf business, owning sixteen golf courses, most of which are elite, destination golf resorts. So, he's talking about locker rooms at golf country clubs.
I'll bet I've been in golf club locker rooms ten times more than Donald Trump has, and maybe more. So, I know more about locker room banter in golf clubs than he does. However, he's from New York and I lived most of my life in Texas. But I played professional golf all over this country for thirty years full-time and some part-time. Maybe New York men use more course, sexually-explicit language about women than most men around this country do, but I doubt it. I've played lots of golf in New York.
Let's put this in context. Donald Trump and I are close to the same age. He has played most of his golf in New York and some in Florida. He has been a member of several golf clubs. The primary one is Winged Foot Golf Club in Mamaroneck, New York, an inner suburb of New York City. One of my main caddies on both PGA Tours used to caddie often for Trump at Winged Foot. And my friend Tom Nieporte was the head pro at there for many years. He is a really nice guy, good golfer, and Christian. I think you'd be hard pressed to hear men at Winged Foot or any golf club in America talk like Trump did in that audio-video released Friday.
Most male members of elite golf clubs, like the kind where Donald Trump plays golf, are financially successful and married men who have families. Sure, there's still some male locker room talk in which men make sexual remarks about women. But Trump was talking in that video about what
he does
sexually to women, and he was not talking about the women to whom he has been married. In fact, Donald Trump had just married his third wife, Melania, about two months before he said that, and she was pregnant with their child Barron. You would hardly ever, perhaps never, hear men in golf club locker rooms say things like he did, especially at 59 years of age. If someone did, he likely would be a single guy.
Men who would talk that way at golf club locker rooms very likely would be disassociated by most of the other male members. Plus, you don't talk that way without the word getting around. Yes, men gossip too, ladies. And there will be men who don't put up with that kind of talk and call the guy out on it, maybe even telling him he's a dirt bag or some such.
Moreover, Trump is such a braggart about everything, including this. Whether or not he's truthful about it is one thing. But he is such a blowhard windbag about it. Lots of men wouldn't put up with that either, and it doesn't matter to them how much money or fame you've got. Talk that way very much, especially if its true, and you're liable to lose your club membership. Why? You are a predator who is liable to hit on other men's wives at the clubs. That can be a serious problem at golf clubs.
In the second televised debate tonight between Donald Trump and Hilary Clinton, Trump answered moderator Andersen Cooper as he questioned Trump about the video, "Nobody has more respect for women than I do…. I have great respect for women." As I've been saying constantly on this blog, Donald Trump is such a big bag of wind, such a liar.
Then Trump explained what he meant by "locker room banter." He denied that what he said about himself on the video was true of him. So, he meant he was speaking fictiously. If you believe that, there's no hope for you. And as for The Donald, as they say in your town of New York City–fawgetaboutit.