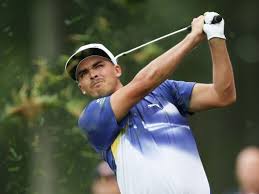 I like Rickie Fowler. He's a crowd favorite, especially with kids. He's one of the best pro golfers on the PGA Tour and in the world. Rickie also is a Christian who attends regularly the PGA Tour Bible Study. When he played in the Waste Management Phoenix Open last year, the next day I was eating breakfast in a restaurant with my son Michael and his family. Michael saw Rickie paying his bill at the checkout. So, I went over and met Rickie for the first time and told him I was a co-founder of the PGA Tour Bible Study. He was very cordial.
Today, after three rounds in the Honda Classic that is being played at the PGA National Champion Course at Palm Beach Gardens, Florida, Rickie Fowler has a four shot lead at 13 under par with a 197 total. Rickie bombed a drive on the par five 18th hole today over 340 yards without much roll that left him with only a seven iron to the green for his second shot. He hit it on the green for an easy two-putt birdie. These guys on the Tour hit the ball so far nowadays. Of course, the improvement in equipment contributes to it.
I like that golf course. I used to play there in the Senior PGA Championship on the Senior/Champions Tour. The course was designed by Jack Nicklaus. The 15th, 16th, and 17th holes are called "the bear trap" because of their difficulty and being named after Jack Nicklaus' moniker "the Golden Bear."
Incidentally, the last time I played in the Senior PGA Championship, which was always at the PGA National, was the year 2000. I was paired with the Golden Bear and Tom Watson the last round and I beat them both. That didn't happen much. The wind was blowing. I shot par 71 all three rounds, and that last round Jack shot 72, and Tom shot 73. I finished 10th.
Today, Rickie Fowler was televised on the second hole. He had hit his drive off to the right of the fairway into the trees. His ball was lying on top of a bunch of pine needles. Under those conditions, a player is more susceptible to his feet slipping on the pine needles when he takes his swing. As Rickie was addressing the ball with an iron club in his hands, he pushed one foot in the pine needles backwards–between six inches and a foot–and he did the same with the other foot. Plus, he did it multiple times. In doing so, you could easily see he was moving pine needles backwards and thereby making an indentation in the pine needles for both feet. When you do that, you decrease the chance of your feet slipping on the pine needles when you swing. It is a clear infraction of the rules of golf that is called "building a stance." Sorry, Rickie, but you should have been penalized.