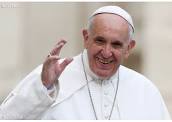 Tomorrow, Pope Francis will meet in Cairo, Egypt, with Egyptian President Abdel Fattah el-Sisi and Sheikh Ahmed el-Tayeb. The sheikh is the grand imam of Al Azhar mosque, which is affiliated with Al-Azhar University in Cairo. It is the most revered center of learning in Sunni Islam.
The pope has multiple purposes for this visit. First, he will speak on encouraging the Christians in Egypt. They suffer persecution there, mostly from Islamic Jihadists. For example, on Easter, Islamic radicals set off bombs at two Coptic Catholic churches in Cairo that killed 40 people. Second, Pope Francis will call for religious toleration in Egypt and throughout the world.
There may a third reason for the pope's visit. In January, 2015, President El-Sisi–who is a Muslim with a long heritage of Muslim faith in his family–gave a historic speech at Al-Azhar University. In this speech, he decried Islamic violence and seemed to subtly call for a reinterpretation of certain verses in the Quran that most non-partisan observers think advocate violence. In doing so, he suggested that he believes these verses contribute to Islamic terrorism. See my posts on this:"Did El-Sisi Say Revise the Qur'an?" and "El-Sisi Is Not the Only Muslim Questioning the Qur'an."
It could be interesting to see what might develop from this effort by these three men to try to establish more peaceful relations between Islam and Christianity.