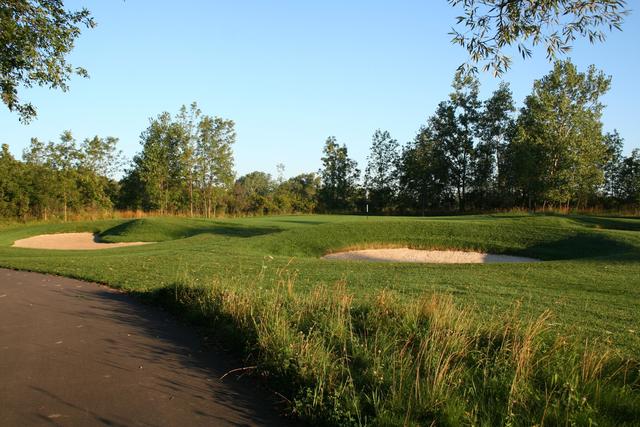 The U.S. Open is being played this week at Erin Hills in Erin, Wisconsin. It's the first time the Open has ever been conducted in Wisconsin. In my day Andy North, who was from Wisconsin, won the U.S. Open twice.
The U.S. Open has always been my favorite tournament. I competed in it twelve times and made the 60-man cut (and ties) for 36 holes eight times. My only real chance to win was in 1972 at Pebble Beach, my favorite course. I led late in the third round and then double bogied the 17th from the bunker, failing to get out. That never happened much. But it was getting dark and I wore colored glasses then. I led Sunday through the 6th. Then I 3-putted the 7th because of a spike mark in my line on a 1.5 foot second putt. On the 8th, I had a six foot birdie putt, jammed it going uphill, and had to make an six footer coming back for a bogy. On the back nine, a double bogey on the 10th and an 8 on the par five 14th with a wedge to the green for my third shot made me finish sixth to Jack Nicklaus, the winner. That 79 finish was my most disappointing round in golf.
Erin Hills is a semi-links course with no trees and a par 72. At 7,800 yards, it is the longest Open venue ever. The fairways are little wider than the average 35 yards for the Open. And that tall fescue grass just a few yards off most fairways is atrocious. Yet the fairways played fast the first two days. Friday night, there was almost an inch of rain to slow the course down. With no wind today, the course was easy pickings as it ever gets.
Yet this golf course is no snap. Some greens are elevated with false fronts and steep drop offs at the green edge that can spell trouble. Three leaders on the back nine today pitched from few yards off the green and the ball rolled either right back to them or was still short of the green.
Starting today's third round, four players were tied at 137, 7-under par. Left-hander Brian Harman emerged from the pack as the single leader by one stroke at 12-under par. A like his swing. Brain sets the angle early in his backswing, which enables him to be "quiet" at the top of swing. That is, he looks in control with no flippy wrist action up there. Then Harman has outstanding rhythm in his forward swing. And he is always in balance with a good weight shift and no unnecessary head movement. His fairways hit and greens in regulation stats have been great for what is always a difficult test at the Open. They say he is a very good putter. You sure need that at a U.S. Open, although these greens are not lightning fast as they often are.
One big story for the day was Justin Thomas shooting the course record 63, nine under par. It tied Johnny Miller's record of 63 for a single round. It was shot at Oakmont when he won, but that was a par 70 course. That put Thomas only one stroke back of Harman. Here are how the leaders stand after 54 holes:
Brian Harman 12 under; Justin Thomas 12 under; Tommy Fleetwood 11 under; Brooks Koepka 11 under; Ricki Fowler 10 under. The prediction for tomorrow is good weather.
Notice that there are no big names in the lead. None of these players just mentioned have ever won a major championship. That is very unusual. In fact, golf three top stars in the Sony World Rankings missed the cut this week: #1 Dustin Johnson; #2 Jason Day; and #3 Rory McIlroy. That has never happened in the U.S. Open since Sony began keeping these stats, in 1988.
Athletic-looking Brooks Koepka is very impressive, especially with his distance off the tee. He takes a wide stance and moves his upper body a lot on his forward swing to accomplish much weight shift. He could be a future star.
Brent Snedeker is in the hunt with his no nonsense, quick game. I love to watch him swing in which his head does not dipsy doodle whatsoever. It looks like he could swing the club with a plate on top of his head that would not fall off. Wish I could have done that. Then, his putting stroke is quick, yet smooth.
Despite the absence of golf's biggest stars in tomorrow's last round of the U.S. Open, it should be an exciting golf tournament.