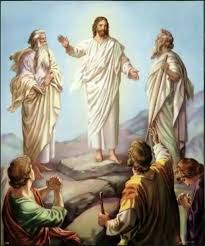 Bestselling author and Patheos blogger Randy Alcorn recently posted about this question. His answer is similar to mine in my book, The Gospels Interwoven. I further suggest the timing involved in Jesus' Transfiguration may typify Moses on Mount Sinai. (Moses and Elijah did appear there [though I think in vision form] with Jesus on the Mount of Transfiguration.) If my suggestion is correct, Jesus' Transfiguration both looks back in history to Moses on Mount Sinai and forward to the future, when Jesus will return in great glory with his consummated kingdom. Here is what my book says about this question in a section of 130 questions and answers in which scripture quotations (in italics) are taken from the New International Version of the Holy Bible:
4. After Jesus first predicted his death, did six or eight days pass before he and the three apostles ascended the Mount of Transfiguration?
Matthew 17:1 and Mark 9:2 relate that after six days Jesus led Peter, James, and John up a high mountain, while Luke 9:28 relates that he did so after about eight days. Luke's imprecise word about obviously makes the eight days indefinite, so that even non-harmonist H. A. W. Meyer thinks this qualifying word enables Luke not to conflict with the other Synoptists.[1] Charles Ryrie presents the traditional view: "Luke's 'some eight days' includes the beginning and ending days as well as the interval between."[2] This view, however, has not been well received among contemporary critical scholars, despite the fact that dismissing it weakens their view that Luke appealed to Mark as a written source. Several suggest that Luke, perhaps due to his writing to the hellenistic Christian community, adopted a Greek manner of indicating an eight-day week, similar to our saying "about a week later." Many see in the six days an allusion to Exodus 24:16, with Moses' experience on Mount Sinai regarded as a type of Christ's experience on the Mount of Transfiguration. Moses waited on the mountain six days, God revealed himself to Moses the seventh day, then Moses later descended with his face shining (Ex. 34:29-35).
[1] Heinrich August Wilhelm Meyer,
Critical and Exegetical Hand-Book to the Gospels of Mark and Luke
, tr. Robert Ernest Wallis, rev. and ed. William P. Dickson (Edinburgh: T. & T. Clark, 1883; Peabody, Mass.: Hendrickson, 1983, 308.
[2] Charles Caldwell Ryrie, The Ryrie Study Bible: New American Standard Translation (Chicago: Moody Press, 1976), 1475.
………….
This question about six or eight days until Jesus' Transfiguration may have the same answer as the question whether Jesus predicted he would rise from the dead "on the third day" (Matthew 16:21; 17:23; 20:19; Luke 9:22; 18:33) or "after three days" (Mark 8:31; 9:31: 10:34). Some Bible students have wrongly supposed that Jesus died on Thursday, and some claim on Wednesday, thereby dismissing the traditional Good Friday date, due to this "three days" (cf. also Matthew 12:40). To see my three-page answer to this question you'll have to get my book, The Gospels Interwoven (available at kermitzarley.com or wipfandstock.com). I will just briefly answer here by saying both expressions are used interchangeably in Matthew 27:63-64 and Esther 4:16–5:1, showing they are equivalent. Thus, "three days" was a Semitic idiom for "third day," in which those ancients referred to part of a day as a "day."