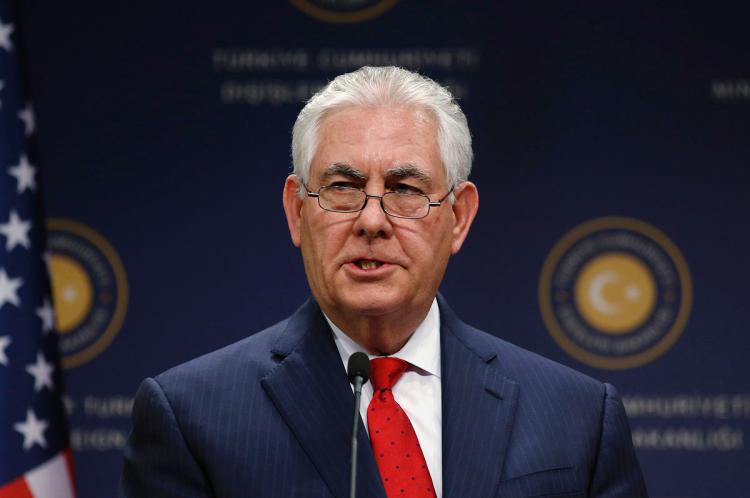 Two hours ago, NBC reported U.S. Secretary of State Rex Tillerson this summer attended a Pentagon meeting in which he called U.S. President Donald Trump "a moron." Just minutes ago, Tillerson was questioned by the press about this, which was televised. Secretary Tillerson responded, "I'm not going to address petty things like that." That response appears to be a tacit admission that the report is true. NBC also reported that Secretary Tillerson "threatened" to quit his post. Recall that Tillerson left his long-time position as CEO of Mobil Exxon to become secretary. It is also being clarified that Tillerson "did not consider resigning" due to this disruption and that Vice President Mike Pence intervened in the clash between Trump and Tillerson.
This summer, North Korea was still launching missiles as tests of its nuclear weapons program. At the same time, President Trump and North Korean Supreme Leader Kim Jong-un were exchanging sharp rhetoric against each other. They were threatening to start a war between the two nations that would involve the use of nuclear weapons. One wonders if this was the occasion in which Tillerson called Trump "a moron."
Recently, the State Department, which Tillerson heads, admitted that it has opened three separate channels of communication with North Korean governmental authorities. The purpose would seem to be to soothe relations between the two countries in order to avoid possible war.
Yet three days ago, President Trump tweeted, "I told Rex Tillerson, our wonderful Secretary of State, that he is wasting his time trying to negotiate with Little Rocket Man." For several weeks, President Trump has been derogatorily calling North Korean leader Kim "little rocket man." Trump even did that in his first appearance before the United Nations in which he delivered a speech. That is because North Korea has launched twenty-two missiles during fifteen tests since February this year, improving its technology each time. Two have flown over Japan. Each missile was unarmed and landed in the Pacific Ocean. Kim has responded to Trump's rhetoric by saying he is unfit to be president.
Donald Trump is a complete dunce to conduct this war of words with North Korea's leader Kim. A war with North Korea involving nuclear weapons would be horrendous. And it would involve at least the U.S., North Korea, and South Korea. If President Trump continues these rants and it leads to nuclear war between the two countries, I predict Donald Trump will go down as the worst president the United States of America has ever had. It's a good thing Tillerson is pushing back against Trump.