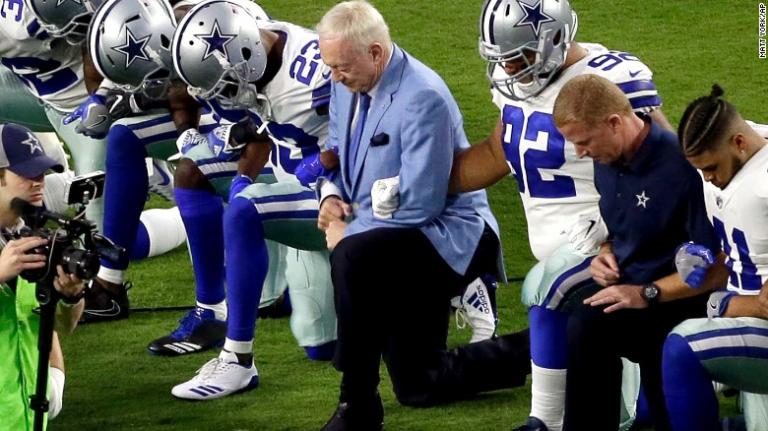 U.S. President Donald delivered a speech on September 22 in Huntsville, Alabama, at a political campaign rally and said, "Wouldn't you love to see one of these NFL owners, when somebody disrespects our flag, say, 'Get that son of bitch off the field, right now. Out! He's fired! HE'S FIRED!"
After Trump said that, some NFL teams have kneeled or locked arms during the playing of the National Anthem before games. They say they are doing it in protest of excessive, unfair police brutality against people of color, mostly blacks, in several recent incidents in the nation. Trump, Pence, and a majority of U.S. citizens see it differently. They claim it disrespects Flag and Country and even dishonors our military. President Trump and Vice President Mike Pence have been ramping up their criticism of NFL players doing this so that it is becoming quite newsworthy.
However, it should be pointed out that over 70% of U.S. citizens are Caucasian, less than 14% are African-American, and 75% of NFL players are African-American. I think these statistics help put this squabble in a more sobering limelight. As I have posted before, I stand with the players on this.
Jerry Jones owns the Dallas Cowboys. A few days ago, he joined his players as they all kneeled and then stood and locked arms during the playing of the National Anthem before a game. Their message was that they were in solidarity with NFL players who previously had done one or the other in silent protest about the nation's racial problems. The ultimate stated purpose by certain of these NFL players is that they are trying to cause the nation to further address this problem in creative, helpful ways.
Jerry Jones has now flipped flopped. He announced that at the Cowboys' future games, "If there's anything that is disrespectful to the flag then we will not play. Okay? Do you understand?…under no circumstances will we as an organization, or as coaches or players not support and stand and recognize and honor the flag. Period." WOW! This issue could get a lot worse. What does the law of the land have to say about this?
The U.S. Constitution guarantees U.S. citizens a right to demonstrate peacefully. Thus, it would seem that these NFL players who have kneeled or locked arms at games have exercised their constitutional right to peacefully express themselves. Players and fans standing alone, still, and quite, perhaps with their hand across their heart, during the playing of the National Anthem before games is not a national law but a tradition.
However, NFL owners have rights as employers, too. Some attorneys and professors of law have expressed their opinions on whether or not NFL owners have a constitutional right to fire their players for so behaving. The following answers and further comments by attorneys was published by Sean Illing at Vox on 9/25, and he edited them for clarity and style:
Law professor Susan Bloch at Georgetown University says, "NFL rules and the team's contract with the player do limit the league and the teams' actions and may thereby protect the player."
Politics professor Keith Whittington at Princeton University says, "The NFL is constrained in how it treats players by its own collective bargaining agreement, but the First Amendment to the U.S. Constitution is specifically designed to limit government officials and not private businesses. From a constitutional perspective, the players could be sanctioned by their employers for exercising their right to free expression."
Law professor Steven Duke at Yale University says, "the question is one of private law: whether the charter of the NFL and its written and unwritten agreements with players and with the teams provide protection similar to that of the First Amendment."
Law professor Ric Simmons at Ohio University says if players are fired, "Owners may still have to make guaranteed future payments to a fired player, as they would if he were cut for any other reason, and of course they might face heavy criticism (or praise) in the court of public opinion, but there are no legal barriers to taking this action."
Law professor Jessica Levinson at Loyola Law School says, "This is a contracts question, not a constitutional question. The issue boils down to whether or not NFL owners have the contractual right to fire players for this type of behavior. The answer is 'likely yes.'"
Law professor Mark Tushnet at Harvard University says, "The general rule is yes, but that has to be qualified because some states have anti-discrimination laws that prohibit employment discrimination on the basis of political affiliation, and some of those statutes might be interpreted to cover the players' activities."
Law professor Diane Marie Amman at the University of Georgia says, "No, the NFL cannot do what the president wants them to do. Absent a term in the employment contract by which both the player and management have agreed to specific behavior during the playing of the anthem, the player has reserved his constitutional right to observe that moment as he chooses."
So, only Professor Amman weighs in favoring the players' rights to so demonstrate without being fired. This issue could wind up in the courts.
When this issue started heating up, I posted about how all PGA Tour tournaments in the South would not allow any African-American Tour players to compete in their tournaments. In those days, the PGA Tour was governed by a Tournament Policy Board consisting solely of players, yet the PGA Tour was under the auspices of the PGA of America. Shortly before I started the PGA Tour, in 1964, the Tour told its sponsors of all of its tournaments in South they must change their policy and allow African-Americans who were PGA Tour members to compete, and if they didn't then the entire PGA Tour membership would not compete in their tournaments. All of those sponsors then cooperated and so changed their policy. The moral of this story is that although sponsors and owners of professional athletic events and teams have power, the players themselves have the most power.
Well, guess what! The NFL Players Association responded yesterday to Jerry Jones' requirement, just as I suspected they would. They issued this statement, "We should not stifle these discussions and cannot allow our rights to become subservient to the very opinions our constitution protects. That is what makes us the land of the free and the home of the brave." Stay tuned.