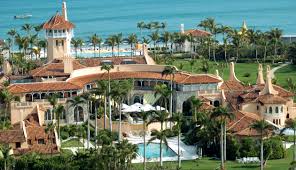 Yesterday, President Donald Trump gave an unscheduled, impromptu, thirty-minute interview to New York Times veteran reporter Michael Schmidt at Trump's luxurious Mar-a-Lago golf resort in Palm Beach, Florida. That is the newspaper that Mr. Trump constantly bashes in his public comments.
In this interview, the president said so many outrageous things that you'd think he was mentally deranged. One of them was this prediction about his planned re-election for president in 2020: "Another reason that we're going to win another four years is because newspapers, television, all forms of media will tank if I'm not there because without me, their ratings are going down the tubes. Without me, 
The New York Times
 will indeed be, not the failing 
New York Times
, but the failed 
New York Times
. They basically have to let me win. And eventually, probably six months before the election, they'll be loving me because they're saying, 'Please, please, don't lose Donald Trump.' O.K."
O.K., the media is making money off of Trump, but it's for all the wrong reasons.