It has been largely underreported in the U.S. media that this year there has been some serious talk by the most significant heads-of-state about creating a Palestinian state in the Gaza Strip and restive North Sinai. This idea reportedly was first broached privately in 2014 by Egypt's President Abdel Fattah el-Sisi soon after taking office. But the idea angered Palestinian Authority President Mahmoud Abbas. That is quite understandable since the Palestinian Authority governs Palestinians living in the West Bank, whereas Hamas governs Palestinians living in the Gaza Strip. Gazans would like this arrangement, whereas West Bank Palestinians likely would not.
When Donald Trump was inaugurated as U.S. president nearly a year ago, he soon met with Israel's Prime Minister Benjamin Netanyahu when he visited the U.S. They reportedly talked about creating a Palestinian state in this Gaza-N. Sinai location. Both men seem to have supported the idea. And Sisi reportedly talked to both of them about it as well.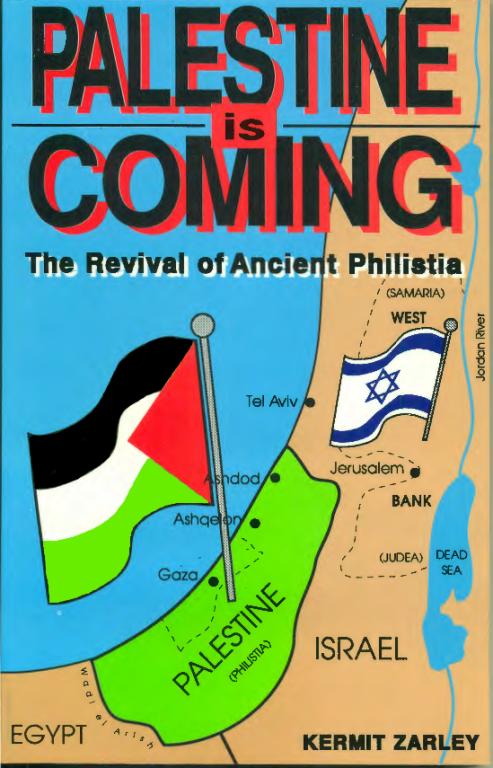 This development is one more element of advance toward the thesis of my book, Palestine Is Coming: The Revival of Ancient Philistia (1990), a book written before its time. It's thesis is clearly presented in both its title and image on its front cover: according to my interpretation of about ten prophetic texts in the Old Testament of the Bible (Jewish Bible), a Palestinian state will be created in only the coastal plain, which likely will be located between Tel Aviv and the Wadi el Arish in the North Sinai, and Israel will get all of the West Bank, all of which may be included in a land swap. For years, the response of most people to this book was that that will never happen. Well, as the years pile up, events keep happening that bring this thesis closer and closer to reality.
If a Palestinian state is created only in the Gaza Strip and North Sinai, I think it will be only the beginning of what will become a larger entity. Why? It doesn't solve the prime issue, which is the West Bank. I believe the majority of Israelis would agree to a land swap of the West Bank for Israeli coastal territory between Tel Aviv and Gaza. That could be the next step. However, it seems to me that it would be better to get a comprehensive agreement all at one time that solves all the ongoing issues in this prolonged Israeli-Palestinian conflict. That includes the status of East Jerusalem and the Golan Heights.