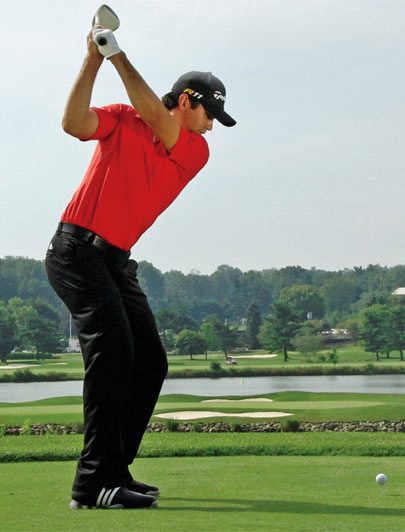 Superstar Jason Day, who has been fighting back trouble for a while, bested Alex Noren today in one hole to win the Farmers Insurance Open at Torrey Pines in LaJolla, California. It was their sixth playoff hole after five sudden death playoff holes yesterday ended in darkness, forcing them to return today to produce a winner.
They played the par-five 18th hole again, thus four times out of six playoff holes. Day drove into the rough, laid up, and put his wedge third shot 18 inches from the hole. Noren went for the green with a fairway metal for his second shot from 250+ yards. He struck it well, with the ball carrying across the pond fronting the green. But the ball landed on the upslope just short of the green and came backwards into the water to end his chance for victory. But his second place finish was his best on the PGA Tour.
I don't think anybody in pro golf swings the club any better than Jason Day. This photo at the top of his backswing reveals an upright swing with considerable torque in his body created by a restricted lower body turn. It's kind of old school being upright, though not too old. Nicklaus and Watson swung very upright. Jason having the club shaft over over his right shoulder and his right elbow up and away from his side is an upright swing. It's not the flat swing that some of the pros are advocating with their "connection" of upper arms close to the sides of their body throughout the swing.
Maybe this return to the winner's circle is an indication of Jason Day returning to top form in 2018 to perhaps unseat Dustin Johnson as as No. 1 in World Sony Rankings.