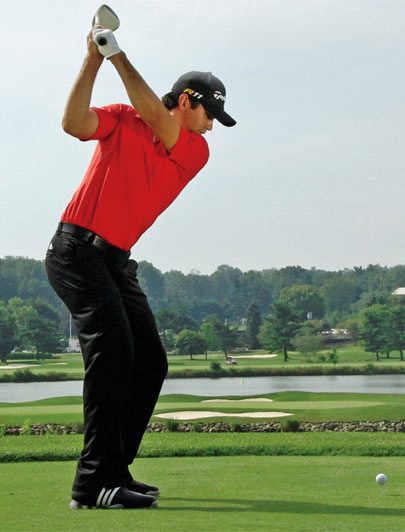 Three players finished tied at 10-under par, 278, for 72 holes of regulation play at the PGA Tour's Farmers Insurance Open at Torrey Pines 36-hole public golf facility in La Jolla, California. They were superstar Australian Jason Day, American Ryan Palmer, and Swede Alex Noren. The sudden playoff started on the par-five 18th hole on the South Course, with its green bordered on the front left with a small lake. Ryan Palmer was ousted with a par while the other two players carded a birdie 4.
Then the playoff went a total of five holes between Day and Noren until PGA Tour officials stopped play due to darkness. Day and Noren had made three birdies and two pars on the same five holes.
So, this playoff will resume tomorrow at 11:00 AM. Noren, a newcomer to the PGA Tour, is searching for his first win on this Tour. He has been competing on the European Tour. Day has been fighting low back pain, but looks like he is surviving it.
I used to compete at Torrey Pines in the PGA Tour's San Diego Open. It's such a beautiful place, located along the Pacific Ocean. The first two days of play–on Thursday and Friday–have always been staged on both the North Course and the South Course. Then, after the field is trimmed in half with what is called "the 36-hole cut," the next 36 holes–on Saturday and Sunday–are played only on the slightly more difficult South Course.
Today, the leaders were faltering on the 15th, 16th, and 17th holes, which are challenging. But the wind was also a factor coming off the ocean.
A big news item this week was that Tiger Woods came back to his favorite haunt to play at Torrey Pines this week. He had not competed on the PGA Tour for just over a year. It's because he has now had four low back surgeries in about the past four years. Fortunately, Tiger barely made the 36-hole cut and finished a respectable 3 under par for the tournament. It's tough to come back from one orthopedic surgery let alone what Tiger has now been through. He also has had four surgeries on his left knee.
It seems that just about every week, the PGA Tour puts on an exciting show of golf at its best, and this week is no different. From there, the Tour moves to the desert this week. It's where I live, in Scottsdale, Arizona, at the Tour TPC Stadium Course. The pros will play what is always billed as "the greatest show on grass"–The Waste Management Phoenix Open.