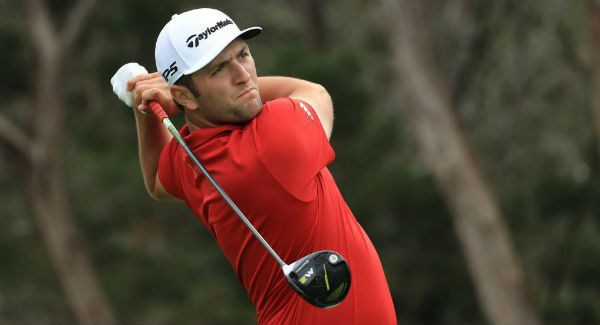 Young, 23-year old Jon Rahm just won the PGA Tour's CareerBuilder Challenge at the Tour-owned Stadium Course in LaQuinta, California. He defeated Andrew Landry on the fourth extra hole, the 18th hole at the Stadium Course, by holing a 15-foot putt for a birdie three. It was Rahm's second PGA Tour victory.
I think the very likable Spaniard Jon Rahm–now only in his sophomore year on the American circuit–could become the best golfer in the world during the next decade. This victory moved him into 2nd place in the Sony Official World Golf Rankings, behind major championship winner Dustin Johnson who has occupied that spot for many months now.
Rahm and Landry had tied the 72-holes of regulation play at 22-under par, 266 total. Landry had to make a 15-foot birdie putt on the last hole to force the playoff. The playoff story consisted of all good shots and all missed birdie putts of between seven and eighteen feet for both men until Rahm made his ten-foot birdie putt to win.
Next week, Jon Rahm will try to defend his first win on Tour, at the Farmers Insurance Open at Torrey Pines, San Diego, California. Tiger Woods is also scheduled to play. He has won on the PGA Tour there at Torrey Pines eight times.
When Tiger Woods was very young, his dad asked him what golf course he would like to play more than any other course in the world. He said Torrey Pines, which was not far from where they lived. Was that prescient? Or did Tiger just love Torrey Pines so much that he made it happen?
Jon Rahm makes me nervous when he putts. He's one of those few golfers who takes a practice stroke extremely close to his ball. I've never understood why anyone does that. I guess he's never accidentally struck his ball when doing that. If he ever did, I think it would put the fear in him and he'd back away an inch or so from his ball to make that practice stroke. But then, maybe that shows that Jon Rahm HAS NO FEAR! He sure does play golf like it. I expect big things from this young man in the future.
PS: This tournament is the former Bob Hope Desert Classic, which was a special event to me. It's where I got my nickname "The Pro from the Moon." To learn why, see my Bio here at my Kermit Zarley Blog.