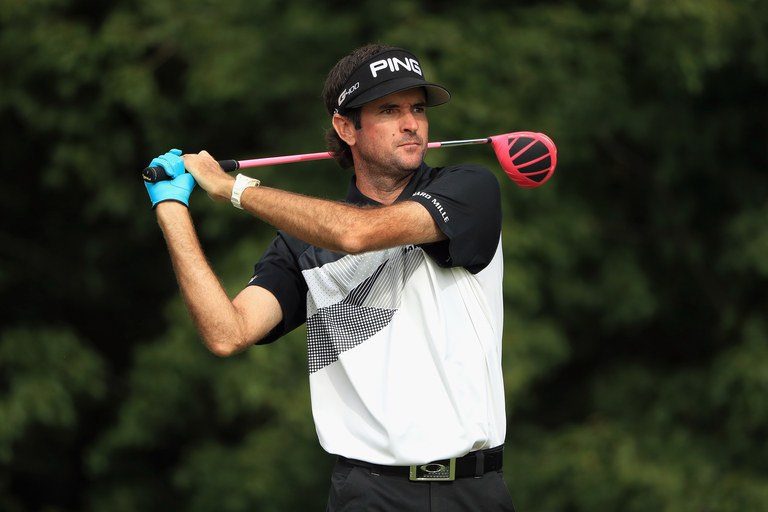 Today, two-time Masters champion Bubba Watson won for third time on the PGA Tour at Riviera Country Club in picturesque Pacific Palisades, California. It was the Genesis Open. Bubba had won there in 2014 and 2016. And he had not won on the Tour since then. The tall and lanky, long-hitting, handsy, feel player finished two strokes ahead of second-place finishers Kevin Na and Tony Finau. Like Bubba, Tony is also a big hitter.
Both Bubba and Tony are outspoken about their Christian faith. Bubba is a regular at the weekly PGA Tour Bible Study. (I don't know about Tony.) And both are well-liked by their peers.
Bubba was again his typical emotional self in the TV interview right after finishing the tournament, often drying his tears. He told about going through some tough times, if you can call playing the PGA Tour a tough time. But Bubba has ADD and was seriously thinking of retiring. Amazing! The 39-year old still has lots of great golf for the PGA Tour left in him. Only two things prevented him from hanging them up: his wife's insistence to continue and the fact that he had not yet achieved one of his life's goals–winning ten tournaments on the the PGA Tour. Today's win was his tenth. For all golfing fans everywhere who like good old boys, we hope Bubba doesn't quit tomorrow.
I used to love to compete in the PGA Tour's Los Angeles Open, as it was called in my day, which was held since the 1950s at Riviera. It is such golfer's dream to play a course that well designed. The course is lined with so many tall, majestic-looking Eucalyptus  trees. The golf course is full of kikuyu grass. That is something that takes experience to get used to. If you hit a shot just one-eighth inch fat, it is as if you hit it one inch fat on normal grass. Kikuyu grass is very vigorous in growth and withstands hot climates. Of course, greenskeepers must keep kikuyu grass from getting into the greens, which can be a challenge. At Riviera, the greens are the mild bentgrass with some poa anna.
Today, Bubba Watson joined a select group of two other players who have won the most PGA Tour tournaments at the famed Riviera CC, where Hollywood movie stars like to hang out and maybe try their luck at golfing their ball. The two players are Ben Hogan and Lloyd Mangrum. Those were two cool customers! Both Hogan and Mangrum had a reputation for having ice in their veins when the pressure was on. And Riviera came to be called "Hogan's Alleys" because Ben loved that golf course and he played it like he owned it. No one ever hit a golf ball better than Ben Hogan did.
There is a statue of Ben Hogan (I assume it is still there) beside the putting green at Riviera. It was dedicated to his memory when I played the Senior U.S. Open there in 1998. Petite and quiet, yet charming, Valerie Hogan was there to accept honors in a ceremony for her then deceased husband, whom she sometimes called Benny. I was there.
My best tournament in the Los Angelos Open at Riviera was 1979. I was playing with Lanny Watkins in the last group on Sunday. We were the only two players tied for the lead in the early back nine. I three-putted the par-three 14th hole from only about 25 feet to fall one shot back of Lanny. He won and I finished two strokes back in third place.