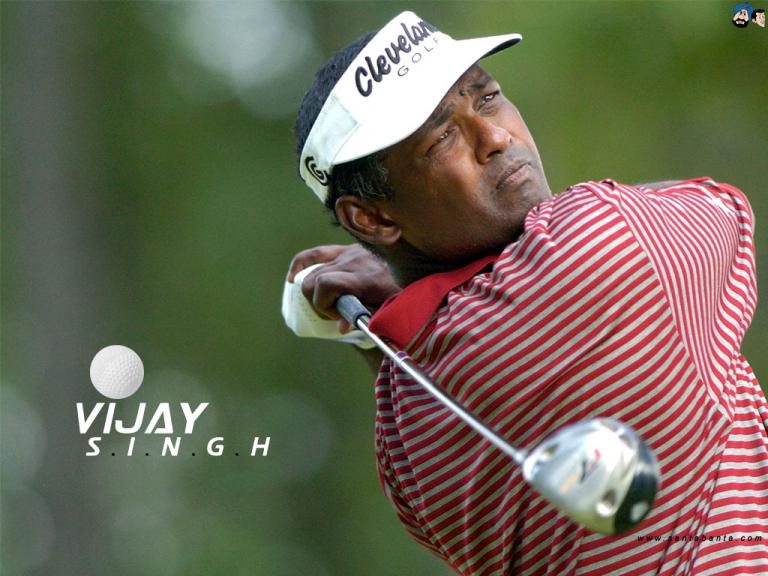 World Golf Hall of Fame PGA Tour pro golfer Vijay Singh won the Toshiba Classic today at Newport Beach, California, by one stroke at 11-under par to defeat Tommy Tolls, Tom Pernice, Jr., and Scott McCarron who tied for second. (I was playing that tournament 20 years ago. Makes me feel old.)
Surprisingly, it was 55-year old Vijay's first win on the Champions Tour. We all thought he would win on the old guy's circuit much sooner than that. In the television interview after he won, Vijay said he has been putting too much pressure on himself to win on the Champions Tour and that this week he told himself to forget about trying so hard to win–just go out and enjoy the game. That's a lesson we all need.
Vjiay has been biding his playing time on both Tours. Only a great player like Vijay Singh–a three time major championship winner–can do that. Also in that television interview, he said he's going to compete more on the Champions Tour in the future. I'm sure Champions Tour folks like that.
Singh has a long, relatively slow, backswing, and is a long hitter. (Interestingly, Tiger Woods swing speed with his driver was measured this week on television, and it was clocked the fastest of any player in the PGA Tour's Valspar Championship tournament this week.) Vijay putts with the long putter, and he chips cross-handed.
Vijay had to birdie the last hole, the par-five 18th hole, today to avoid a four-man sudden-death playoff. He hit his second shot pin-high off the right side of the green about 30 feet from the hole, with about half of the distance being putting green. Rather than take the risk of chipping the ball over the fairway grass with that cross-handed grip, he putted the ball to about four feet short of the hole and made his birdie putt for the W.
The six-foot, two inch tall, 210 pounds, Vijah Singh lives in Florida, is married, and has one child. He is an Indo-Fijian, born in Fiji, who follows the Hindu religion.