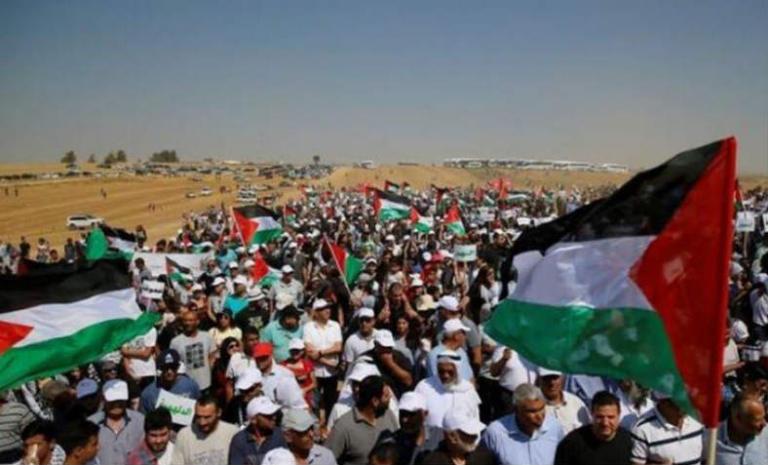 The "Great March to Return" started along Gaza's eastern border with Israel nine days ago, on Friday, March 30. That day, Israeli soldiers on Israel's side of the border reportedly killed sixteen Palestinians on the Gaza side of the border. A fence separates Gaza and Israel. The unarmed Palestinians throw rocks and molotov cocktails at the Israeli soldiers guarding Israel's border on the other side of the fence. Of course, the soldiers shoot back with deadly rifles. Last Friday, on April 6, the same thing occurred. The mass demonstration was estimated to be 20,000 people. This time, Israeli soldiers killed nine Palestinians. No Israeli soldiers have been killed in these two protests. It is believed that thousands Palestinians have been injured. These demonstrators have tried to call further attention to their plight by burning an estimated 10,000 tires at the border.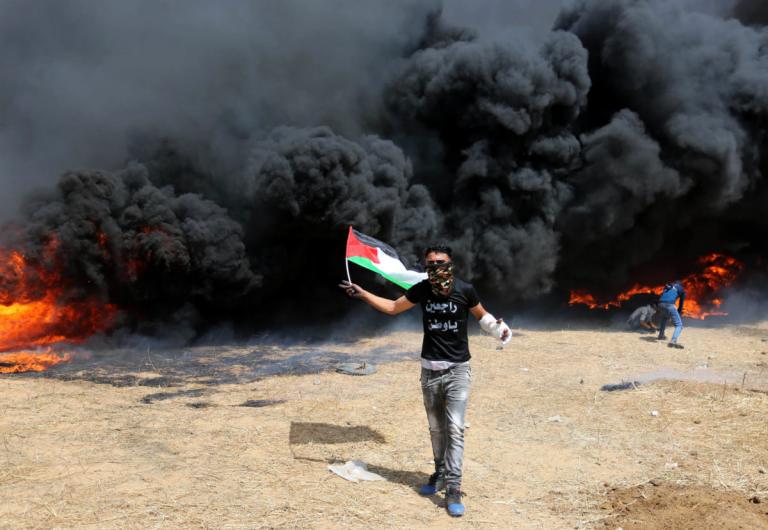 This name, Great March to Return, refers to the Palestinians' constant demand of "right of return" for especially Palestinian refugees. Millions of them still live in UN refugee camps that have existed since the war of 1948-49 and the 1967 War. Palestinians fled from their homes in their land that became Israel, to get out of the path of war, and were never compensated for their losses. These Palestinian refugees have contended all these years that they have a legitimate right recognized by international law to return to their homes or be financially compensated for their losses.
Hamas, the religio-political organization that governs the Gaza Strip, called for this demonstration The Great March Return. Hamas' plan is for these unarmed demonstrations to continue every Friday until May 15th, when a yet larger demonstrations is planned. It's because that day will mark the 70th anniversary of midnight May 14-15th, 1948, when Jews declared statehood, fought a war against Arabs, and gained their modern State of Israel.
Palestinians name that day of infamy as al-Nakba, meaning "the Catastrophe." That is, for them this reestablishment of ancient Israel as a modern nation became a "disaster" or "catastrophe." Palestinians also apply al-Nakba to the period of war, which lasted about eighteen months, and event the few months leading up to the war in which the U.S. refused to join the Soviet Union in implementing Resolution 181 passed by the UN Security Council back in November, 1947, to establish two separate states in the Levant–a Jewish state and a Palestinian state lying side-by-side.
However, it should be noted the Partition Plan, as it came to be called, had been rejected by Arab leadership. These Arabs believed that Jews should return to the nations from which they came. But the world did not agree. Rather, the world's leading nations became convinced due the Holocaust of WWII that Jews needed a homeland of their own in order to solve "the Jewish problem" as the Nazis had called it. But Palestinians have always contended that this solving of "the Jewish problem" created "the Palestinian problem."
So, what we can expect is that Gazans will continue to demonstrate along the Gaza-Israel border for the next several Fridays until the culminating demonstration on next May 15th, a Tuesday. And during these demonstrations, more Palestinians will probably be killed.
That situation in the Gaza Strip increasingly grows more intolerable. Nearly half of the male adult population is unemployed. There is so much destruction of buildings from the last war between these two enemies, in 2014. There is little truly potable water. Sewage empties into the ocean. Electricity is available for the average Palestinian perhaps three hours per day. This is why Palestinians constantly think of al-Nakba.