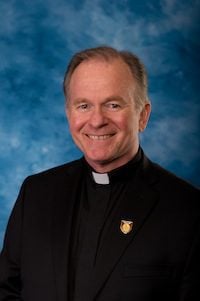 This week, Republican Paul Ryan of Wisconsin–the Speaker of the U.S. House of Representatives–fired Catholic Jesuit Patrick Conroy who had been the Chaplain to the House for the past seven years. What made this announcement particularly surprising was that (1) it was totally unsuspected publicly, (2) Ryan did not personally inform Conroy of it, (3) it was the first time in U.S. Congressional history that a chaplain was fired, Ryan gave no reason for the dismissal, Ryan is a Catholic, and Ryan had announced months ago that he will retire from his position later this year.
What prompted this firing? Last November, shortly before the passage of historic tax legislation in both houses, Chaplain Conroy gave a prayer on the House floor which included this sentence, "May the effort these days guarantee that there are no winners and losers under new tax laws, but benefits balanced and shared by all Americans." He said that because there had been much dispute about whether or not the tax legislation being proposed by the Republican Trump administration would favor the wealthy and thus disfavor the poor.
About a week later, a staffer from Representative Paul Ryan's office delivered a message to Chaplain Conroy, telling him, "We are upset with this prayer; you are getting too political." Ryan later told Conroy in person, "Padre, you just got to stay of politics." That is disputable itself. Christian ministers are called to advocate for the poor, as the Hebrew prophets had done and something Jesus spoke much about in his gospel teaching and his mother Mary mentioned in her Magnificat (e.g., Luke 1.52-53; 6.20-25).
The primary role of the chaplain–an institution that has existed since the Revolutionary War–is twofold: (1) open each House session with a public prayer, and (2) provide private counseling to House members. Conroy is the first Jesuit priest and second Roman Catholic to ever undertake the role of House chaplain.
House speaker John Boehner had nominated Conroy in 2011. American politics has become increasingly partisan since then. Yet John Carr, a former policy adviser to the U.S. Conference of Catholic Bishops, describes Conroy as "scrupulously nonpartisan."
Representative Mark Walker, a Republican of North Carolina, is now one of the leaders of a House committee to select a replacement for Conroy. He said this week he would prefer a chaplain who is married and has children due to the pastoral requirement. That has always been a point of contention regarding church leadership, much less the spiritual leadership of a branch of the U.S. Congress. One pundit interestingly responded to this posed requirement by Walker, saying, "That would disqualify Jesus."
But this also is a contention between Protestants and Catholics. The history of the USA regarding religion is that a significant contingent of early American colonists had been Protestant Christians who were escaping religious persecution foisted upon them in their European homelands by state governments that had union of church and state, with the predominant religion being Roman Catholic. Thus, early American history was quite anti-Catholic. That is why the U.S. House of Representatives has only had two Catholic priests who have served as its chaplain.
Moreover, regarding Representative Walker's requirement that the chaplain be a married man with children, everyone knows that the Roman Catholic Church has never allowed its priests to be married, let alone have children. So, Walker's stipulation rules out Catholics and thereby seems religiously discriminatory.
(The Roman Catholic Church is now in the throes of disagreement about the celibacy of the priesthood. Pope Francis sides with the more liberal element in the Church which is trying to change this so that priests would be allowed to marry and have children, as Protestants allow for their pastors and Judaism allows for its rabbis.)
If we appeal to the Bible, there is some precedence that may support what Walker is demanding. The early church that we read about in the New Testament preceded the later development in Catholicism about the establishment of priests and that they be celibate and thus unmarried. Moreover, there was no single spiritual head, such as a priest or pastor, of each local church during the first century, let alone a pope of the entire church on earth. Rather, each local church was governed by a group of male "elders." Either they were selected by an apostle who started that church or they were chosen by the congregants, and there may have been a combination of these two.
For we read in the New Testament that the Apostle Paul laid down requirements about these elders by writing to his apostolic legate Timothy, "appoint elders in every city as I directed you, namely, if any man be above reproach, the husband of one wife, having children who believe, not accused of dissipation or rebellion" (Titus 1.5-6 NASB).
Paul also wrote likewise to his ministry associate Timothy, saying of an elder who is also described as an overseer, "An overseer, then, must be above reproach, the husband of one wife, temperate, prudent, respectable, hospitable, able to teach, not addicted to wine or pugnacious, but gentle, uncontentious, free from the love of money. He must be one who manages his own household well, keeping his children under control with all dignity (but if a man does not know how to manage his own household, how will he take care of the church of God?)" (1 Timothy 3.2-7).
I count it an honor to have been a friend of Dick Halverson. He was chaplain to the U.S. Senate for fourteen years–1981-1994. Dr. Halverson, who was also the longtime pastor of Fourth Presbyterian Church in Bethesda, Maryland, had a heart of compassion for all people, especially the poor and disenfranchised. One day I got to have lunch with him, just me and him, in the Senate dining room as he introduced me to various senators.)