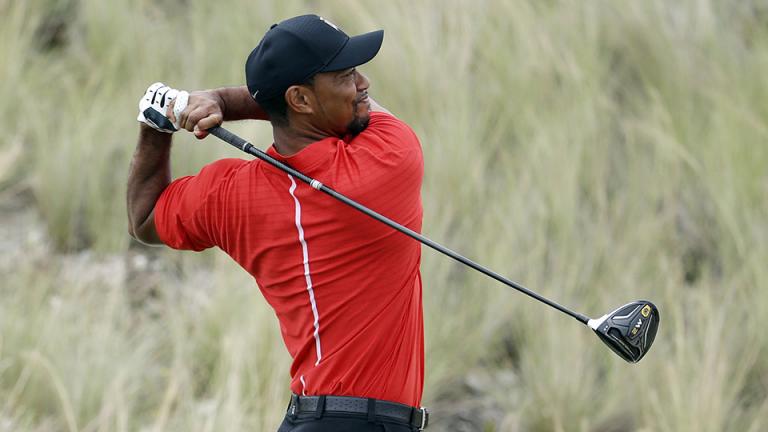 Tiger Woods started the third round today tied for the lead in the PGA Tour Championship. He shot a 5-under par 65 at East Lake in Atlanta to end the day with a three stroke lead over Rory McIlroy and Justin Rose. Rose is the #1 golfer in World Ranking right now, which he just gained days ago. Yet Tiger held that ranking an astonishing 13 years until his slide downhill to mediocrity due to injuries, surgeries, and other problems in recent years.
But after a fourth back operation, in which he had two disks fused 19 months ago–truly a last resort for a professional golfer–42-year old Tiger Woods is having a phenomenal comeback this year. He has had six finishes in the top six in 19 tournaments this year. He has led tournaments going into the back nine, but faltered somewhat. Tiger has been on the verge of winning numerous times this year. Let's see if he can do it tomorrow.
Tiger's putting has been holding him back this year. When a pro golfer ages, the first thing that goes is the putting. It's nerves. I used to play with Arnold Palmer and see it happen to him. By the time Arnie was in his forties in age, he got the putting yips so bad. His famed, wristy, pop stroke was killing him when his nervous system was aging. But Tiger, who is mostly a shoulder-stroke putter, now has his old putter back in the bag with which he won 13 of his 14 major championships. Today, his putting stroke looked really good, just like the old days. Nobody ever keeps his head as still in putting as Tiger Woods does. For me, that has been the hallmark of his putting. But today, he also found the rhythm.
Tiger is vying to win his 80th PGA Tour event. He has been stuck on the 79th for a few years now. And, if Tiger can win tomorrow, it will also give him a win in the coveted FedEx Cup. That would be his third FedEx Cup win, which no one has ever done. Then also, the exciting Ryder Cup matches are right around the corner, to be held in Paris, and Tiger barely made the team. As TV announcer Roger Maltby said today, if Tiger Woods wins tomorrow, it will be good for Tiger, but better for golf.