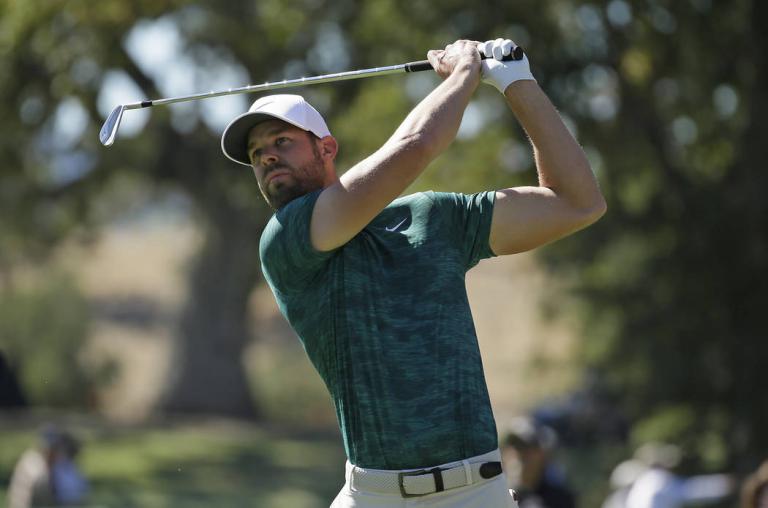 Bob Tway's son, Kevin Tway, just won the Safeway Open at Silverado Resort and Spa in Napa, California, for his first win on the PGA Tour. He defeated Ryan Moore on the third extra hole of a sudden-death playoff with a birdie three on the 10th hole.
Television announcers said the wind today had kicked up to 35 miles-per-hour at times. But it had completely died down late in the tournament. Three players were tied after the 72 holes of regulation play with 13-under par 275 total: Brandt Snedeker, Kevin Tway, and Ryan Moore. Starting the last round, today, Snedeker had built his three-shot lead to five strokes. But then he collapsed the rest of the way by shooting five-over par to miss the playoff by one stroke.
That was a surprise to me for nine-time PGA Tour winner. Snededker was hitting the ball left a lot until the last hole. I think he has to be careful with his quick swing. If you get too fast with a quick swing, that usually sends the ball left. Calm nerves help. Snedeker was still leading by one with two holes to go. He then made two strategic mistakes on the short par-four 17th hole. That North Course is no different than when I played it forty years ago to win my first PGA Tour tournament. It's just that the trees are a little taller.
On that dogleg-left 17th hole, nearly all PGA Tour players do the same we did long ago–lay up with a fairway wood (metal) or a long iron and play safely to the right to avoid the left trees. You absolutely cannot go left there off the tee. And that is a very easy assignment to complete, especially with a layup club. Even if your ball winds up in the right rough, that is way okay compared to being left, especially where Snedeker hit it.
Snedeker hit the left trees and the ball kicked backwards. From there he tried to go over a tall tree with a lofted club, but failed. That was a another strategic mistake because he could have played a normal shot safely to the right edge of the green, ending maybe thirty feet from the pin in two. Instead, his ball dropped down right under a tree on what appeared to be pine straw and other tree refuse material. From there, Brandt made a decent bogey. But he failed to birdie the reachable, par-five 18th hole as his closest competitors were birdying it. So, Snedeker can look back and conclude that he lost the tournament on the 17th hole due to two unwise decisions.
I attended college at the University of Houston. Our golf teams won sixteen NCAA championships over a period of thirty year with the same coach–Dave Williams. It is by far the best record in collegiate sports. The second one they won was in either 1956 or 1957, before I had arrived at school. It was staged at Eugene Country Club in Eugene, Oregon. In our college golf lore, there is a true story about what happened when that team first arrived at the golf course in their station wagon to see the layout for the first time. Nearly all of the players were in awe at how tall the fir and evergreen trees were. Of course, I wouldn't have been if I was there because I was from Seattle, where we play golf among such majestic-looking trees all the time, even the tallest ones, which are Douglas firs.
Anyway, those young college guys grabbed their golf bags and had a blast trying to hit balls over those tall trees. I doubt many of them accomplished their goal. Everyone who plays golf in the Pacific Northwest and many places throughout the West Coast, knows that you don't mess with trying to hit the ball over those tall trees. I wonder if Brandt Snedeker learned that lesson today.